8 Best Baby Wipes For Sensitive Skin To Buy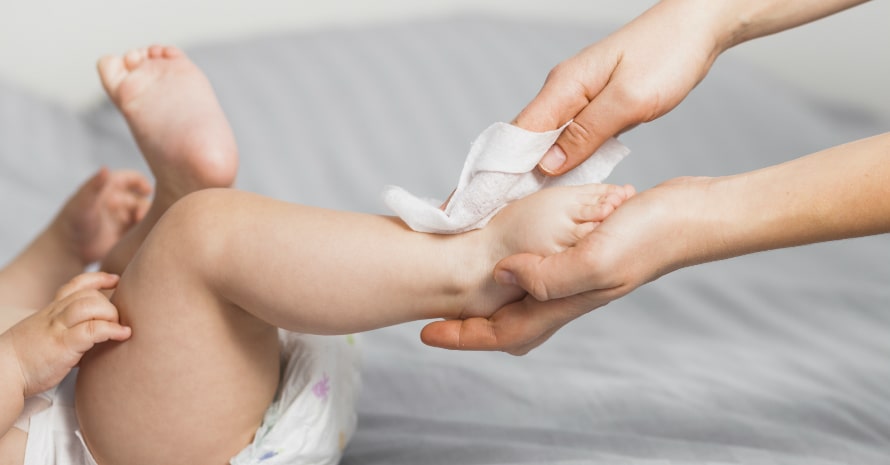 During seven years of my experience as a kindergarten teacher, I have seen a fair share of messy blowouts and unexpected pee puddles. Along with the knowledge of raising my daughter, I have realized that the right pack of wipes is a must-have for any caregiver. Mothers change so many diapers each day, and they look both for comfort for their babies and convenience for themselves. Baby water wipes that make their lives easier are often a welcome addition to any nursery.
In the toddler years, the needs of a mom do not change. A baby is very mobile, and diaper changes have to be fast and easy. That is why I have decided to write honest baby wipes reviews that are informative and describe the products which would be a perfect fit for any mom. I have examined the softness of each wipe, the size, and moisture content. Additional considerations are the strength and ease of access to the pack. Hopefully, in these baby wipes for newborn reviews, you will find an item perfect for a messy journey that motherhood is.
Top 8 Baby Wipes For Sensitive Reviewed
Baby needs vary, especially when it comes to wipes. You might be looking for the gentlest wipes for your baby's delicate skin, the most organic components that prevent an allergic reaction, or simply the most affordable option you can find on the market. Here are 8 baby wipes best deal that I often recommend to mothers.
1. Top Pick: WaterWipes Best Wipes for Sensitive Skin Baby
As a mom, you will find yourself instinctively reading through the ingredients list of every single item you purchase. You will look out for harmful ingredients and desire to pick the most natural option for your baby. Being a thoughtful mother, you will tend to stick to tried and tested products that are rated as the best for baby. In this case, wipes are no exception. 
WaterWipes are the best wipes for baby sensitive skin due to the simplicity of the ingredients. Made of pure water and a small fraction of natural fruit extract, this product is simply one of the best alternatives for moms whose babies react to chemicals. If your child has been diagnosed with eczema, contact dermatitis, or any other skin condition that makes you wary of heavily scented wipes that are chock full of chemicals, then WaterWipes should be your go-to wipe brand from the early stages of your baby's life. 
These wipes are thick and large enough to make your wiping experience much better. I remember the poop blowouts that were so frequent with my newborn daughter. At first, I was surprised by just how messy the situation could get. Eventually, I relied on thick, sturdy wipes that were large enough to wipe a sizeable area in one go. Plus, the size of the WaterWipes means you will use fewer sheets for every mess. 
Another important quality is the moisture content. You need wipes that stay moist enough and do not leave you high and dry, literally. I find that some brands dry out easily. However, Waterwipes retain lots of moisture throughout use. They hold up well under pressure and do not tear easily. I attribute this benefit not only to the thick fabric but also to the moisture content. 
My only criticism of these wipes is that they have one month to expiry once opened. Imagine opening a pack of pricey WaterWipes, misplacing them in your car only to find them a month later and realize you can not use them. It would be convenient if they lasted a while longer, especially for buyers who buy them for other non-baby related uses.
Positives:
Pure, natural ingredients

Thick and sturdy

High moisture content
Negatives:
2. Runner Up: Amazon Elements Best Baby Wipes for Newborns
When looking for the best baby wipes for newborn, you need to find an item that balances between being strong enough to get the job done and soft enough to be comfortable for your baby. The Amazon Elements wipes do exactly that. Their polyester-based fabric makes them one of the softest wipes on the market. This is a huge plus for parents who would rather prevent than deal with diaper rash. Remember, wipes can not be a cause of diaper rash, but using rough fabric on a sore area is likely to aggravate the situation. 
The size of Amazon Elements unscented wipes contributes to their top ratings. They are big enough to get the job done quickly and efficiently. This results in cost and time savings. By using fewer wipes to clean a mess, you end up saving and buying a smaller number of packs. At the same time, you will change your newborn quickly and get him or her off the changing table in a few minutes. For busy moms and those whose babies dread the changing period, this is a welcome relief. 
Moisture content is a big deal when it comes to getting the best baby wipes for diaper rash. We all know that pure water wipes are at the top of the batch when it comes to moisture content. However, if you do not want to fork out cash to buy the pure water wipes, Amazon Elements is the next best option. Why? It has a 93% water content, and a shortlist of natural ingredients. The item is not scented but leaves a clean, fresh water-like smell. 
It doesn't hurt that these wipes dispense easily, coming in ones or two each time you pull them out of the package. This quality enhances convenience, and moms of toddlers will agree with me when I say time is a matter of essence when changing a 20-month-old who would rather be anywhere else at that moment. 
Fair warning is that the flip-top bit can cause your wipes to dry out, if not properly resealed with every single use. Remembering to do this when juggling baby and other duties might be hard, which will result in a batch of dry wipes that you cannot use.
Positives:
Soft polyester fabric

Unscented

High moisture content
Negatives:
Flip-top can cause wipes to dry out if not properly resealed
3. Baby Pampers Wipes for Sensitive Skin
Pampers is a popular brand for baby care products. It has a range of diapers for all baby sizes, including the innovative pull-up pants diapers and swimwear for toddlers. This brand name alone is enough to inspire confidence in any mom. The quality of Pampers wipes is not too bad either, and I often have little to criticize about them. 
Being the best baby wipes non toxic, these are free from any parabens and alcohol-based ingredients. Forget about the stinging sensation a sore behind can have when using alcohol-based wipes because Pampers is made of purely non-toxic ingredients. It is even perfume-free as an extra measure for sensitive babies. Worried that it will not leave your baby's bum smelling fresh? Despite being perfume-free, these wipes leave a plain, clean smell after use. I always tell new mothers that perfume scent is not always a clean scent. Your baby should be free of triggering perfumes because babies naturally have a nice scent. No addition is needed. 
There is nothing more annoying than a thin wipe that tears off while you are wiping your baby. Depending on the poop situation, as I like to call it, a torn wipe can be the beginning of a disastrous changing experience. Therefore, wipes that are sturdy enough to get the job done are always a favorite. Thankfully, Pampers wipes have this quality. The grip and embossed texture make them sturdy enough to wipe without tearing, yet soft enough for your baby's gentle skin. 
If you are looking for wipes without an extensive list of ingredients, you might be disappointed by these. Unlike plain water wipes, the item is made of a combination of ingredients. Most of these ingredients are not organic, so you might have a problem with them, depending on your preference. However, just because they are not organic, it does not mean these ingredients are harmful to your baby's skin. In fact, some of them add to the disinfectant quality of the wipes, which is a good thing.
Positives:
Quality guaranteed due to the brand's name

Strong enough not to tear during use

Perfume-free
Negatives:
It has several inorganic ingredients
4. Aqua Pure — Pampers Baby Wipes Pop Top
Worried about the tens of ingredients in the Pampers Sensitive Wipes? Looking for a combination of quality material and organic ingredients? The Aqua Pure variation is one of the best organic baby wipes because of the simplicity of ingredients. As I had mentioned earlier, Pampers has something for every requirement associated with baby toilet needs. I usually recommend the Aqua Baby wipes simply because of the quality guarantee of Pampers brands. To me, these are one of the best baby wipes for sensitive skin.
Containing 90% water means these wipes are extremely moist. They gently wipe across any mess with ease. They are quite big, which increases the surface area that you can wipe at a go. This directly translates to using fewer wipes and having a quick diaper change. I remember when my daughter was younger, there were times when she would scream bloody murder if I took off her diaper for a change. I was always grateful for a quick changing session because the screams would drive me insane. Fun times. I know many moms understand what I mean.
Perhaps my favorite quality of these wipes is the pop-top design. So many things could go wrong during a diaper change. Your toddler might be screaming to get off the changing table, thrashing all over, and leaving you with little room to take out wipes at a leisurely pace. With the pop-top, you simply flip it open, pull out one wipe, and have the rest come out in succession. If you have a curious baby, he or she might grab the box and decimate it in second, throwing wipes all over. The sealable top prevents this easily. If a baby accidentally grabs one and shoves it in his mouth as most curious kids do, the pure water composition will do little harm.
As far as criticism goes, I do not like that these wipes are not embossed. They are plain and smooth, but this affects their ability to wipe off sticky, stubborn areas. Embossed wipes often have a strong quality that makes them sturdy enough for sticky situations. Without this addition, I always worry that the Pampers Aqua Wipes would not hold up well against a persistent stain.
Positives:
Purely water-based

Big in size

Convenient pop-top design
Negatives:
Not embossed and might not wipe off dirt in one go
5. Huggies Baby Wipes Natural Care
Huggies is a popular brand when it comes to babies' sanitary needs. From wipes to diapers, they have a variety of options to cater for different needs. As usual, the brand name comes with a degree of quality assurance. You can trust that whatever you buy will meet all the minimum standards when it comes to baby safety. Although the ingredients list is relatively lengthy, with a majority of inorganic ingredients, the formulation used is safe. It makes Huggies Natural Care one of the best wipes for sensitive skin baby usually has. 
Each wipe in a package is embossed. This improves the strength and allows it to wipe without getting torn. Despite being embossed, a wipe is gentle on the baby's skin and does not irritate it. It is soft cotton material that does not lint either like some wipes that I have used often do. Having them fragrance-free is a bonus. Provided your baby is clean, you should not worry about having any extra fragrance. The thing I love about embossed wipes is you can use them for more than a baby's needs. Stubborn makeup removal? Huggie baby wipes for the win! Mamas need some gentle care too. 
I also like how moist these wipes are. Unlike some brands that must be placed upside down when not in use for moisture to seep through to the top layer, these retain moisture quite well. They are perfect for baby wipe warmers, as they will not mold. The pop-top on these wipes makes every diaper change fast and easy. You can conveniently take out one wipe at a time. They come out in 1's and do not drag out multiple sheets with one movement. 
My only qualm with these wipes is that they are not as thick as I would like. I have always thought that wipes should also be relatively absorbent, but with how thin these are that is not possible. If they were a little thicker, they would be perfect.
Positives:
Safe for sensitive skin

Embossed

Retain moisture well
Negatives:
6. Seventh Generation — Best Natural Baby Wipes with Dispenser
Are you an environmentally cautious mom who is keen on promoting sustainability? Then the product under review is the best choice for you. This company has a strong sense of environmental sustainability and sources all its materials with the same principle. Way to go green while keeping baby clean! Also, the brand does not test its products on animals, which is great.
If you are looking for an eco-friendly solution, Seventh Generation offers the best natural baby wipes. In addition, it is the most affordable brand of natural wipes. While you will have to shell out extra bucks for wipes that are fragrance-free, alcohol-free, and safe for your baby, Seventh Generation provides the same benefits at a more affordable price. 
These wipes are quite soft to touch because they are made of wood pulp. At the same time, they do not seem to tear easily. These two qualities rarely go hand in hand, and this is one of the reasons many mons address natural products. The size is also fairly big, which makes cleaning your baby a breeze. However, the moisture content could be better. I would not call these wipes dry, but they are not as moist as other brands I have reviewed. If you use a warmer for baby wipes, you could always add a little water with each refill to ensure they stay moist. Always check for molding before refilling your warmer. 
The pop-top lid can be bothersome as it does not stay closed. If you are not keen, you could accidentally leave the lid open and come back to a dried out pack of wipes. For extra measure, you should always add the seal tap to ensure the lid stays in place.
Positives:
Eco-friendly

Soft

Do not tear easily
Negatives:
Lid pops back open causing wipes to dry out
7. Munchkin Arm and Hammer — Best Baby Wipes Organic
Keeping your baby and the things he or she uses clean often feels a challenging task. Also, a wide range of available options for cleaning will probably make you skeptical about cleaning a toy, pacifier, or bottle and immediately giving it back to your baby. Your biggest concern may be the chemicals in ordinary baby wipe related products.
Thankfully, these Munchkin wipes are 100% food grade. You can use them on your baby's pacifier, toy, or bottle, and as soon as it dries (approximately 3 seconds), you can give it back to your baby. Therefore, you have the reassurance that you are giving your newborn something clean you would put in your mouth.
What makes this item the best wipes for baby is how multipurpose it is. Pumping breast milk on the go? The wipes by Munchkin work to clean your breast pump before use. Have a baby who loves licking the fingers, even when they are grimy? Clean his or her hands with these wipes. Need to clean your nipple shield before wearing it? Munchkin wipes will come in handy. 
In size, they are smaller than normal wipes. Note that they are not sanitizing wipes, so you cannot quite use them for a diaper change. You have to be wary of using the product for purposes other than cleaning pacifiers, nipple shields, etc. However, if you sanitize all binkys, breast pumps, and nipple shields once a day, these wipes will provide sufficient cleaning for the rest of the time. I should mention that in comparison to other wipes that are intended specifically for cleaning such items, these wipes are an affordable option.
Positives:
Food grade

Multipurpose

Affordable
Negatives:
8. Boogie Saline — Infused Baby Wipes
I remember the endless colds toddlers have. You will find yourself dealing with boogers every other day. Things get even worse when the irritation from constant wiping starts. Their little noses get red and sore, and the tears leave you feeling very sorry for your little one. The Boogie saline-infused wipes are a must-have for dealing with such moments. Because they are infused with saline, the wipes under review break down the dried up mucus and wipe it away. 
These cotton wipes are soft and very gentle on skin that has gotten sensitive due to the cold. Because they are very moist, they do a better job than a dry handkerchief. If used from the onset of the cold, you might never have to deal with the irritation caused by non-stop wiping. You might wonder why you need the item specifically for colds, yet you have ordinary wipes. The saline on these makes them worth it. Also, they can work as emergency backup wipes while you are out with your baby, and you run out of the usual wipes you use for a diaper change. 
To ensure Boogie Wipes stay moist, they have a resealable tape and a plastic flip lid. They retain moisture quite well, so you will not have a problem with them drying out. My only criticism of them is that the item is scented, and the scent may linger. If you are not a fan of fragrances, you might find this quality quite annoying.
Positives:
Saline infused for eliminating dried up mucus

Soft texture

High moisture content
Negatives:
It has fragrance which some people may find irritating
Frequently Asked Questions
Answers to Questions About Baby Wipes
Have questions about using wipes on your baby? Interested in knowing how to make baby wipes at home? Here are answers to a few questions I often get asked about this topic.
Can I make my own baby wipes?
Yes, you can. All you need is a soft cloth made of absorbent material and warm water. You can use the cloths in rotation, and use the washing machine to clean them occasionally.
How to wipe a baby girl?
Baby girls should always be wiped from front to back. This is to prevent any poop remaining from getting to their sensitive privates.
Do baby wipes really expire?
Yes, they do. Some last longer than others. You should check the expiry date on the pack of wipes.
Should I use a babies wipes warmer?
Depending on the climate where you live, you might need to keep the wipes warm before use to ensure your baby is comfortable during every diaper change. While using a baby wipe warmer you should add some water to prevent the wipes from drying out. You should also check them for molding that can be caused by a warm, moist environment.
Do baby wipes cause breakouts?
Wipes could cause breakouts, especially the inorganic type. You should check the ingredients list to know what is in a baby wipe before purchase. For sensitive skin, the water wipes baby usually needs often becomes a great choice for adults.
Do baby wipes cause acne?
It is possible to get acne from using wipes, depending on the ingredients your skin is allergic to. You should use hypoallergenic wipes to prevent acne breakouts.
Can I use baby wipes on a baby's face?
The best baby wipes organic are good for this purpose because they have no chemical components. There are also some food-grade wipes for wiping pacifiers that would be perfect for the baby's face.
Which are the best baby wipes newborn kit should include?
The best wipes for baby are those that are hypoallergenic, with enough water content. They should also be soft and free of any irritating fragrance.
Wrapping Up
There are some qualities that should feature the perfect wipes for babies. The product should be not only soft but also strong enough not to tear while wiping. The ingredients should be gentle on baby's skin, with a high moisture content that ensures that the wipes do not dry out at any point while in use. For ease of access, the wipe packet should have a pop-top or a resealable cover that can be opened easily. Most importantly, such wipes should be affordable because babies need so many of them. 
Whether you opt for the Aqua Pure Pampers, Huggies Natural Care, or Earth's Best baby wipes, it is a matter of personal preference. You can even check baby tender baby wipes review before you make a decision. I hope that these baby wipe reviews have improved your understanding of which wipes are best for you. Have you used any of the wipes in this review before? What was your experience? Would you like me to write baby wipe warmer reviews? Please let me know your thoughts on the subject in the comment section below.