Best Natural Shampoo for Kids in 2023: My Personal Top 1 + 6 Great Alternatives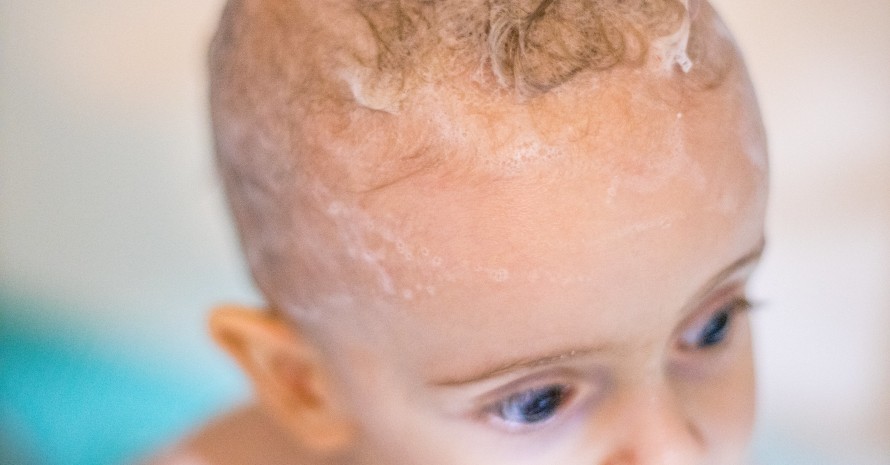 While there's a wide range of personal care products available that are advertised as kid-safe or gentle, this doesn't always prove true if you read the label carefully. I know, however, how confusing the Ingredients section may look. Chances are that you'll still feel unsure after reading the list of substances making up this or that "baby" formula.
Apart from being safe, we normally want bath products to be effective and easy to use. To help you with the decision process, I've made up a list of the best natural shampoo for kids in my opinion.
Buyer's Guide
Before I share with you some major aspects to consider when shopping for a safe baby shampoo, let's clear up the terminology. There's a lot of confusion when it comes to words like "natural" and "organic", so what's the difference (if any)?
What Does Natural Shampoo Mean?
While the definition is somewhat fuzzy, it's general practice to interpret natural shampoo as one made of naturally derived ingredients, i.e. compound made or extracted from something found in nature rather than artificially synthesized by man.
There's a number of synthetic ingredients to be avoided when shampoo shopping. Sulfates are probably the most feared of those, commonly represented by sodium lauryl sulfate (SLS) or sodium laureth sulfate (SLES). These are detergents, that is, compounds responsible for removing grease from your hair. However, they tend to act too harshly, also stripping the hair of its natural protective layer that keeps it moisturized and soft, thus contributing to frizziness and breakage. A natural shampoo will use naturally derived, milder detergents instead.
Parabens is another much-hated category of shampoo ingredients. They are essentially preservative additives that keep the shampoo's formula stable over time. Since their structure mimics estrogen, however, there's much concern that parabens might cause breast cancer by disrupting the natural hormonal cycle.
Finally, natural shampoos ideally avoid artificial fragrances as these can cause allergy and sensitivities, opting for essential oils and the like instead.
Apart from the ingredients listed on the label, there are two compounds that you'd better avoid when looking for a kid-safe shampoo. They are 1,4-dioxane and formaldehyde, both released by certain ingredients such as polyethylene glycol and preservatives, respectively. Although dubbed safe given the exposure level with personal care products, these contaminants are toxic chemicals associated with cancer and allergic reactions.
What Does Organic Shampoo Mean?
The word "organic" refers to how the ingredients were grown rather than what they are. The term generally applies to plant-based material, meaning there's hardly a 100% organic shampoo on the market. An ingredient described as organic was most probably grown without harsh chemical pesticides and fertilizers, taking personal care safety to a new level.
The Benefits of Using Natural Shampoo
Most parents are concerned about the health effects of SLES and SLS as well as parabens, which causes them to look for natural formulas. It should be noted, though, that these compounds are officially regarded as safe, except that the former two can cause skin irritation. Allergy is also a common issue with artificial formulas that can be avoided by going natural.
Apart from making double sure that the product you're using won't hurt your little one, one advantage of natural shampoo is that it leaves the hair better-looking. Chances are that it will stay clean for a longer time, too, and breakage is unlikely with mild products that feature natural detergents.
7 Best Natural Shampoos for Kids Reviewed
back to menu ↑
1. California Baby Calendula Shampoo and Body Wash: The Best Natural Shampoo for Kids (Top Pick)
Founded by a naturally minded mom, California Baby operates a certified organic plant in Los Angeles, USA, using high-quality plant-based ingredients to make safe yet effective personal care products. In fact, the company currently runs an organic calendula farm, and it started a French lavender plot in 2016 to get the best raw materials possible. California Baby products boast EWG and EPA certification and are cruelty-free.
This baby shampoo relies on a plant-based formula featuring calendula extract as a skin conditioner to prevent irritation and inflammation. It is sulfate-free, including soap bark as a natural detergent instead. Other skincare components include jojoba oil, aloe vera, and more to prevent dryness.
Although there's nothing to prevent you from using this natural shampoo for toddlers (or even yourself), the label emphasizes specifically that it's safe as a newborn's first bath. It's an allergy-tested product that contains no soy, gluten, oat, nuts (with the exception of coconut) or dairy products, making it a viable option for people with hypersensitivities.
I've tried quite a number of natural shampoos since my daughter was born, but California Kids remains my personal favorite as it leaves her hair incredibly soft with no sign of dryness. It stays clean for a long time, too, and she's never complained of skin irritation. I also love the delicate sweet smell of calendula and lavender.
The only fault I've been able to find with this product is the somewhat leaky pump. The price is higher than average, too, but the benefits are absolutely worth it. California Kids is one of the best organic hair products for kids in my opinion.
Positives:
Features plant-based detergent;
Natural skincare formula;
Doesn't cause dryness or irritation;
Allergy-free;
Great smell.
back to menu ↑
2. Baby Shampoo & Body Wash by My Little North Star Organics: The Best Organic Tear Free Baby Shampoo
As the name suggests, My Little North Star Organics is a brand committed to making child care products with natural, organic ingredients. Based in the US, it offers cruelty-free plant-based cosmetics that also come with a fair price tag.
This shampoo, which can also double as a body wash (a feature not uncommon in kids' cosmetics), boasts a paraben- and sulfate-free formula relying on a combination of coconut-based cleansers. It also features orange and lavender essential oils to prevent tears without any numbing effect. My friend is using it for her baby daughter. She says bath time is much more fun now that the shampoo doesn't cause eye burning, and the child seems to love it.
A number of skincare components are included in the formula to prevent dryness, such as vegetable glycerin. The shampoo leaves the hair clean and well-texturized with a range of natural thickeners such as xanthan gum. However, it's not the best option if you're looking for a hair-softening formula.
Although fully natural, the shampoo has a very intense citrus smell that some people find overwhelming.
Positives:
Relatively inexpensive;
All-natural biodegradable formula;
Sulfate- and paraben-free;
Doesn't cause skin irritation;
Tear-free.
Negatives:
Strong smell;
Possibly rough hair.
back to menu ↑
3. Nature's Baby Organics Shampoo & Body Wash: The Best Organic Shampoo for Kids with Extra Sensitive Skin
Another US-based manufacturer of kid-friendly organic cosmetics, Nature's Baby Organics operates a number of certified plants in California to produce a wide range of skin and hair care products that are at least 70% organic.
This is an impressive figure since, as you may remember from above, not all ingredients can possibly qualify as organic material. The brand also attaches special importance to using natural preservatives and releasing small-sized batches for optimum quality control.
The primary reason I've included this shampoo/body wash on the list is that my friend recommends it as the best for dry, flaky, highly sensitive skin, especially if it's prone to rashes. Apart from coconut-derived detergents, the formula features a whole bunch of skincare components such as cucumber and aloe extracts and, most importantly, panthenol, a synthetic yet generally safe additive used to keep the skin moisturized. No parabens, SLS, or PEG are included.
Apart from being gentle to the skin, this shampoo leaves the hair extremely soft and glossy without any frizziness.
Unfortunately, there's hardly any smell despite the vanilla and tangerine extracts added (other options are available), and you normally expect a high-priced product like this to come with a luxurious fragrance.
Positives:
 Almost all-natural, with panthenol added;
Skin moisturizing formula;
Great for sensitive skin;
Uses natural cleansers.
Negatives:
On the expensive side;

Very weak smell.
back to menu ↑
4. Babo Botanicals Moisturizing Baby Shampoo and Wash: The Best Sulfate Free Shampoo for Kids Prone to Eczema
Based in New York, Babo Botanicals is well-known among naturally minded parents for offering a wide range of natural kid cosmetics. Each of the product features the company's proprietary organic Nutri-Soothe™ moisturizing and nourishing formula based on a number of plant extracts.
Unlike the previous products, this shampoo features sodium lauryl glucosides hydroxypropyl sulfonate as a less harsh alternative to sulfates for increased foam formation. It thus bubbles well, which is a great plus for my daughter. Made specifically for sensitive and dry skin, it contains oat milk and calendula as its primary skincare ingredients. According to a friend of mine whose child suffers from eczema, it works very well to relieve the dryness and discomfort, while some other shampoos, even natural, tend to cause flares.
The product has been proven hypoallergenic and doesn't contain any parabens. Apart from being healthy, it's a cruelty free product that doesn't involve any animal testing in the manufacturing process. As a bonus, the shampoo has a mouthwatering sweet smell.
The only improvement I wish for is a pump bottle for the smaller 8 oz version as the one it comes in is difficult to open with your hands wet.
Positives:
No sulfates or parabens;
Great for sensitive scalp/skin, in particular, eczema;
Lathers well;
Smells great.
Negatives:
Not inexpensive;
No pump in the 8 oz bottle.
back to menu ↑
5. TotLogic Kids Shampoo & Conditioner Set: Tangle-Free Non Toxic Baby Shampoo
TotLogic Kids is another US brand offering cruelty-free vegan cosmetics for children. Every product boasts a formula free of PEG, phthalates (notorious for their ability to interfere with the endocrine system), synthetic dyes, fragrances, and other harmful compounds.
Unlike the previous products, which were mainly shampoos/body washes, this is a set of shampoo and conditioner, 8 oz each, both sulfate-free and relying on other, milder detergents for cleaning. The greatest advantage of this combination is that it leaves the child's hair soft and easily manageable – a great bonus if your kid has unruly locks. However, my experience with it shows that it's less effective in terms of cleaning compared to competitors, so the effect might not last.
I wouldn't recommend it for very oily hair but believe it to be a viable option for dry or fine, frizz-prone hair types. Freshly washed hair looks very soft and shiny with it, though.
Both the shampoo and the conditioner feature essential plant oils that produce a delicate fresh smell, although that of the latter is stronger. The shampoo lathers well and is easy to use due to the well-though-out bottle. All in all, this is a nice all-round solution if keeping your kid's hair under control is a challenge.
One thing I don't like about this formula is that sodium benzoate is added as a preservative, which has a bad reputation for occasionally causing inflammation and allergic reactions.
Positives:
Paraben- and sulfate-free formula;
Makes hair easier to comb, soft and shiny;
Nice fresh smell;
Lathers well.
Negatives:
Not the best for oily hair;
Contains sodium benzoate.
back to menu ↑
6. NOAH Kids Detangling Shampoo for Frequent Hair Wash: Sulfate and Paraben Free Kids Shampoo for Everyday Use
Registered in Italy, Noah is a relatively small brand that focuses exclusively on hair care. Its approach is based on adjusting product pH so that it doesn't damage the scalp when used on a daily basis.
Frequent washing can ruin your hair as well as the skin underneath by stripping it of its natural oil. Luckily, this shampoo promises to eliminate the risk as it uses gentle detergents in its sulfate- and paraben-free formula as well the optimum pH value to prevent scalp damage. It also includes Na-PCA, a moisturizer naturally occurring in human skin, which means it doesn't cause dryness.
The easy-to-lather formula is enriched with conditioning elements such as milk and Vitamin E which also keep the hair from getting frizzy and provide effective static control. It works perfectly well for thick hair that's either straight or curly, and my friend who tried it as an anti-frizz solution for her daughter's fine wavy hair wasn't disappointed as her hair didn't look limp.
One disadvantage of this shampoo, apart from the weighty price tag, is that it's not all-natural. It does contain a fragrance, which might be unwelcome for people with hypersensitivities (although the product is advertised as hypoallergenic). Besides, it's only safe for kids aged 3 and older.
Positives:
No sulfates or parabens;
Great frizz and static control;
Keeps the scalp moisturized;

Perfect for everyday use;

Lathers well.
Negatives:
Rather pricey;
Safe from 3 years on.
back to menu ↑
7. Mustela Gentle Shampoo and Detangler: The Best Natural Baby Shampoo for Unruly Hair
Mustela is a well-known French brand with a history of over six decades in kid-safe cosmetics that seeks to offer highly usable yet responsibly made products that pose as little risk to children's health as possible. It also stands out by producing specialized shampoos based on the child's skin type.
This shampoo is formulated for normal skin to preserve the natural oil that protects our scalp. While not sulfate-free, it features avocado perseose, a patented synthetic compound produced by mimicking naturally occurring substances in order to prevent scalp irritation and dryness in infants.
The product is safe to use for newborns and free of parabens. It's been laboratory tested and found hypoallergenic despite the fact that there is a fragrance included in the formula, a smell characteristic of Mustela products that I find very pleasant. It lingers after washing, too.
The shampoo also works as a detangler for straight to wavy long hair due to chamomile included as one of the ingredients. Unfortunately, a friend whose son has corkscrew curls reported it ineffective in this respect, noting that knots still occurred with it. You'll probably need to use it twice to make sure the kid's hair is really clean, too, which can be a nuisance with little babies.
Positives:
Paraben-free;
Nice smell;
Good scalp conditioning;
Keeps hair soft and manageable.
Negatives:
Not sulfate-free;
Not the best at detangling.
back to menu ↑
FAQ About Natural Shampoos for Kids
Here are some questions that I feel need to be answered when it comes to natural shampoos for kids. Many people are confused about natural/organic care due to greenwashing, so I tried to clear up the most common doubts in this section.
back to menu ↑
Does "organic" automatically mean good?
The short answer is no, it doesn't. This simply means that the ingredients used in the product's formula were grown according to the principles of organic farming, that is, with no harsh chemicals as pesticides and fertilizers. Besides, organically grown produce cannot be genetically modified.
There are other implications that come with this term, such as responsible sourcing, but this doesn't guarantee good quality. Most products labelled organic are only partly so. It also doesn't prevent the formula from being ineffective or imbalanced.
back to menu ↑
Can natural shampoo for kids cause allergy?
It can. First of all, a shampoo doesn't have to be 100% natural to be advertised as such, meaning that it can still contain harsh preservatives or chemical fragrances. Even products that rely exclusively on plant-based ingredients can cause allergy in some individuals who are hypersensitive to their respective botanicals. It's therefore good practice to test any hair care product on a small area of exposed skin before using it to wash your kid's hair just in case.
The good news is that the risk is reduced to minimum with an all-natural kids shampoo as compared to conventional formulas.
back to menu ↑
How does natural shampoo for kids clean head and hair?
There are so-called natural detergents such as soap bark extract that do the same job as SLS and SLES but are less harsh and harmful for the scalp. They are all surfactants, i.e. compounds that trap grease on contact with water.
back to menu ↑
How to choose natural shampoo for kids with super sensitive skin?
Look for all-natural formulas that don't irritate the scalp and feature some skincare ingredients to prevent dryness and relieve inflammation. These include chamomile and calendula extracts and more. It's usually best to choose products that are made specifically for extra sensitive skin types.
back to menu ↑
Summing It Up
Now that you know the difference between natural and organic shampoo and what to look for when shopping for a plant-based, safe hypoallergenic shampoo for kids, it's up to you to set your priorities.
With natural shampoo formulas, there's always a tradeoff between lathering ability (that is, ease of use) and safety. Skin conditioning is also important, especially if your little one happens to have a sensitive scalp.
From my experience, I recommend California Baby Calendula Shampoo and Body Wash as a newborn-safe, all-natural organic shampoo that leaves the hair extra soft and good-looking with minimum risk of allergy – a safe yet effective solution for everyday use.
Have you already tried a natural kids' shampoo? If yes, feel free to share your success (and failure) stories.