7 Best Bottles for Reflux: Beneficial Options for Every Mother and Child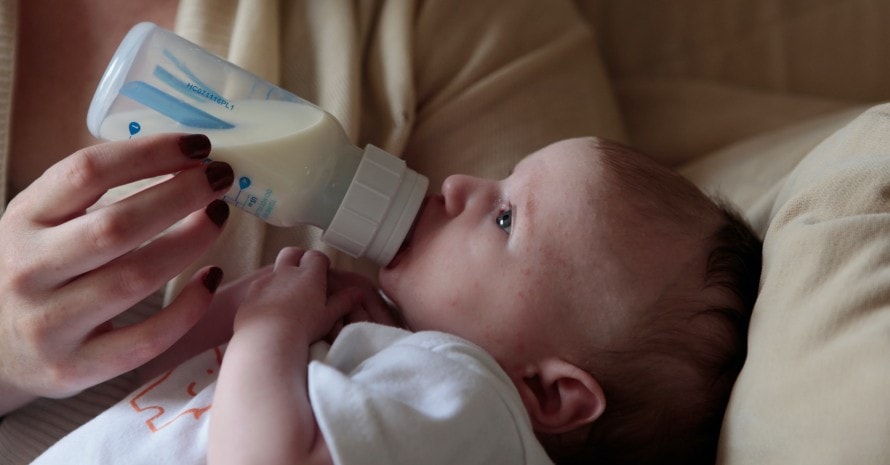 During the first months of life, almost all newborn babies suffer from reflux occasionally. It is a natural process, caused by the undeveloped muscle's ring that blocks the content of the stomach from getting out. Normally, after the first 6 months, reflux goes away, as the digestive child's system is completely developed. Basically, you don't have to worry about the reflux, but still, there is a way to cut it down. The special no air bottles help to prevent this condition. I gathered here my top-7 favorites so you can check them out and probably pick the most suitable for you based on my recommendations.
Things to Consider When Searching for the Best Baby Bottles for Reflux
Looking for the most suitable anti-reflux baby bottle, you have to consider various factors. I mention all the information you may need in the table near every bottle I describe. However, here are the main features you must consider:
The bottle must be able to remove air pockets in the milk or formula;
The shape of the bottle. Some of them are angled, so the air flows freely through the baby's bottle, and some have special vent systems inside;
There is a positive-pressure flow that may be added by manufacturers on purpose, so the air would be kept out. Find out which reflux bottle can do this;
The slow-flow feature decreases the possibility of reflux. The air does not get inside the bottle that quickly.
Look for the first signs of reflux! Pay attention to your child's mood while he/she is still eating. The meal may be spitting up even during the feeding process or roughly after it. In this case, the child can get angry or start to cry during the feeding process.
7 Best Bottles for Reflux Reviewed
In this list, you will find my personal preferences of bottles for babies who spit up. They have various shapes and differ in effect, are made from high-quality materials, and were tested by professionals. If you have tried some of them, you may share your opinion in the comments below.
back to menu ↑
1. Evenflo Feeding Angled Premium Proflo Vented Bottles – Savvy Pack of the Best Baby Bottles for Acid Reflux
The Proflo Vented Angled Premium Bottles by Evenflo Bottles are offered in a 6 bottle packaging, which is a great deal for you and the baby. The 6 ounces' bottles have creative angled form and teal, navy, and grey coloring. The angled shape reduces the bubbles of air inside the bottle and decreases the chances of reflux. Besides reflux, the bottle can reduce gas concentration and earaches. Its dimensions: 5.75 inches x 7.25 inches x 7.25 inches each. The weight is 13.6 ounces.
Evenflo Feeding is the company that created multiple feeding bottles and accessories for them. They offer BPA free products, including this current bottle. It is safe for children and does not cause allergies. The bottle is approved by the FDA. The bottles are easy to clean, as they consist of 3 parts that can easily be disassembled and washed in the dishwasher. The ergonomic construction provides comfortable use for parents who have to hold bottles in their hands. The bottle has Proflo Venting Technology that prevents air bubbles from getting out of the bottle. Bottles can be attached to the pumps, which, according to my own experience, can be extremely helpful. I also recommend using a slow flow nipple with the bottle. There are measurement markers on the bottles which make it easier to calculate the amount of milk baby needs.
Positives:
BPA free;
6 bottles in a pack;
Affordable price;
Angled shape;
Ergonomic design.
Negatives:
You have to buy extra silicone nipples for different flow options.
back to menu ↑
2. Tommee Tippee Closer to Nature Fiesta Baby Feeding Bottles – The Best Slow Flow Bottles for Newborns in Pack of 6
Closer to Nature Fiesta Baby Feeding Bottles by Tommee Tippee are anti-colic feeding bottles with a slow flow. They are colorful and simple in use. Each bottle is of the 9 ounces size. The vivid colors of bottles attract the attention of your baby, helping you to feed them more comfortably. The shape that is similar to mothers' nipples makes feeding even more natural. Nipples are produced by BPA free silicone, which is flexible and smooth. There is an anti-colic venting valve in each bottle. Besides, all 6 of them can be considered the best bottles to prevent spit up. One bottle weighs only 1.04 pounds.
Closer to Nature Fiesta Baby Feeding Bottles were produced by Tommee Tippee, the well-known developer of bottles and breast-feeding accessories. The company keeps its leading position on the market for more than 50 years. These bottles are phthalate free as well and do not contain any chemicals that might cause allergies. I personally prefer these bottles mainly because of their creative design and comfortable hold. You will find the measurement marking extremely useful as well. These bottles are washable and durable. And while the company offers nipples with 3 different flows, I recommend you to use slow mode for small babies.
Positives:
Free of chemicals;
Nipple close to natural;
High-quality silicone;
Easy to hold;
Colorful design.
Negatives:
Slightly more expensive than similar bottles.
back to menu ↑
3. Dr. Brown's Options+ Baby Bottle – Clinically Proven the Best Bottles to Reduce Spit Up
Options+ Baby Bottle by Dr. Brown's is offered by 4 bottles in a pack. Each of them is 4 ounces long. While the bottle is not that big compared to similar products on the list, it is comfortable to hold in hand, lightweight, and comes in a pack of 4. There are 2 and 4 bottle packs of 8 ounces also available, but I recommend you to order 4 bottles of 4 ounces each for a small baby. Unlikely you will need bigger bottles. And don't worry about running out of them. They are washable. These four best bottles for spit up also preserve the healthy ingredients in the formula and breast milk. Each bottle has a nipple made from soft silicone with a moderate flow rate.
Dr. Brown's is a developer specifically focused on anti-colic feeders for small babies. They are winners of Mom's Picks Award of 2018. They are considered one of the bestselling companies on the market. The bottle can be used without an internal vent system if you want and fits average breast pumps. I have seen these bottles washed in the dishwasher and even sterilizer. You can also read the recommendations on the bottle, but you don't have to worry about this product's durability. Also, the bottles are free from harmful BPA.
Positives:
Great quality of components;
Washable and durable;
Ergonomic design;
Internal vent system;
BPA-free.
Negatives:
Bottles are smaller than most on the list.
back to menu ↑
4. Philips Avent Natural Baby Bottle – Sky-blue Best Bottles for Colic and Reflux Relief
Natural Baby Bottle by Philips Avent is one of the most favorite products on the market. It is 9 ounces long and sells in the deal of 4 bottles in a pack. You can change the color, but I recommend you this beautiful light blue color that may be soothing for your little child. The nipple looks natural and is made of top-quality silicone, smooth and soft. You can easily combine this bottle with breastfeeding, and the baby will be unlikely to feel the difference. The design of the bottle contains an anti-colic valve, removing the bubbles of the air. It vents the air inside the bottle without letting it into the child's stomach.
These bottles are created by Philips, a legendary brand that offers various products for houses. Among its creations are nipples and bottles, monitors for babies, and breastfeeding accessories. Bottles are washable and have a simple system of opening. All you need is to open the neck and to clean it in a washing machine. I recommend you to use the slow flow rate. There are numerous options for different ages. The bottle is made from polypropylene and silicone, free of BPA. It weighs 14.2 ounces. I have seen these bottles in use in numerous families. When your child outgrows this bottle, you may mix it up with various Philip products for elder children.
Positives:
Best-seller;
Simple to clean;
Anti-colic vent;
Affordable price;
BPA free materials.
Negatives:
You have to buy additional nipples for different flow rates.
back to menu ↑
5. Comotomo Baby Bottle – The 5 Ounces Best Bottles for Gas and Reflux Resistant to High Temperature
The Baby Bottle by Comotomo is stylish and of high quality. The pack includes two bottles, each 5 ounces long. They are not only best bottles for reflux, but they were also created specifically to mimic the breast, so you can easily switch from such a bottle to breastfeeding and back. There is a wide neck on the bottle, so you can clean it without the need of a special brush. Both parts of the bottle are made from high-quality silicone, which is 100 percent safe for children. I prefer to use these bottles, despite the fact that two of them cost similarly to the four bottle packs from other companies. They can handle the high temperature of the water. I used to boil them for a few minutes and put in the sterilizer.
Comotomo is the company-developer that produces products for young children and their parents. They create bottles and bundles for them, replacement nipples, and teethers. If you will need additional detail, you can easily find it in Comotomo. If you see that the bottle is leaking, you have to check the vents and whether they are not blocked. There are two vents on each bottle to prevent air bubbles gathering. This way, the possibility of colic and reflux is significantly reduced.
Positives:
Stylish design;
Wide neck for better washing;
Can be boiled for less than 5 minutes;
Two anti-colic vents;
Mimic breastfeeding.
Negatives:
Slightly more expensive than similar bottles.
back to menu ↑
6. Playtex Baby VentAire Bottle – Three Air Venting Best Bottles for Babies With Reflux
Baby VentAire Bottle by Playtex prevents the air bubbles from getting inside the milk allowing the air circulation while the baby feeds. The bottom was created angled, which simplifies the feeding process. The bottom vent reduces colic while the child is drinking from this 9 ounces bottle. This bottle is recommended by professional doctors. The unique design and vent system reduces the possibility of reflux, spitting up, gases, and burping. The nipple on the bottle was specifically designed similar to women's, so the child will not feel the difference.
Playtex is a company that develops products for women and babies. It supports women's needs during the whole pregnancy time and offers numerous useful items for babies. These bottles have a wide enough neck to wash the bottle easily. However, I recommend you to buy a special brush so you can clean every part of the bottle from the inside. I believe there is a package deal that can be found in the store. The product is BPA and PVC free. It does not contain phthalate as well. If you are not sure how much milk you add in the bottle, turn it around and check out the measurements. The nipple is made of silicone. You can order slow, medium, or fast flows. For newborns, I recommend a slow flow.
Positives:
Angled design;
Simple to wash;
Unique vent system;
Affordable price;
Convenient to hold.
Negatives:
You have to buy a brush to wash the bottle.
back to menu ↑
7. MAM Easy Start Anti-Colic Bottle – Easy to Clean Mam Bottles for Reflux
The Easy Start Anti-Colic Bottle by MAM pack includes 2 bottles of 9 ounces each. The company offers bottles in several different color palettes. However, they differ by price, so if it is not the most important thing for you, you can stay with basic colors. They all have bright pictures with funny animals. Both bottles are vented and release the milk slowly, which reduces reflux up to 80 percent. Silicone nipple is soft and similar to natural ones. You don't have to wash the bottles manually. Easy Start Anti-Colic Bottle can be simply cleaned in the sterilizer.
MAM is a developer of organic, natural, totally safe products for children. They offer numerous items for newborns and their moms. These bottles are free of BPA and BPS. Check out their comfortable ergonomic design. There is a holder I like specifically, so your hand will not slipover, while you are holding the bottle.
Positives:
Comfortable to hold;
Affordable price;
9 ounces long;
Anti-colic vent;
Two bottles in a pack.
Negatives:
You have to pay more if you want different colors.
back to menu ↑
Popular Questions
back to menu ↑
How to Prevent Spit Up?
There are several options for parents who want to prevent spit up problems. I have already named you the main possibility, which is the proper bottle. Your next moves:
Don't overfeed your baby. Since they can't explain to you that he is not hungry anymore, it is one of the hardest tasks for mothers. You may try to feed your baby with small portions but more frequently instead of several times but until they spit up;
Try to help your baby burp each time they eat. You already know how to do this. Just get rid of gas bubbles from the stomach;
Don't play with a child actively after the meal. You can't do it even with adult people. Try to wait for at least an hour.
back to menu ↑
Is Bottle Feeding Better for Reflux?
There are numerous recommendations for changing breastfeeding for the formula to prevent reflux. However, each case is different. You have to ask your pediatrician who knows your child's medical history. Both babies who are breastfed and bottle-fed may experience reflux. Pay attention to the fact that reflux in infants happens quite often.
According to the recent stats, almost 65 percent of newborn babies experience reflux. Formula-fed babies suffer from reflux even more often. However, it is not related to breast milk and formula. Many bottles on the market simply do not have vents or special angled shapes to decrease the number of air bubbles in food.
back to menu ↑
What Are the Warning Signs of Infant Reflux?
Pay attention to these signs. While reflux in the early stages of life is natural and does not have to bother you, in babies after 6 months, it must cease. If not, consult with a professional. The most common signs of reflux among infants:
Frequent spitting up or even vomiting. Don't mix up these two processes;
Baby does not want to eat or even swallow the milk/formula and may experience difficulties with the process;
During the feeding process, the child is obviously irritated;
During the feeding, child burps or hiccups;
Despite the regular feeding, your child has a problem with gaining healthy weight;
Baby is choking regularly;
Baby has sleeping troubles.
back to menu ↑
Is Reflux Worse at Night for Babies?
Reflux is more dangerous at night. During the process of acid reflux, the baby feels more comfortable while it is held upright. The reflux can happen at night as well. It is neither more severe nor happens more often at night, however, it definitely feels more comfortable for the baby in case you don't hold them properly. You have to keep watching your baby if they suffer from reflux. One of the main strategies I recommend is feeding from the bottle at least an hour before your own sleep, so you can watch whether the food does not cause any problem.
back to menu ↑
Which Bottle to Choose?
I can't give you one direct answer, mainly because these bottles are suitable for specific cases. Depending on your demands, you may pick one of them. Check out all the pros and cons. Decide what shape of the bottle is preferable to you, which size is the most beneficial. For washing machine owners, there are multiple items on the list, as well as for those who prefer sterilizers, microwaves, or manual washing. Have you ever tried some of these bottles before? Have they helped your child to get rid of reflux? Which are your favorite bottles from the list?