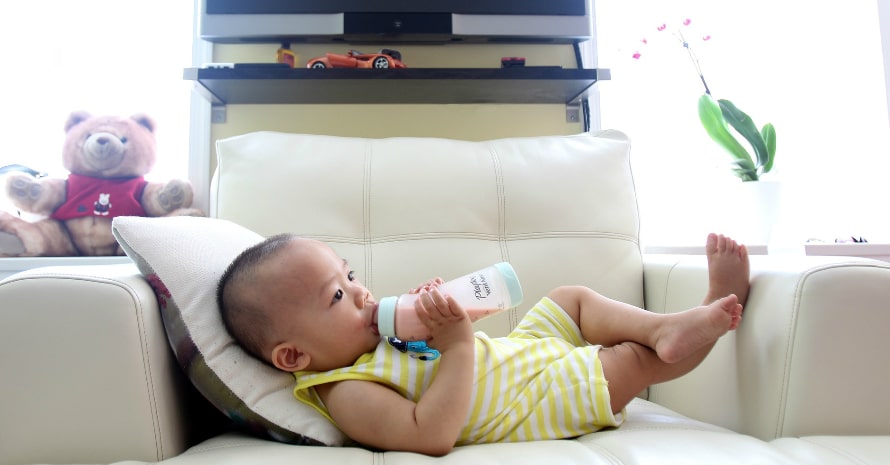 Taking care of the baby is the top priority. But having a baby is never easy, especially if it's the first one. There is so much we need to learn before we give birth to provide the best care to the newborns and ensure their healthy and happy growth. Breastfeeding is an essential part of proper and timely baby's growth and, to provide an impeccable nutrition experience, you have to ensure you use quality baby bottles and also a baby bottle sterilizer to keep everything clean and tidy.
When I had my baby girl, I took choosing the baby bottle sterilizer pretty seriously, as I knew about the importance of getting rid of all the bacteria that could accumulate in the bottle. I have tried a few manufacturers, and my experience as a kindergarten teacher also allowed me to get familiar with different products available on the market.
Taking into account that I know a lot about baby bottle sterilizer and dryer models, I will be happy to share my experience with you. In this article, you can find out about the top baby bottle sterilizer items that are worth purchasing for your child.
Top Five Baby Bottle Sterilizers
Here is my list of top products available on the market. All of these sterilizer and dryer items are my personal favorites, so the only thing you need to do is to read each product description carefully and choose the one that you like the most.
Each baby bottle sterilizer is worth your attention, so feel free to pick the one to use to maintain healthy and safe nutrition of your baby.
back to menu ↑
1. Philips Avent Microwave Steam Sterilizer – My Preferred Choice
Everyone knows this company, as it's an internationally trusted manufacturer that creates all sorts of home and beauty appliances, as well as products for kids, such as bottles and sterilizers. Thousands of moms all over the world trust the brand, and I am the biggest fan of this manufacturer, too, as it creates all the innovative and convenient products that make motherhood much easier. The best healthcare professionals and clinicians have worked on this particular item to provide outstanding quality and effectiveness.
This baby bottle sterilizer is certainly worth your attention, as it combines everything you might need. I used this one myself, and I can assure you that it perfectly cleanses and sterilizes bottles, thus, getting rid of germs and bacteria. Now, let's get to the detailed description of this particular item to get a better understanding of its main functions.
The first thing you need to know about this tool is that the sterilizer is designed for microwave use. You can find this appliance in each household, so it won't be a problem for you. That's why the price is highly affordable, and that's also great, as most sterilizers are much pricier than this particular product. This tool is very lightweight, as it's made of high-quality plastic. The material is safe, as it doesn't contain BPA. The size will perfectly suit all microwaves, so you can be sure that it will be a perfect pick for yours, too.
It is the fastest way to kill all the bacteria and germs in only two minutes, whether at home or when you are away. As I have mentioned, it's pretty lightweight, and you can take this sterilizer with you on trips, as you will still need to keep bottles clean and safe for your baby. It's very convenient if you travel a lot with your little one.
The manufacturer claims that this sterilizer can kill 99% of bacteria within a few minutes. The item is very easy and convenient to use. It can fit up to four bottles at once. What's great, it is suitable for any bottle manufacturer, so no matter what brand you have chosen for your baby, you still can use it with this fantastic sterilizer.
Besides, you can easily sanitize not just baby bottles but also breast pumps, pacifiers, plastic toys, as well as other baby's accessories. However, keep in mind that you can't sterilize any metallic items in a microwave.
The sterilization process is pretty simple. You have to pour water into the container, close the sterilizer, and put it in the microwave. Turn it on to create steam that will completely kill all the harmful bacteria, so you can safely feed your baby and prevent any stomach illnesses that can be caused by germs and microorganisms.
The capacity of the container is only 200 ml, so you don't need a lot of water. This amount will be enough to create enough steam to destroy pathogens.
The sterilizer is also safe for you, as it has safety clips that stay cool to prevent burning your hands. Thus, you can take the container out of a microwave safely. The steam creates a pretty high temperature, and you have to be extra careful while touching the device. These clips allow a firm grip, and they don't heat for comfortable holding. As you can see, the manufacturer took care of protecting you, as well.
The sterilization is very fast. The more powerful your microwave is, the less time is required to kill all the bacteria and harmful germs. For example, a microwave with voltage starting from 1200 can do the job in two minutes, while the one with a voltage of 850 will need four minutes to sterilize the bottles inside.
Also, for a microwave with a voltage from 500 to 800, six minutes will be enough to kill all the pathogens. Keep that in mind and check the voltage of your microwave before using it with a sterilizing device to make sure that the bacteria are neutralized. After you have sterilized all the bottles and other accessories, you can keep them inside the tool for twenty-four hours. If you don't use them during this period, you will need to repeat the process.
One drawback is the size of this sterilizer, but taking into account that it is meant for microwaves, you can keep it inside the appliance and save space in your kitchen. I'm in love with this sterilizer and dryer, as it is very functional, and you can buy it for a reasonable price. It's pretty simple to use so that you can sterilize all bottles with ease. I recommend this one, as it's my favorite from the list. Give it a try and experience its amazing quality and convenience to use.
Positives:
A great price
Highly effective
Easy to use
Fast sterilization
Suitable for different bottles
Negatives:
back to menu ↑
2. Philips Avent 3-in-1 Sterilizer for Baby Bottle – A Fantastic 3-in-1 Device
I want you to get familiar with another fantastic product from this great manufacturer. This model is one of the best sterilizers that I know on the market, and it's one of the best-selling products, as well. It's recommended by pediatricians and by moms, too, so this Avent device is a quality item that you should consider purchasing.
The manufacturer has applied all the knowledge about the baby's health, well-being, and safety to come up with a baby bottle sterilizer like this. It keeps babies healthy and moms happy, as the tool is so convenient to use. The price is higher for this item than for the previous one, but it works autonomously, and you don't need a microwave to get all the job done.
This great sterilizer will allow you to kill 99.9% of all the bacteria without chemicals. The steam will do everything needed to eliminate even the most harmful germs and microorganisms so that your baby can enjoy feeding time, and you can stay sure that no pathogens will cause any stomach illness.
This item needs only six minutes to perfectly sanitize baby bottles, as well as other accessories, like pumps, pacifiers, and so on. The device works completely automatically, so all you have to do is to turn it on, and after six minutes, the system will turn it off for safety. From now on, you will have no worries regarding the bottle sterilization process.
The sterilizer has a modern design that will perfectly suit any kitchen. This model is fantastic for an effective sterilization process and will make your life much easier. Besides, the item has a 3-in-1 design. You can mix and match different parts, depending on what items you need to sterilize.
It's possible to load it with accessories, for example, pacifiers, teats, and bottles at once or separately. Adjust the sterilizer settings according to your needs and get the most effective and fast results. You can put bottles inside and sterilize them all with ease. The sterilization process is safe, as the open design allows you to clean the plate all the time so that steam would always be clean each time you use the device.
The one thing to know before purchasing this sterilizer is that its full capacity is six Philips bottles. You can additionally buy the supplies, too, if you don't have them yet. The bottles by this manufacturer are also a perfect choice to make, as they are made of safe materials and have great designs for the most enjoyable feeding time. Keep in mind that you can sterilize other standard and wide-neck bottles. Any other accessories can be sterilized, too, so you are free to put inside teats, pacifiers, or plastic toys.
With natural steam, it's possible to get rid of all germs, bacteria, and microorganisms that can harm your baby. The device allows a fast, extremely effective, and safe sterilization process for impeccable results.
Keep in mind that you can store sterilized bottles and other baby's accessories inside for up to twenty-four hours. Also, make sure to keep the container closed. After this time, the items are no longer safe, and you will have to re-sterilize them again.
This item is perfect for each household, as it's very easy to use. The only thing to do is to pour the required amount of water in it and press the button. Wait for a few minutes, and you are good to use bottles or pacifiers.
It's recommended to clean the bottles after each time you use them to make the sterilizing process after as effective as possible. You can put containers in a dishwasher or hand-wash them. Let them air dry and then sterilize supplies, and you can use the items again to provide your baby with clean bottles and favorite toys and accessories.
I personally really like this product, and I know a lot of moms who have tried out this amazing sterilizer, so I can easily recommend it to you, as well. The price for this one is pretty reasonable, so you can invest in the convenience and save your time in the future. The item will do all the required work for you. This sterilizer is worth your attention, and you should put it in your must-buy list.
Positives:
Suitable for six bottles at once
It kills 99.9% of all the germs and bacteria
It works fast
A great lightweight design
Negatives:
More expensive than the previous option
back to menu ↑
3. Dr. Brown's Deluxe Baby Bottle Sterilizer – A Premium BPA-Free Tool
This famous brand is also known throughout the whole world and trusted by moms, as the manufacturer offers quality, safe, and pediatrician-recommended products. These include bottles, warmers, sterilizers, pacifiers, cups, and other accessories for the best baby care. I adore this manufacturer and have used many of the products it sells, so it's your turn to discover its great range of different baby items.
This sterilizer and dryer is a perfect solution if you want to maintain baby feeding time safely. I've heard a lot of positive comments about this item, and I can assure you that this model is worth buying to provide a safe and happy feeding experience for your little one.
One important thing to mention about this tool is that it's made of high-quality polypropylene and borosilicate glass that are completely free of BPA. It makes this item perfect for regular use.
The sterilizer is so easy to use. It has only two buttons to turn it on and off, respectively. Besides, you will have three colorful indicators that will show you what the stage of the sterilization process is. It makes the overall process even more convenient.
Moreover, the design of this sterilizer is very modern and appealing. It will fit your kitchen with ease. In addition to the sterilizer itself, you will also get a measuring cup that will help you get the required amount of water for a single sterilization process. Also, you will get tongs that will allow you to remove a hot bottle or accessory from the tray carefully.
This sterilizer can steam six bottles at once, and it is suitable for most manufacturers' supplies. You don't have to worry and wonder if the container can fit in, as it definitely will. Just place it inside and wait a few minutes until the sterilization process is over. All you have to do is to press the button and wait a little bit, and the system will automatically switch the machine off.
Every single detail was designed for your comfort and convenience. The sterilizer includes a removable tray for accessories, like pacifiers, teats, small plastic toys that you can sanitize along with baby bottles. Also, it allows you to dish-wash it from time to time to maintain the machine clean and safe itself.
The tray for bottles is designed in the way that steam goes directly inside them to ensure the highest level of cleanliness and kills all harmful germs and bacteria that can be dangerous for the baby's health. An additional tray for accessories allows you to sterilize everything you need at the same time.
It will take only a few minutes to get rid of all the microorganisms and start using bottles for the safest feeding experience. Just pour the required amount of clean water inside, press the button, and in a few minutes, you will get sterile items ready for use.
Make sure not to exceed the indicated amount of water, as it might lead to eventual breakdown. Also, the manufacturer recommends using clean filtered water, as if your tap water is hard, it will cause residue on the heating plate that can also lead to malfunction.
The sterilizer is pretty small and lightweight, so you can easily take it with you on trips. Even during travels, you need to ensure your baby uses only clean, sterile bottles and nipples, so this item will certainly come in handy, and you won't have trouble taking it with you. I recommend this item because of the perfect combination of price, functionality, design, and effectiveness.
The sterilizer will perfectly do its job, and you are good to use bottles and accessories right away the sterilizing process is over. You should give it a try and see that the quality and functions are perfect for everyday use. The manufacturer is trusted by thousands of women worldwide, and you can become the next one who will discover the amazing products by this brand.
Positives:
Lightweight
Great functionality
It eliminates all the bacteria and germs
Easy to use
It is made of safe BPA-free materials
Negatives:
back to menu ↑
4. Papablic Electric Steam Baby Bottle Sterilizer and Dryer – A Universal Option
I have discovered this outstanding company not long ago, but I have already fallen in love with its products for babies. You can find all the variety of items for baby care and feeding, such as bottles, sterilizer and dryer, bottle warmer, pumps, and even toothbrushes. The brand offers amazing quality in combination with fantastic functionality and great prices.
This particular product created by the Parablic company has gained enormous popularity among moms throughout the whole world. If I needed to buy another sterilizer, I would choose this one.
The design of this bottle sterilizer is excellent, though it's not a lightweight model. Nevertheless, this item is worth buying it, as it combines all the functions you need for healthy and safe feeding time.
High-temperature steam generated by this sterilizer will completely kill all the germs and bacteria. This process is much more effective than regular hand- or dishwashing. If you want to minimize the risks of your baby getting any stomach illness, then this item is imperative for purchasing to achieve reliable results.
This sterilizer has three amazing functions that I want to highlight. Let's see what this amazing machine can do for you.
1. First of all, it can sanitize baby bottles. The item will be perfect for a family with many kids, as this sanitizer can hold up to eleven bottles, as well as other baby's accessories, like pacifiers, teats, plastic toys at once.
2. This product is a dream come true, and the large capacity is the main thing that sets this particular tool apart. There are small and large baskets that you can use, according to your needs. The sterilizer can turn from a small to a big one in just a few seconds while allowing you to sanitize everything your baby touches and uses.
3. This machine can be suitable for travel, too, as you can take a smaller container only to use upon need. It is very convenient if you want to take your kid with you and still ensure the safe, enjoyable feeding time.
The sterilizer kills all the harmful bacteria and other pathogens dangerous for your baby. After the sanitizing process, you can keep clean accessories and bottles inside for approximately twelve hours. As usual, you will have to repeat the process if you want to keep everything clean and free of any kind of germs.
Once the sterilization process is over, you can switch to the drying feature that can dry all bottles and accessories with hot air so that they will be ready for use right away. The last feature is that this device allows you to deodorize everything inside so that your baby will use fresh and clean utensils.
This sterilizer is a perfect match for all types of bottles from different manufacturers. It can fit anything from bottles to toys and accessories. The item is also easy to use. You can wash parts separately to keep it always clean.
Also, it has a very convenient timer, and the system will automatically shut the sterilizer off for the highest safety. There is only one dial button that you can use to switch between different functions. You can forget about complex instructions you had to deal with before.
It takes only eight minutes to sterilize the full capacity of this item. All you have to do is to add 100 ml of clean water and rotate the button to choose the function needed. The machine will do the rest and automatically turn the sterilizer off for your convenience.
Every part of this sterilizer is removable so that you can change the configurations for your convenience. The item uses powerful high-temperature steam flow to kill all the bacteria and germs. It's a perfect way to provide safe baby bottles, toys, and accessories. Besides, the sterilizer is made of completely safe materials that don't contain BPA.
I love this product and advise you to give it a try. For a reasonable price, you will get a highly effective sterilizer with two additional functions that are pretty useful and would significantly facilitate your life.
Moreover, the huge capacity of this machine is also stunning. You can easily adjust the size of your sterilizer and take it with you no matter where you go. It is a perfect investment in convenient and safe baby feeding time. You can be sure that you will never regret buying this amazing sterilizer.
Positives:
Highly effective
It kills all the harmful microorganisms
Convenient to use
Works as a hot air dryer
A nice design
Negatives:
back to menu ↑
5. Grownsy Baby Bottle Sterilizer and Warmer – Amazing Travel-Size Option
The last item in this review is a pretty renowned manufacturer of diverse goods for babies that include warmers, bottles, sterilizers. This sterilizer and dryer can become a worthy pick.
This trusted manufacturer has received a lot of positive feedback, and you can give this tool a try. I would use this one myself as I am in love with compact modern-looking designs. The color is also amazing, and it will be a joy to see each time you need to sterilize baby bottles.
It is not just a regular sterilizer. It features six settings that will make your life easier. You don't need a microwave, a warmer, or any other machine to heat up or defrost your breastmilk. This tool can do all the tasks for you, and one small item can be a substitute for other equipment.
It is a perfect investment that will save you money and time while making your feeding routine more calm and comfortable. The item has a LED touch screen, so you can adjust and see the time and temperature to warm up some milk or sterilize baby bottles. It will especially come in handy during the night when you need to clean the container or heat up the formula. Being a caring mom has never been easier.
The sterilizer and warmer is made of safe materials, so with this tool, you are assured of the quality and durability. The manufacturer cares about the baby's safety, so it strictly controls the quality of the materials used to create such an amazing life-saving machine. To warm up milk or sanitize baby bottles, you only need to pour the required amount of water and press the button. The process is pretty much simple.
The sterilizer will completely clean all the bacteria. You can be ready for the next feeding time with ease. The item will be perfect for containers of different sizes. However, it can fit two bottles at once only. Nevertheless, it's more than enough for you to keep bottles sterile and ready for use.
Besides, you can sterilize not just baby bottles but also nipples, pacifiers, forks, spoons, other utensils, and some small plastic toys or accessories. It will only take a few minutes to kill all the harmful germs and pathogens that can take a toll on the baby's health. The machine will automatically switch off not to burn the items you put inside.
Regarding the warming function, this item can easily warm up breast milk or formula in only a few minutes using steam. Moreover, the warmer allows keeping milk at the same temperature for twenty-four hours, and this feature is what enhances the nursing experience a lot.
This product is everything that you might need for a safe and enjoyable baby's nutrition. One more great function is its ability to defrost breast milk effectively. It will heat your milk gently so that it won't lose the essential nutrients that breast milk contains. Once your baby grows older, you will be able to warm up food jars, as well. The special technology will never let you overheat the food.
It is a travel-size item so that you can take it with you on your next trip. It will allow you to save space and still have all the essential functionality at hand to provide your child with safe meals. It has an amazing design that every mom is going to love so much. It won't occupy much space in your place, as well. The sterilizer will become a modern addition to the overall interior.
What I also like about this item is that it is pretty affordable. For its price, you will get a powerful sterilizer doing its job fantastically. Thus, you will be able not just to sterilize baby's bottles, utensils, and other items. You can also easily warm your breast milk or formula, keep the temperature for up to twenty-four hours, and even defrost milk without killing all the crucial nutrients needed for the child's growth and development.
It is a perfect device that contains all the essential functions a mother might need. I like this tool, and I insist on trying it, as it will ease your routine each day you use it. After giving it a try, there is no way back. I recommend this device for purchasing.
Positives:
Multifunctional
Comes at a great price
Has a sleek design
Travel-size
Has a useful LED screen for settings
Negatives:
Suitable for two bottles only
back to menu ↑
Everything You Need to Know About a Baby Bottle Sterilizer
Before I show you my list of top products available out there, I want to provide you with my answers to the most common questions regarding why and how to sterilize baby bottles that I usually get from women. Let's get started to understand better what such an item is about.
back to menu ↑
Do You Need to Sterilize Baby Bottles?
Each mother needs a bottle sterilizer and dryer to remove breastmilk or formula leftovers on the bottle. You feed your baby multiple times a day, and after this regular usage, bacteria can easily grow inside. To prevent this process and keep all baby bottles clean and safe, you have to sterilize all baby bottles and use them only before feeding time.
Sterilization is an effective way to kill all dirt, bacteria, and other pathogens and microorganisms that usually provoke vomiting, diarrhea, and other illnesses. It's required to clean and sterilize all baby's feeding supplies right after you use them to avoid spreading germs. Baby's stomach is extremely tender, and it's your job to make sure that you use only quality formula or breastmilk and serve it in a sterile container to avoid any health complications. That's why sterilizing all bottles is imperative.
back to menu ↑
How Long Do You Need to Sterilize Bottles?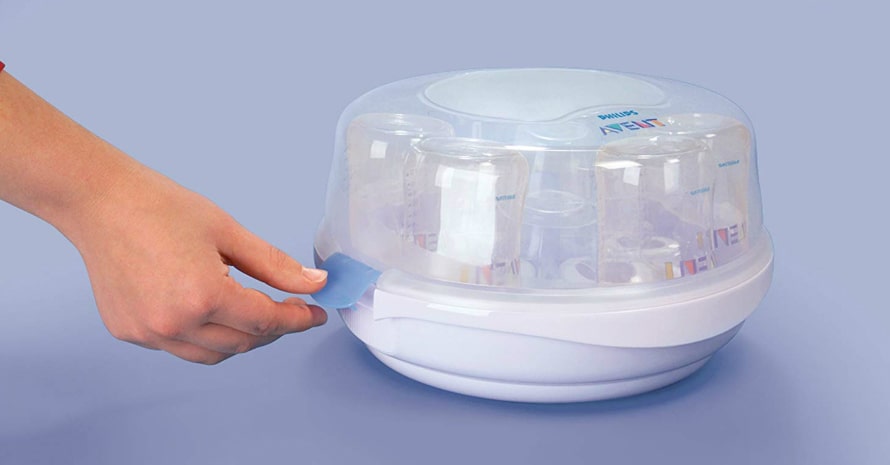 The immune system of infants is pretty vulnerable and prone to all sorts of viruses and illnesses. During the first year of the newborn's life, it's of paramount importance to take extra care of environment safety and cleanliness.
Pediatricians recommend sterilizing baby bottles during the first twelve months until the infant's body and the immune system get stronger to resist the bacteria and infections.
back to menu ↑
How to Sanitize Bottles?
Before you use a bottle sanitizer, you have to clean each bottle thoroughly with soapy water. Also, I recommend using a brush to get rid of all milk leftovers that could be stuck on the bottom of the supplies. After this, you have to rinse bottles with running water and let them air dry.
There are different kinds of baby sterilizers, such as steam, electric, and microwave sterilizers. But no matter which one you opt for, you have to place a clean bottle inside and follow the instructions provided by the manufacturer. Fill in the needed amount of water and leave the device for a couple of minutes.
After this, store clean bottles inside the sterilizer. Remember that you can use the containers only twenty-four hours after they have been sterilized.
back to menu ↑
How to Use a Baby Bottle Sterilizer?
A few decades ago, mothers were using boiling water to kill all the bacteria on the baby's supplies. Today, with the advent of technologies, the process became much more convenient and simple for us. The thing about a baby bottle sterilizer is that it works not only for bottles. You can utilize such a device for different accessories, from pacifiers to plastic toys.
Speaking of the way you should use such a device, the process is pretty simple. As I have already mentioned before, make sure all items, whether bottles, pacifiers, or cups, are perfectly clean. Though all sterilizers work pretty much the same, you should still follow the instructions, as they can vary from one manufacturer to another.
Place bottles in the sterilizer and dryer, add the required amount of water, and turn the machine on. The process is completely automated, so the device will turn off once the job is done, and you don't have to be concerned about the safety of the tool.
After the bottles are sterilized, you can keep them inside until you need them again. Usually, there's a requirement to re-sterilize bottles twenty-four hours after the previous cleaning, so make sure to pay attention to this aspect.
back to menu ↑
Summing It Up
A bottle sterilizer and dryer is a vital thing you need for a safe baby's nutrition. You must keep all the baby's supplies sterile to avoid any residue and bacteria building upon them. There are plenty of tools and manufacturers available out there, and your task is to select the most suitable model for your needs. I have facilitated the search and provided you with the listing of my picks so that you can buy a durable baby bottle sterilizer quickly.
I have extensive experience with kids, and I was lucky enough to know a lot about decent manufacturers and products. That's why I wanted to share my knowledge with you and help with choosing the right bottle sterilizer and dryer.
I have included the five items that I have used myself, plus the best-selling ones. You can pick any of them, as each sterilizer on the review is a time-proven item that will serve you well and perform perfectly.
What tools have you used before? Which did you like, and what didn't? What product from my review do you like the most and would like to add on your to-buy list? Leave your comments below, and I will be happy to hear your story.