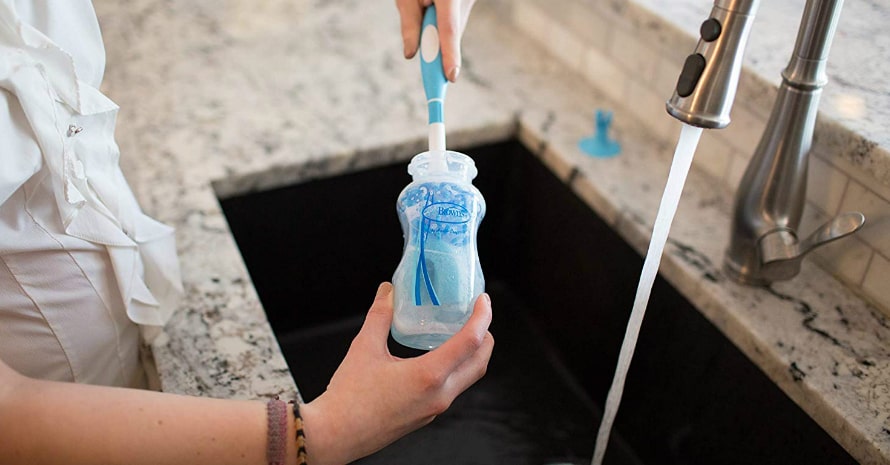 Having a baby is an amazing thing. Still, expect an inexhaustible list of chores. With a new member in your family, you'll most likely become a little more cautious, as babies are much more susceptible to infections than adults. Every expectant mom should prepare herself to put a lot of effort into keeping up with the daily cleanup. Another tiring chore that you'll constantly have to deal with is cleaning and sanitizing your baby's bottles.
Therefore, you need to get the best baby bottle brush to clean your child's supplies. Such tools are quite different from regular brushes because of their specific shape. Thus, their design allows the items to access every corner of the baby's bottle to clean it efficiently and getting rid of bacteria and milk residue easily. A basic sponge won't get the job done. So, you need to invest in a high-quality bottle brush.
Also, you need to consider several factors before purchasing such an item, including the manufacturer, model, price, and specific features. As a kindergarten teacher and mom myself, I decided to share some helpful tips on what tools to choose and what characteristics to look for when selecting a brush for baby's bottles.
In this article, I will review a couple of bottle brushes that can make your cleaning routine much easier. But first, let's check out the basics of cleaning and sterilizing baby supplies.
Top Five Baby Bottle Brushes in 2022
You need a well-designed and high quality baby bottle brush to get your baby's bottles cleaned properly. But how to choose the best tool? This review will discuss the products that will leave you satisfied with the cleanness of your items each time you wash the child's supplies.
However, it is essential to note that, despite the simplicity of the bottle brush functionality, these tools come in quite many designs. Some can clean with nylon bristles, and others have silicone ones. Moreover, some are fitted with a sponge, whereas others combine several features. You'll be surprised to learn that some brushes are even made with pig bristles.
Also, after cleaning a bottle using the brush, you have to wash the bottle brush, too. While some are safe to clean inside the dishwasher, others are not. Most tools come with a design that allows them to either stand upright or be hanged. That way, they get better air circulation and don't hold germs.
Besides, the kind of bottle you use determines the type of brush you need to choose. Other factors to look at include the durability, price, availability, effectiveness, among others. So, it all depends on what you're looking for. Here are the top five bottle brushes to opt for in 2020 that I can profoundly recommend.
back to menu ↑
1. Oxo Tot Bottle Brush – The Best Baby Bottle Washer with Stand
You'll most likely be feeding your baby six to eight times a day. So, how to keep up with the cleaning needs? Get yourself the Oxo Tot bottle brush that is a perfect solution for cleaning baby's supplies quickly. It is a number one cleaner on this list because of its many amazing features. First, despite having soft bristles, this brush is quite a strong tool. It will not only clean your pieces gently but also scrub them effectively.
Besides, it has a soft, non-slip handle. The item allows a strong grip, even when in warm soapy water. On the handle's interior, you will see a silicone nipple cleaner for washing the hard-to-reach spots of a bottle, such as a breast pump part. This tool does a more effective job compared to similar bristle-fitted items. So, it will come in handy when you need to clean the bottle fast.
Also, the brush comes with a bendable neck that allows accessing the insides of bottles of various sizes and shapes easily. So, you don't need to worry about what tool to choose for different supplies. From my experience, I can say that this cleaner can handle almost any bottle shape.
Moreover, you can have access to the brush easily by making use of the stand that comes within the package. It will keep your tool clean and dry all the time. Also, the stand has an easy-pour spout that can be easily detached for cleaning.
This brush can help you with any hard-to-clean residues. The handle is narrow and pretty long for comfortable handling, and the bristles are firm and soft. They are made of long-lasting plastic so that this item won't wear out after several uses. After cleaning your baby's supplies, you can put the brush inside the dishwasher to clean it with your other tableware.
Once you wash the brush, you can simply store it by hanging on the corresponding stand or somewhere in the kitchen. So, other than using common brushes or basic washcloths, get yourself this brush to quickly get through the challenging cleaning work. This light tool is safe for your little one because it is both Bisphenol A and Polyvinyl Chloride free.
What I love about this model is that it has tons of features that make it the best on the market. First, its bristles can be used for various tasks. They can clean milk residues both gently and roughly, depending on how long the bottle stayed dirty before cleaning.
Whether you want to clean gently or scrub baby's supplies, this brush has you covered. Another feature I like about it is the bendable, flexible neck, as well as the brush's rubber grip that makes it easy to hold the tool. So, as you clean baby's items, this brush won't slip off your hand.
Also, expect your breast pump and nipple parts to be clean, thanks to the useful silicone nipple cleaner this brush has. Additionally, there are ventilation holes in this unit that help the nipple washer dry fast. Besides, this brush won't rust because the whole handle is plastic. This Oxo Tot model is long-lasting, and I have been using it for several months.
However, here's the thing that I don't like about this tool. Its head is really large so that it won't fit well inside small bottles. Also, after repeatedly using this brush, you will see the bristles becoming flattened. Although this item has a great nipple cleaner, it lacks long bristles that are still necessary to clean this part effectively. However, this Oxo Tot brush is definitely worth the buy, and I can recommend it to every mom.
Positives:
Has very soft yet strong bristles for perfect cleaning
Comes with a stand
Dishwasher-safe
Long-lasting
Negatives:
It may be too big for small bottles
back to menu ↑
2. Dr. Brown's Bottle Brush – A Sponge Bottle Brush with Suction-Cup Stand
A physician Dr. CraigBrown created this recognizable baby bottle brush. Fans of Dr. Brown bottles may prefer to purchase the bottle brushes from the same company. It is because such supplies don't come with complimentary brushes that are necessary for washing the vent section of the bottles from this manufacturer. So, you have to buy a special bottle brush if opting for products from Dr. Brown.
Most users of this item have declared this brush a winning one. This model features a combined sponge and bristle head for an easy and thorough scrubbing of bottles, leaving them clean and sparkly. Its carved handle is a non-slip one, meaning that the brush is easy to grip, even in soapy water.
It also comes with a special handle design for washing bottle nipples. These chevron channels gently clean the insides of these parts, as they can be easily spun and put into the nipples. While some people love this feature, since it only takes several twists to clean the entire nipple area, others said that the tool could come with the real nipple brush.
Besides, this model has a clip for storage, allowing you to keep your item conveniently close to the washing sink. Another fantastic feature of this tool is that you can safely wash it in the dishwasher. However, it can only be put on the top rack.
This great brush can be used for different bottles, too, since it can fit the necks of all the general and wide supplies. Additionally, the fact that it combines bristles and a sponge means that this brush can access all the corners that are normally hard to reach using other brushes. However, don't expect to use the sponge for too long. You will most likely have to buy one every thirty to sixty days.
I love several additional features of this model. They include the efficiency of cleaning it allows, and that it features a storage clip, besides the stand. The channels make nipple washing easy, and the bristles and sponge do a wonderful job of washing out all the residue.
Another thing why I love this brush is its cost. You don't need to dig deep into your pocket to afford this one, since getting yourself this Dr. Brown brush is quite affordable compared to tons of models on the market. Besides, its suction cup lets the brush stay dry and clean while standing upright on your kitchen counter. Also, this model is toxin-free, meaning that it is safe for your little one.
What I don't like about this brush is that it won't last long, so you have to replace the item quite frequently. As I said, you'll have to purchase one every thirty to sixty days since the sponge and bristles will wear out. Besides, it doesn't come with a separate nipple brush. Many moms say that they would instead use a nipple brush than bristles that clean such sensitive items using hard plastic ridges. 
Other moms I know have admitted that this brush has quite weak suction, and the suction cup may not hold the bottle brush upright well. Another problem is that this brush splatters tons of water when removed from narrow bottles. So, you'll most likely get wet while washing your child's supplies. Still, this product is worth the money, and if you use Dr. Brown bottles or need an affordable tool, go for this one.
Positives:
Has a suction-cup stand
Affordable
Comes with an inbuilt nipple cleaner
BPA-free
Combines a sponge and bristles
Negatives:
It has weak suction
Not long-lasting
back to menu ↑
3. Philips Avent Bottle and Nipple Brush – The Most Versatile Bottle Cleaner Brush
For the last three decades, Philips has been among the highest-quality manufacturers of baby's supplies in the industry, putting the needs of its customers in mind. That's why a lot of moms globally recommend this brand.
Philips products include presents for kids, baby monitors, baby feeding supplies, and breastfeeding items. With such a wide range of products, there is no doubt that this company knows well how to produce useful items. Besides, most of its products have been designed in such a way that they are interchangeable, and you can find the right option along with your baby growing up.
Sometimes, you may feel that your kitchen sink is filled with bottles and their accessories, and you have to get a brush for every job. It will not only cost you money but also leave you with a messy kitchen countertop. So, what you need is one brush that can handle different tableware. Not only will it save you cash but also space and time.
This Philip Avent bottle and nipple brush come as a combined set that can help with cleaning different items. Your baby's feeding supplies can now be easily cleaned with this slim, multi-purpose bottle brush. It can effectively wash all your baby feeding tools because it has a uniquely arched head for cleaning arched areas of bottles. This model also features a contoured handle tip that makes cleaning the interior of your bottle's nipples easier. 
So, with this product, you can wash the nipples thoroughly, access the lower parts of your bottles, and give your feeding tools a perfect wash all with one tool. Besides, this model comes with high-density, long-lasting bristles. They are soft yet firm, making them efficient at washing baby's bottles without any damage to them. Also, since the bristles are dense, it becomes easier for this brush to clean hard-to-access areas of the feeding items.
You can rest assured that the brush is long-lasting enough to endure many cleanings, making it a durable and economical pick. Additionally, this Philips bottle and nipple brush can be washed in a dishwasher.
The model also comes with a comfortable handle, and you can either put the tool on its stand or hang somewhere above the kitchen sink. Also, it means that the item won't take a lot of space in your kitchen, as well. Another feature of this model that I like is that it has been made of BPA-free material, making it safe for your child.
This brush's versatile applicability allows it to wash bottles easily, as well as other baby feeding tools. What I don't love about this particular item is that it may appear too big to fit in tiny bottles, and this product features bristles in front only and not all over the tool.
Positives:
Long-lasting
You can wash all types of bottles
Has a nipple brush that can clean all the corners
Soft yet tough bristles
Safe to clean in a dishwasher
Negatives:
Won't fit tiny bottles
Bristles aren't distributed evenly
back to menu ↑
4. Playtex SmartSpace Bottle Brush – A Brush with Best Nipple Cleaner
Playtex is another company that manufactures quality bottle brushes. Among them is Smartspace, a high-value baby bottle brush from this company. Its design incorporates soft yet strong and efficient bristles that can eliminate the residues without leaving any scratches on the bottles.
This brush has a comfortably designed handle with a non-slip grip, making washing baby's supplies easy and convenient. This 12-inch brush's handle has an irregular shape that allows avoiding any additional materials in its manufacturing for ensuring a firm grip.
This tool is quite a dependable cleaner with several features that make it a winning option for every mom. Along with the bottle's brush, you will get a smaller tool meant to clean the bottle's nipples. The nipple brush is an outstanding additional feature that will come in handy all the time. What makes this particular small brush stand out is that you can store it inside the bottle brush handle, keeping it away from any bacteria. So, the brush's handle can be unhinged, revealing a nipple brush in its lower half.
It resembles the bottle brush tinier version, and it also comes with bristles, just shorter ones. What many moms love about this tool is that it can wash nipples thoroughly, getting rid of even the roughest milk residue. Besides, it can be used independently of the main bottle brush. So, you don't have to worry about water splashing on you unexpectedly.
Some may argue that this brush is a bit stiff, but from my experience, I can say that it won't tear out the nipples or leave scratches on your supplies. Moreover, this brush's set is BPA-free, making it safe both for you and your child.
Here's what I love about this bottle brush, to sum up. It has soft yet firm bristles that ensure thorough washing. Besides, the nipple cleaning brush can reach even hard-to-access areas of baby's supplies. Also, you can put this tool in the top section of your dishwasher to clean it, as it contains no BPA ingredients and, thus, absolutely safe. Another thing is that it comes with a hole on the handle's interior that lets you hang your brush for easier drying and storing. It also means that it won't collect any germs.
Upon purchase, you'll notice that the brush is plastic, meaning that it won't rust, making this unit durable. Finally, I love the fact that this brush is moderately priced. It won't cost you a fortune to buy this high-quality item, making it definitely worth its value.
What I don't like about this model is that if you forget to put together the brush and the nipple cleaner, it can become shorter, meaning the bristles won't reach the lower part of tall bottles. Additionally, you need to properly dry the nipple brush before putting back all the parts. Otherwise, there may be a growth of mold on the tool.
Besides, some moms complained that this brush was really big for their bottles, while others added that it was too wide so that it splashed water all over when pulled out, leaving one wet. Also, the handle can sometimes get loose while cleaning. However, it doesn't make this brush any less effective, and I can profoundly recommend it to anyone.
Positives:
It allows easy cleaning of a bottle of any form
Relatively affordable
Dishwasher-safe
Not toxic
Negatives:
May wear out pretty soon
Too big for small bottles
back to menu ↑
5. Munchkin Sponge Bottle Brush – A Thin and Long Bottle Brush
Munchkin is a corporation that was launched roughly two decades ago in LA. It has rapidly elevated to become one of the top players in the baby gear industry. While some may say that it is the most adored kids' lifestyle company globally, I can't fully agree with this statement after using this sponge bottle brush. However, I have to admit that the company's brushes are really popular and quality ones.
Besides bottle brushes, Munchkin also produces many related baby products. They include UV sterilizers for killing germs in nipples, effective cleaning sets, microwave solutions, and so on. So, the company knows how to make different baby products, and that's why its bottle brushes are among the most popular items on the market.
Washing and sterilizing your baby's feeding items is a job that you have to do daily, and that's why you need a durable tool. Among the brushes from this manufacturer is this useful, thin, and long item. With this sponge bottle brush, cleaning baby's bottles will become fast and much easier. You'll end up spending way less time on chores and more quality time with your toddler.
This two-in-one amazing brush can clean both nipples and bottles themselves. So, cleaning every part of your items will become more comfortable since you only have to use one handy device. It comes with a useful sponge tip that allows you to access all the bottle corners with one lathery swipe. The nylon bristles, on the contrary, are soft, meaning that they won't damage both your glass and plastic baby items. Just like other models from Munchkin, this tool has a tiny nipple brush placed inside the larger brush handle.
What I especially like about this item is its non-slip handle. It makes it much easier to grip the bottle brush, even in warm soapy water. Besides, you can place the base of this model upright on the top of your kitchen counter when you finish cleaning. It will let the tool air out fast and keep the brush away from dirt and germs.
Moreover, it is safe to wash this item in a dishwasher. However, you can only clean it in the top rack. According to Munchkin, it's preferable to buy a new brush every thirty to forty days not to allow germs and other infections to build up on its surface.
What I love about this product is that it has a really thin handle that can fit in all the narrow bottles. While such containers tend to look cute, during cleaning, you'll find yourself cursing why you got one while obsessing over how to get rid of the residue inside it. At this point, you'd wish to have superpowers that could make your hand fit inside the narrow bottle. However, the only way to wash such bottles effectively is to invest in this thin Munchkin's brush to keep your baby's supplies sparkling clean.
Besides, this brush is BPA-free, meaning that it's safe for your baby. Also, this sponge bottle brush has a sponge tip that can clean the bottom of your bottles fast and evenly. I have also noticed that according to reviews, people love the fact that the tool has a slot for draining water, making the brush easier to rinse, reassemble, and stand to dry without worrying that it will remain moist. Also, it is one of the most long-lasting brushes available nowadays.
What I don't like about this item is that it lacks a suction cup on its stand. So, when you place it upright, it becomes easier to knock over splashing water. Also, the sponge doesn't cover the brush's metal end. So, in the end, it still can scratch the items that you're cleaning.
Positives:
Its thin handle is effective for thin bottles
Cleans effectively with the sponge tip
Long-lasting
BPA-free
Negatives:
No suction cup
The sponge doesn't cover the metallic end of the brush
back to menu ↑
Cleaning and Sterilizing a Baby Brush
Choosing a bottle brush is not that easy, as you need to learn the basics of cleaning baby's items. This section addresses the ins and outs of cleaning and sterilizing a bottle brush.
back to menu ↑
What Is a Scrubby Baby Bottle Brush?
A scrubby bottle brush is the best one to purchase for cleaning bottles. Its unique shape is good for washing and scrubbing tableware, and it can clean crannies and crooks without missing any dirt. Besides, such a cleaner has no bristles. It comes with a dense head that allows getting rid of residues on the bottle quickly by scrubbing the bottle's sides.
Also, a scrubby bottle brush doesn't come with a sponge. So, it does not hold dirt and bacteria on its surface, and you can wash such a tool easily. What's even better is that it doesn't scratch or cause any food streaks. So, such an item comes as a perfect piece for your baby's supplies. Instead of bristles, the scrubby brush has a specially designed end that can work on a surface more like a gentle scrubber than a simple brush.
back to menu ↑
How to Clean Baby Bottles with a Brush?
There are several ways to clean a baby bottle, and the main one is by using a baby bottle brush. First, remove the bottle nipple and the rest of the removable parts to prevent any damage to them. Also, make sure that your hands are clean. Clean each piece separately by putting the bottle and its parts in warm soapy water.
Then, scrub the bottle, as well as the rest of the pieces using a bottle brush. It is an effective method of cleaning baby bottles because it eliminates all the traces of residue, making the cleaning process much easier. Once you finish scrubbing, rinse the pieces attentively to ensure that they are completely clean.
back to menu ↑
How to Sterilize a Baby Bottle Brush?
Sterilizing is very important because it eliminates all the possible harmful germs stuck on the bottle's interior wall. Besides, a baby is sensitive and susceptible to bacteria, making it critical to sterilize the bottle brush, as well.
It is important to make sure that your hands are always clean during sterilization. You can sterilize the brush either by boiling, using a steam sterilizer, chemicals, or a microwave.
back to menu ↑
Getting an Ideal Baby Bottle Brush
You need to get yourself the best bottle brush since it will make cleaning effortless and comfortable. Besides, you will end up saving time and reducing the pressure and stress of dealing with baby's supplies. Also, the product you settle on should be affordable, of high quality, and durable.
Based on several factors, including the bristles, the handle, its length, and the tip of the sponge that I have discussed in the review, I can name the Oxo Tot bottle brush a universal option. Not only is it of high quality, but it also lasts long, is affordable, comes with a long handle, as well as soft bristles.
Besides, it doesn't contain harmful ingredients and rust-resistant. It can clean all types of bottles, including freshly used ones, as well as those left on the counter for a night. This model also has a flexible handle so that you will be able to reach all the corners of your baby's supplies. The silicone nipple cleaner is not harsh on these parts, unlike those models that come with harsh bristles that can cause tears or scratches. Since it features a stand for quicker drying, you won't have to worry about bacteria building up on the tool.
With such features, this brush is the winner. However, all the options I have mentioned here are worth your attention, as each model has its prominent features.
What brushes are you currently using? Are they effective? Do you have any suggestions or tips when it comes to bottle brushes? Or any questions on the topic? I would love to read your replies in the comment section below.