Best Baby Carrier for Plus Size Mom: Top-Rated Products for your Comfort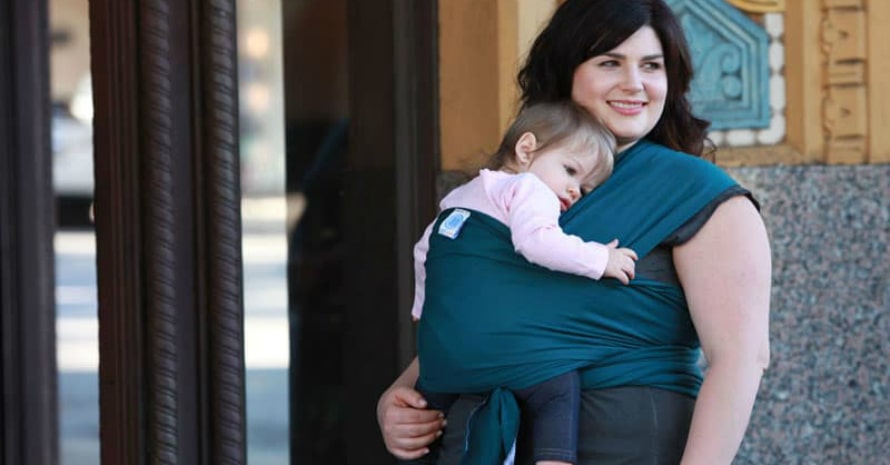 Plus-sized parents often worry that they won't be able to find a suitable carrier. But it is important to have the option that fits your needs and features to carry the baby with you while doing what you need with both hands. That is why I've decided to review some products in this article to define the best baby carrier for plus size mom and reassure you that you can find the one for you.
There are wrong views that the carrier is not a suitable solution for plus-sided parents or that it might not be safe for a baby. But you do not have to look for a stroller worrying that a carrier or a wrap will be uncomfortable to you. It is all a matter of the right approach.
Mom or dad and a baby will feel comfortable and united with a lightweight fabric wrap or a carrier with additional support. Specially designed wraps, ring slings or carriers provide a high level of safety and control. Moreover, they are much more mobile compared to strollers. So, let's take a closer look at some variants and discover what products are the best for you.
The Best Baby Carrier for Plus Size Parents: Reviewing the Top 9 Products
Below I've prepared 9 reviews for carriers recommended for plus-sized parents. I've tried to examine them thoroughly to reveal the ups and downs of each product. You will also find out which one is my favorite!
back to menu ↑
1. Ergonomic Carrier by Tula: The Best Baby Carrier for Plus Size Mom
Tula is one of the leaders in developing and producing convenient, versatile, and durable carriers. Their Ergonomic Carrier is a great representative of their line. The manufacturer follows not only smart design and quality material but also ergonomic construction and high safety standards. It is suitable for babies of 15-45 pounds. But even newborns will feel comfortable there with an extra infant insert. So, the construction allows long-term use up to 10 months.
This model is adjustable not only for a baby. Its waistband can be extended up to 56 inches. Moreover, it is wide and padded, so you can distribute the weight without harm to your back or hips. With padded shoulder straps, you will be able to achieve the required comfort regardless of your size. Quality breathable textile adds more to the convenience of this carrier. Also, the Tula carrier has a detachable hood and a waistband pocket.
One of the remarkable features considering other products is the design of the Tula carriers. They have stylish prints in a wide selection. I think this is really great if you want to improve your mood with cute little pictures.
As you can see, this product has numerous benefits both for a baby and parents. So, no wonder that to me this option is the best baby carrier for plus size parents. One slight drawback is that it might not be as comfortable as expected for parents below the average height.
Positives:
Ergonomic seat with multiple positions;
Adjustable padded straps to fit any size;
Light and breathable material;
Easy-to-adjust construction for long-term work;
A wide selection of stylish prints.
Negatives:
It might not be comfortable for parents below the average height.
back to menu ↑
2. Explore Baby Carrier: More Infant Carriers for Plus Size Moms by Tula
This Tula model is also represented in high-quality materials and design. The carrier provides 6 different positions, including front-facing and back carrying. The special construction makes it possible to use the Explore for both the first-days infants and 4-year-old toddlers.
It has an adjustable head pillow for better support for newborns. But in any case, the ergonomic properties remain on the decent level for both baby and a carrier-person. Also, the carrier has a detachable hood for protection, privacy, and sleeping needs.
The comfort for mom or dad is provided by the padded straps and wide waistbands for good support and right weight distribution. The lightweight quality materials ensure long-term service without adding bulk. Moreover, there is a good selection of colors and prints, so you can find the one that suits your mood. My favorite color is Bloom. However, you can choose a more neutral variant.
This article is dedicated to the plus-sized parents, so the following feature cannot be considered as a serious flaw. But keep in mind that this model might be uncomfortable for petite parents. However, moms and dads of regular size, as well as of bigger size, can wear it without any inconveniences.
Positives:
Light materials and design;
Adjustable construction;
Comfortable padding with neck pillow;
Multiple positioning;
Padded shoulder straps and waist pocket.
Negatives:
Not suitable for parents of small size.
back to menu ↑
3. Ergonomic Baby Wearing for Plus Size Moms by LÍLLÉbaby
One more option among baby carriers for big and tall dads and moms is this LÍLLÉbaby Ergonomic Carrier. This is an all-season model, which is comfortable to wear during any weather and temperatures. The 3D mesh material provides required ventilation for a baby's body in summer and warm and dry conditions during the autumn walk.
This carrier has gained its popularity thanks to its solid lumbar support. It has a special accessory for extra stability and lowering the backpressure. This ergonomic carrier provides 6 seating positions, including front-facing, backpack style, and hip carrying. Sturdy materials and construction ensure complete safety for your baby and free hands for you. And as many more similar models, this carrier is adjustable to the size of your baby, so you can carry your infant, baby, or toddler while it is comfortable for you.
Additional comfort is ensured by the padded straps and waistband, as well as by the band extender for plus-sized parents. Zippered waist pocket can store small objects like your phone or keys, leaving your hands free.
In my opinion, the selection of colors could be wider, considering the brand and the price. That is why I assume the price for this product could be lower a bit.
Positives:
Lumbar support;
Front or back carrying options;
Six-positioning carrying;
Temperature control and breathable lining;
All-season model;
Padded straps and waistband;
Ergonomic design.
Negatives:
Poor color selection;
A bit overpriced.
back to menu ↑
4. Gemini Infant Carriers for Plus Size Moms by Beco
I found Beco's Gemini carriers worth your attention as they offer remarkable features. Ergonomic design and durable materials go without saying as comfort and safety are the most important characteristics of a baby carrier.
Gemini is a 5-in-1 model, which provides 5 carrying positions for newborns up to 35-pound toddler. This is good for your pocket as the carrier will serve you as long as it will be comfortable for you to wear it.
One size design makes it possible to adjust such infant carriers for plus size moms according to your needs and comfort. Also, it has adjustable straps, and you can choose between a backpack and crisscrossed shoulder straps. Many moms and dads admit that a crisscrossed position is way more comfortable and helps to eliminate the back pain. Ergonomic support is also provided by the wide waistband that allows distributing the weight of your baby evenly. With a pocket on the band, you will be able to have your keys, wallet, phone, etc. near your hands.
Moreover, the carrier has a united construction with all the elements attached. So you just take it out of the package and start using it. The manufacturer has added a breastfeeding buckle with dual adjustment to make it possible to feed your baby in the carrier without any problems.
Among drawbacks, I want to point out that the mesh material is rough for a baby product.
Positives:
New design for shoulder straps;
Versatile;
Multi-positioning;
Ergonomic comfort with quality padding;
Wide supportive waistband;
Suitable for any parent size and height;
Dual-adjustment buckles.
Negatives:
Mesh material is a bit rough.
back to menu ↑
5. Flip 4-in-1 by Infantino: Convertible Baby Carriers for Big and Tall Dads and Moms
This is one of the most popular recommendations for plus-sized parents. This 4-in-1 carrier by Infantino is an affordable option compared to similar products. The most attractive feature is that you can choose any of the four positions, including backpacking and front-facing.
This is a universal model as it is claimed to handle infants and babies from 8 to 32 pounds. It features the convertible seat, which you can narrow or widen to make it more comfortable to a baby without additional inserts. This will become useful when the baby starts growing.
But the manufacturer took care of parental comfort as well. Shoulder straps have additional padding and, in connection with a wide supportive belt, ensure convenient and safe carrying. Both bel and straps are adjustable to fit any mom's and dad's size.
Infantino added to this model a detachable cover bib for protection from the drools and spit-outs. Also, the maintenance is simple, as the carrier is machine washable.
Among complaints, I've noticed people point out the poor quality of buckles. But the problem that attracted my attention was the claims the carrier is not ergonomic enough considering the position of a baby. So keep this in mind before purchasing a noticeably cheap product.
Positives:
Affordable;
Easy to use and maintain;
Supportive waistband;
4-ways carrying options;
Adjustable elements for a custom fit.
Negatives:
Low-quality buckles;
Doubtful ergonomic properties.
back to menu ↑
6. Luxury Plus Size Baby Sling by Nalakai
This baby sling for plus size mom is a nice way to carry your child, whether a newborn or a toddler. It is made of soft and breathable fabric. The non-stretchy material ensures good support and safety, while the adjustable construction allows using it for a long time and by people of any size. Temperature comfort here is even better compared to other wraps, as there are no additional layers of fabric or padding. The fabric can also be used as a cover for breastfeeding.
The construction is safe and convenient for tall and plus-sized parents, as this sling is longer compared to other options. Also, it comes in various colors, so you can find the one that fits your taste or outfit.
Some parents worry that carriers can cause hip dysplasia, so they do not like the fact that this carrier does not have regulations for a baby position. However, in my opinion, this construction type, on the contrary, promotes natural M-position for proper hip development. By the way, you can choose one of the carry options like front or hip carrying.
Eco-friendly materials make this sling not only convenient and pleasant to touch, but also safe for nature. At the same time, the manufacturer provides a lifetime guarantee, so this carries can become your family relic. Moreover, this sling can help fathers and grandparents to develop closer bonds with the baby.
Positives:
Lightweight, breathable and soft fabric;
Eco-friendly materials;
Lifetime guarantee from the manufacturer;
Adjustable ring for convenient carrying;
Longer length;
A wide selection of colors;
Great for creating a bond with a kid.
Negatives:
No regulation for a baby position.
back to menu ↑
7. Ring Sling: Plus Size Baby Wrap by Moby
This plus size baby sling is made of a soft and supportive cotton material, which ensures comfortable infant carrying for a tall dad or a curvy mom. Cotton material is universal and durable for carriers like this. It is easy to wrap your baby with it as well as clean and wash it. But keep in mind that some users find the material a bit rough.
The construction is adjustable and makes it possible to use the wrap by all family members for bonding with a baby. Also, this feature is important for tall or plus-sized parents, so this is a nice option for them too. The wrap grows with your child as well, as it can carry a baby of 8-33 pounds.
As other slings and wraps, this Moby product promotes developing tighter bonds with a baby via skin to skin contact. It is important for babies to feel covered and safe near their mother. However, the sling can help in bonding not only parents, but also grandparents, or caregivers.
But this sling is not only functional but also fashionable. It comes in different colors and prints, so you can match it with your or baby's clothes. Many women use this wrap as a cover for breastfeeding, or to cover the sleeping baby. Moreover, the cost of this sling is cheaper compared to the competitors.
Positives:
Cotton fabric;
Comfortable adjustable construction;
Suitable for babies of any weight;
Promotes parent and child bonding;
Easy to use and maintain;
Affordable;
Stylish look.
Negatives:
The fabric is a bit rough compared to other models.
back to menu ↑
8. Evolution Baby Wrap Carrier Plus Size by Moby
The outstanding feature of this baby wrap from Moby is the material. It contains bamboo, which allows thin and cooling fabric. Moreover, this wrap is stretchy – this definitely adds some more advantages.
The main reason parents look for a carrier is bonding with their child. The construction of this wrap is perfect for maintaining the connection with your baby during the day while dealing with your daily routine. At the same time, your baby feels your care and support, which reduces stress and ensures healthy emotional growth.
The cloth is long enough to fit curvy figures, while stretchy properties ensure comfort during walks and moves. This Moby wrap plus size mom will find it extremely convenient, as the soft and stretchy material is easy to adjust up to size 26. Also, it makes the wrap versatile. It can be used as a nursing carrier, a forward-facing carrier, and even an infant carrier. But consider that some parents admit the material is not supportive enough for babies over 20 pounds. So this option is better for infants, but for toddlers, you should look for more solid fabric wrap.
For now, this carrier comes in three color options. In my opinion, this is not enough unless you are fine with black cloth or simple prints. Nevertheless, the look of this wrap is stylish, and it can become part of your daily outfit.
Positives:
Promotes bonding;
Soft and durable fabric;
Breathable material;
Adjustable construction;
Easy to use on the move;
Stylish look.
Negatives:
Stretchy material is not convenient for carrying babies over 20 pounds;
Poor color selection.
back to menu ↑
9. Black Babycarrier by Cozitot: Baby Sling for Plus Size Mom
Cozitot also offers us their model of a plus-size baby wrap. This is a special piece of cloth that you wrap around your body according to instructions to carry your baby with you while doing something with both hands. As I've already mentioned, this option allows better bonding with your baby, as you have him/her literally by your side all the time.
The material is durable, as this is 95% cotton (5% is polyester). At the same time, it is a bit stretchy for comfortable wearing and carrying. It is important to wrap this carrier's right to ensure the healthy position of a baby, as well as distribute the weight and provide support for your back. You can easily adjust the carrier to your body type. Also, the fabric is easy to wash and carry with you in your bag. The wrap can be used as a breastfeeding cover as well. The color selection is pretty typical but stylish.
Despite the fact, the manufacturer claims this carrier is suitable both for babies and toddlers, judging from my experience, with babies over 25 pounds, the fabric will droop noticeably. However, if you are going to carry a smaller child, you can consider this affordable model.
Positives:
Affordable;
Ergonomic construction;
Easy to clean;
Compact to carry in a bag;
Suitable for breastfeeding;
One-size-for-all fit.
Negatives:
The material droops with a heavier kid.
back to menu ↑
Important Parameters of the Best Baby Carrier for Plus Size Parents
Plus-sized parents are often concerned about whether they can find the best carrier for their baby, which also will be comfortable for their type of body. At the same time, they want to have a stylish and nice-looking option. But we are here to discuss the best carriers for plus-sized parents! I've reviewed several great models in a previous paragraph. Here I want to share some wisdom on what you should consider before choosing the carrier for you.
back to menu ↑
Type
There are three most common types you can choose from wraps, ring slings, and buckle carriers. Here are their main characteristics:
The wrap is a long cloth, which you wrap around your waist and chest. This is a universal and convenient carrier.
Ring slings are the same as wraps as they are also made of a piece of fabric. The feature here is the ring, which tightens the carrier and adjusts its size.
Buckle carriers are the most common on the market today. They have a more complicated structure compared to the previous models. The carrier has padded waist and shoulder straps and the soft ergonomic seat for a baby. It is fastened with buckles.
Want to know which type is suitable for plus-sized parents? All of them can become a great option for you. Today manufacturers provide a wide selection of options for every parent considering the body type.
back to menu ↑
Fabric
When it comes to the materials for the babywearing for plus size moms the comfort and durability are of all importance. If it is a wrap or sling, the fabric should be breathable and soft as it touches the baby's skin. And for your comfort, the ventilation is significant as well. For buckle models, there should be special mesh inserts or the construction should have special ventilation zones.
back to menu ↑
Waistband and straps
Their quality defines not only the comfort of carrying a carrier but also the safety of it. The waistband should be adjustable to your size as well as to the constantly growing baby. Straps should be padded for a soft touch. Their construction should distribute the weight evenly, releasing the pressure on you back.
back to menu ↑
Tips for choosing a good baby sling for plus size mom
Admit the fact that the particular model might not be right for you. Even though the presented best carrier products are developed for plus-sized parents, many factors can define whether it will fit properly.
Consider all features together. Do not focus only on the straps or belt length. Take into account the construction, material, padding – to make sure you and a baby will feel comfortable.
Adjustability is important. Even if the carrier fits perfectly at first, with time, your body might change as well as the baby will grow. So, you will need to open or tighten the carrier anyway.
Consider maintenance. Make sure that the materials and the construction of the carrier are easy to wash. You should keep it clean for the baby's health and your comfort.
back to menu ↑
FAQ About Infant Carriers for Plus Size Moms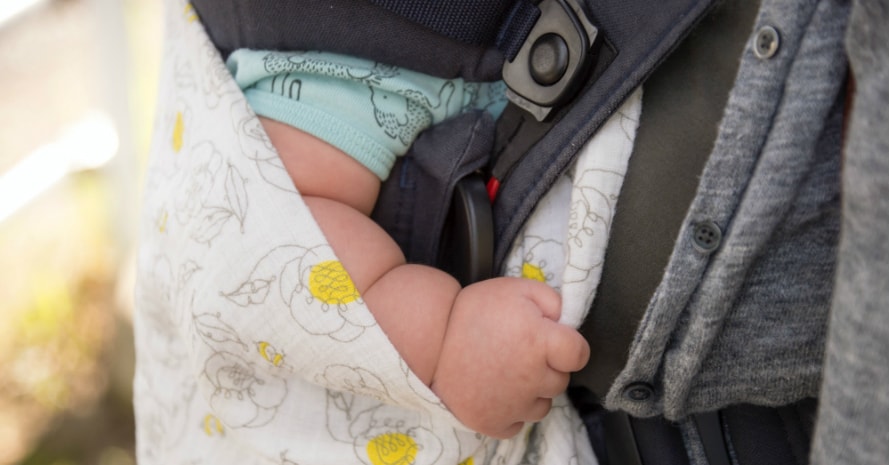 Here's more information about carriers and brands for curvy and tall parents.
back to menu ↑
Do baby carriers fit plus size?
Yes! Today manufacturers keep on constantly adjusting their selection to the diversity of human bodies. That is why every mom or dad will be able to find the best baby wrap for plus size, considering their needs and tastes. Also, almost every carrier model today has an adjustable construction to fit every size, as well as be able to adapt to the changing mom's body and growing baby
back to menu ↑
Does Ergobaby fit plus size?
Ergobaby fits almost all sizes. These carriers are easy in use, and they are very durable. They can be adjusted to the various sizes, height, body types, as well as to the different carrying positions.
back to menu ↑
Will Tula fit plus size?
Sure! As you can see from my reviews, there are at least 2 options for you. Tula is a well-known dependable brand that provides convenient baby care products. Tula's Ergonomic and Explore baby carriers are created for curvy or tall parents. Moreover, these models have adjustable construction for both parents and a baby.
back to menu ↑
Which baby wrap is best?
For today, my top pick among the good baby carrier products is the Ergonomic Carrier by Tula. However, there are no guarantees this model will be perfect for every plus-sized parent. That is why you should decide which product meets particularly your requirements. Check the parameters of size, waist and shoulder straps quality, adjustability, fabric, as well as the type of carrier construction.
back to menu ↑
Best Baby Carrier for Plus Size Parents Takeaways
Carrying a baby is one of the most important interactions between parents and children. But none of us wants to experience any inconveniences during these precious moments. Also, we do not want to lose the opportunity to bond with the child due to the specifications of our body type. Thanks to numerous baby wrap carrier plus-size options, every parent can experience this feeling.
But choosing the right baby carrier does not mean simply defining the plus-size model. You should consider many aspects like durability, adjustability, breathability, and more. That is why I decided to share my expertise to help you choose the carrier that will be perfect for you.
Have you tried any of the reviewed baby carriers? What brands did you like the most? What is your favorite type? Let's continue this discussion in the comments!