Jogging Stroller vs Regular Stroller: Which Stroller Do You Need?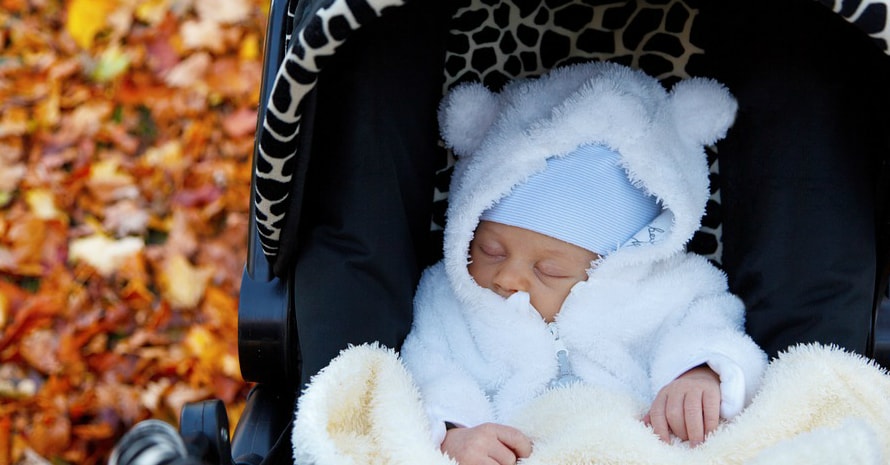 Hi! Today, we will look at the strollers more closely. I know how hard it may be to make a choice considering that a stroller is one of the most important things for your baby. Having extensive experience traveling with two children, I am often asked what type of stroller is the best?
If you have also faced this dilemma, I hope this article will be useful for you. We will compare jogging stroller vs regular stroller and look at the best items in each category. As a bonus, I have also prepared the answers to the most popular questions. So, let's start exploring!
Jogging Stroller vs Regular Stroller: What Is the Difference?
In this first section, I want to discuss the differences between these two types of strollers. However, I was amazed that not all moms know what is a jogging stroller. Therefore, I should explain this point at the very beginning.
The jogging strollers are relatively new and were created to allow moms to return their body shape before pregnancy back and stay healthy. Due to their lightweight and three-wheels form, you can perform the workouts. Moreover, running with a jogging stroller also becomes easy. For your convenience, consider the rank of the best races to do with jogging strollers.
back to menu ↑
What is the difference between jogging stroller and regular stroller?
Even though both jogging and regular strollers look very similar at first glance, they have only one main similarity. The strollers allow you to put the baby inside and have a pleasant walk in the park or mall while your child is sleeping. Now, let's explore the differences.
When you first look at the jogger, you will notice that it has three wheels compared to the traditional ones. However, the difference is not only in the number of wheels but also in the material. The manufacturers have made the wheels from air-filled rubber to make jogging with a stroller much easier. For comparison, the vast majority of traditional strollers' wheels are made from plastic. In addition, the first wheel in joggers has the lock mechanism for running.
Another noticeable difference is that the regular strollers can have two separate handlebars, while joggers always have only one.
Joggers provide you with a smoother ride. On the other hand, you always need to remember that they are also more expensive and bulkier than regular models due to their massive wheels. Below, I decided to left a jogging stroller vs traditional stroller comparison table. You can always make a quick overview of it to refresh all the aforesaid in your memory.

| Comparative characteristics. | Jogger stroller | Regular stroller |
| --- | --- | --- |
| Number of wheels | 3 | 4 |
| Wheels material | Air-filled rubber (always) | Plastic (in the vast majority of cases) |
| Handlebars | Always one | One or two |
| Wheels locking mechanism | Has the front wheel | No |
| Size (when folded) | Bulkier | More compact |
| Price | Expensive | Cheaper |
In my opinion, joggers do not completely replace traditional strollers. Moreover, buying a jogging stroller for everyday use is not a thoughtful idea. First of all, it is more expensive than a regular version.

Secondly, joggers were created for moms running; therefore, usually, there is no option to lay them out so that the child can lie down. Also, the presence of two wheels in front allows for more convenient maneuvers while walking.

back to menu ↑
When you should buy a jogging stroller?
Joggers have more advantages compared to traditional strollers when it comes to running or jogging. They have the front wheel mechanism, the wheels made from the rubber, and higher stroller safety.
Moreover, joggers have excellent suspension and inflatable tires. Except for the safe baby seat, this type of stroller has two more safe features: wrist strap and hand brakes. To use it more effectively, I recommend you browse various tips for running with a jogging stroller.
back to menu ↑
Products Reviews of the Best Strollers
Based on the personal experience of my friends and me, I have also compiled a list of TOP-best strollers. Therefore, the list will not be too long — only two qualitative jogging strollers and two regular ones.
back to menu ↑
Jogging strollers for active moms
I propose to start the product's review section with the jogging strollers. All of them were designed to support the active lifestyle of young moms.
back to menu ↑
BOB Revolution Flex 3.0 Jogging Stroller — The Best Jogging Stroller Product
This jogger was manufactured by BOB Gear company, which is one of the most popular stroller manufacturers. The company was established in 1994 but not as the stroller manufacturer. Originally, it produced innovative bicycles. When co-founders created a family, they decided to make a pivot and start to manufacture joggers.
This item is the company's bestseller. It comes in three colors: black, pink and grey, red and black. You can buy a single item or a jogger stroller with a set of accessories. My advice is to choose the second option, as I did. The stroller is quite lightweight and suits well for maneuvers. I used this item regularly for morning running in the park. Among the advantages I can mention:
Locking front wheel;
Adjustable handlebar;
Two-step fold.
Positives:
Available in three colors;
Comes with additional accessories;
Convenient in use.
back to menu ↑
Graco FastAction Fold Jogging Stroller — The Best Value and Quality
Graco is the company that manufactures baby seats and strollers, not only for jogging, since 1942. Unlike Bob Gear, their products are significantly cheaper. I found out about this jogger due to the recommendation of my best friend. She used this stroller when her first baby was born; then, she decided to sell the stroller, and now is buying it for the second one.
Like any other jogger, this products has three wheels with the lock mechanism on the front wheel. The suspension is provided by the air-filled rubber wheels. It is quite portable and lightweight. Moreover, you can use light oil if the wheels squeak. It comes in one color only — black, but believe me, it will be hard for you to find the stroller with the same quality for a lower price on the market.
Positives:
Affordable price;
Air-filled rubber wheels for suspension;
Locking front wheel.
Negatives:
Shipping to other countries is expensive.
back to menu ↑
Regular Strollers for Everyday Walking
Now, I want to discuss traditional strollers. As I have mentioned above, the reviews are based on my friends` feedback. Regular strollers are suited for everyday walking and relaxed walks in the park.
back to menu ↑
2022 UPPAbaby VISTA Stroller — My TOP Pick Among All Regular Strollers
UPPAbaby is an American company specialized in manufacturing qualitative baby products. In their assortment, you can find the strollers, car seats, and many other baby accessories. The company aims to design products that will meet the needs of the modern parent's lifestyle.
The stroller comes with a number of additional items that make its usage even more convenient. Among them is compatibility with MESA Infant Car Seat, a toddler seat with multi-position recline, a bug shield, etc. Moreover, it provides a mattress pad with ventilation.
A stroller comes in several colors, including black, silver, and green. It has a trendy design, but the price is relatively high. My friend recommended this item when I was selecting the stroller for my youngest child. It was one of my best purchases!
Positives:
A number of additional items for comfortable usage;
Easy to fold;
It has an unattachable baby car seat.
back to menu ↑
Evenflo Pivot Modular Travel System — The Best Combination of Quality, Design, and Value
Evenflo is an international brand and popular company on the baby goods production market. I often purchase their products as they have a fabulous traveling product line. All their items are thoroughly designed and adopted to parents' needs.
I used this travel system myself, and I can assure you it is very hard to find a better stroller on its price. This traveling device includes the following items: a stroller, a Safemax infant car seat, a safe zone base, and several additional accessories. It is lightweight and easy to use. A stroller has a modern design and is lightweight. You can buy it in three colors: gray, dusty rose, and sandstone.
Positives:
Attractive price;
Best for traveling;
Safe baby seat.
back to menu ↑
FAQ Section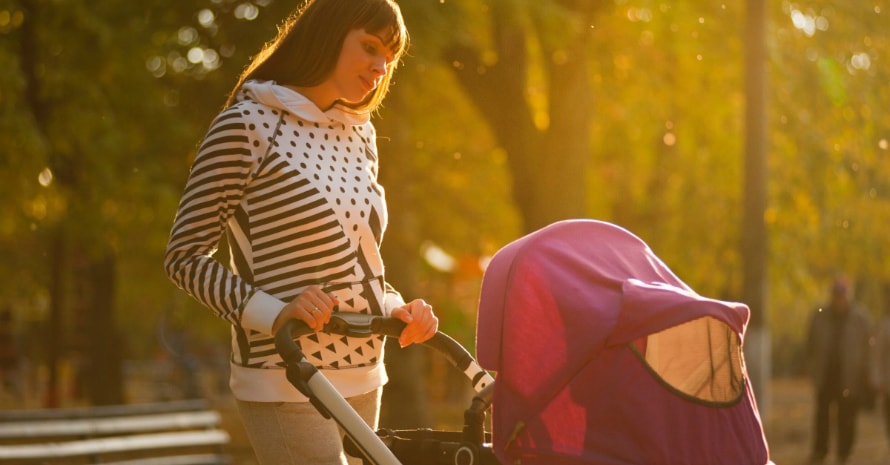 Here, I included the short answers on the most popular questions about what to choose a jogging stroller or regular stroller. This section will also help you to structure the new information you got after reading the previous ones.
back to menu ↑
When can you use a jogging stroller?
You can use a jogging stroller anywhere. As for me, I use it in the park while running in the morning. Also, joggers are better suited for riding on the rough road than traditional strollers. You can take them even in the mountains! I did so, and even after this, I could use the jogger for several months.
back to menu ↑
Can a jogging stroller be used for everyday use?
Yes. The jogging stroller provides all the functionality that the regular stroller has. But in addition to this characteristic, it also offers some more opportunities. As I have mentioned in the previous section, you can run with joggers or take them on the rough road. Nevertheless, you should also remember that joggers are more expensive; therefore, you can use these items every day. If you are on a strict budget, I recommend not to do it.
back to menu ↑
Can you jog with a regular stroller?
Actually, no. Of course, you can run with the traditional strollers, but it may result in one of the worst experiences in your life. Remember, regular strollers are not intended for jogging. First of all, because the wheels are not as soft as in joggers, they do not provide such great amortization. The second reason is that the baby seat is not so safe.
back to menu ↑
Jogger vs Stroller: When the Difference Does Matter
I would like to sum it up that joggers were created for running, and traditional strollers — for walking. On the other hand, you can use joggers for walking, but regular strollers are not suitable for running. They do not provide the essential support and safety for your baby. In the products review section, I have told more about each type. Now, I want you to share your experience with joggers.
Maybe, some mom has doubts or questions about the strollers, and your comment can provide her with the insight. Have you ever used jogger strollers for running? Describe your impressions in the comments section below, please.