The Best Baby Carrier for a Petite Mom: Top 7 Models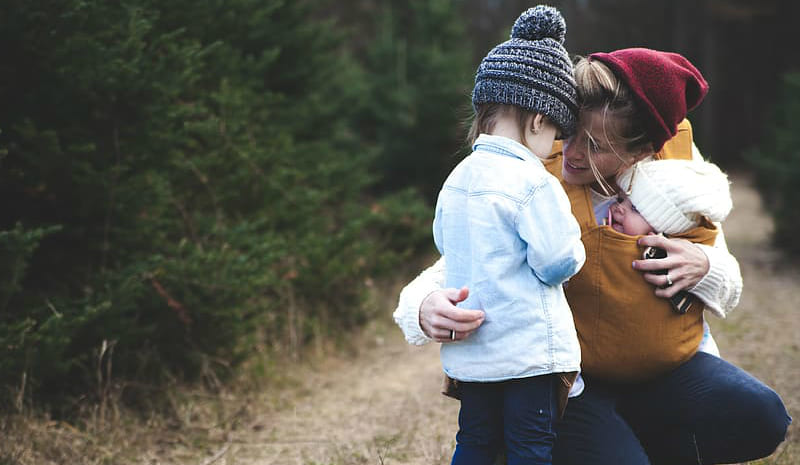 While the benefits of babywearing are widely recognized across all situations as well as body shapes, it's still a challenge to find a carrier that's both petite-friendly and easy to use. My experience has shown that one-size-fits-all solutions rarely work. Instead, it's best to look specifically for models that will accommodate the needs of a tiny mother while also taking good care of the child.
This article contains a review of the best baby carrier for petite moms in my opinion. I've also included six other excellent products that you might find more fit for purpose depending on your situation. While most of these are hard-structured, there are a couple of slings and wrap models on the list, too, for those who swear by soft carriers.
Baby Tula: The Best Baby Carrier for Petite Moms
Founded in 2009 as a modest home business that operated from an apartment in Poland, Baby Tula soon evolved into a brand of best-selling carriers and, most amazingly, a loyal follower community. Its founder, the mother of three, attaches special importance to the combination of functionality and stylish design.
As the name of the model suggests, Free-to-Grow offers increased flexibility as your baby grows. It can be used to carry a newborn, with the top weight limit of 45 pounds, which usually happens around early toddlerhood. Featuring a highly adaptive body panel with three width settings and two height options, this carrier doesn't need an infant insert. The adjustment straps are very easy to use with no sign of slippage, so you won't need to re-tighten them too often.
What makes the model especially petite-friendly is how well the baby's weight is distributed with it. It comes with a wide waistband that's padded for extra softness as well as the optimum distribution of weight, also featuring a functional pocket at the front. The shoulder straps also come with soft padding and a dual adjustment mechanism for maximum neck and shoulder comfort.
The carrier provides for two baby positions, enabling you to carry your child on your chest and back. However, I find that the front position does a better job of alleviating the pressure for petite moms. While some mothers might look for greater versatility in this respect, the two options work well enough given the excellent weight distribution.
Finally, Free-to-Grow baby carriers come in five color options, including a neutral taupe/gray. There are also three stylish floral patterns, which is relatively rare in baby carriers and which I appreciate as a nice summery touch. The carrier is made of lightweight cotton that's ideal for the warm season.
Now that I've had experience with a number of carrier models, I find that Free-to-Grow is the overall best for a petite parent (and baby) in terms of comfort. That's why I recommend it as my top pick.
Positives:
Excellent weight distribution due to a wide waistband;
Ergonomic and healthy;
Width and height adjustment to accommodate a growing baby (up to 45 pounds);
No infant insert needed;
Cute color options available.
Negatives:
On the pricey side;
Only two carry positions to choose from.
back to menu ↑
LÍLLÉbaby All Seasons Carrier: The Best Baby Carrier for Back Support
LÍLLÉbaby was founded in 2001 to bring Scandinavian values into the lives of families by empowering them for a better quality of life and increased comfort. Specializing in babywearing, it puts a lot of effort and innovation into its products to make them as adjustable as possible. Just like Baby Tula above, LÍLLÉbaby has long extended beyond being just a brand to become a community of followers, which means that caregivers can always find support, advice, and encouragement.
The greatest advantage of Complete for petite parents is that it comes with a lumbar support feature to alleviate the stress on your back as you carry the baby. This makes it one of the best options for those suffering from lower back pain and delicately built people who generally have trouble carrying heavy weights. The structure is paired with a wide, extendable waistband that features soft padding for optimum comfort and weight distribution. One disadvantage of this design is that you might find the waist piece digging into your legs when seated if you are shorter than average.
The shoulder straps in this model are very wide, with extra soft padding that feels really good in terms of pressure control, especially paired with the two-way adjustment system.
The Complete carrier boasts a whole range of baby comfort features such as a highly breathable 3D mesh lining, making it a great summer option, and a temperature control panel that you can zip up or down as the weather changes. Most importantly, it offers as many as six carry positions, including fetal for newborns aged 0 to 3 months, two inward varieties, an ergonomic outward position, a hip carry option, and a back carry variety. The product has been rated hip-healthy by the International Hip Dysplasia Institute.
This carrier is machine washable, which is a great plus for a structured model, but tumbler drying is out of the question.
Positives:
Excellent lumbar support;
Highly adjustable straps;
Wide waistband for optimum weight distribution;
6 carry position, including hip;
Breathable, machine washable material.
Negatives:
Not inexpensive;
Possible digging issues while seated.
back to menu ↑
Baby K'tan Baby Wrap Carrier: Best Rated Baby Sling for Petite Moms
There's a long story behind Baby K'tan as a carrier brand. Launched in 2007, the product was inspired by extensive research into how touch can be crucial to the baby's emotional and physical development. The company's founders spent a lot of time looking for the right babywearing solution that would meet the needs of children with a health condition that prevented them from using the conventional carrier that was available on that time. The resulting Baby K'tan wraps are a combination of superb child comfort and ease of use.
Unlike the previous two models, this is a soft carrier, also referred to as a wrap. However, the name turns out to be somewhat misleading as you don't need to do any wrapping to use this product. What you do is rather slip it on like a T-shirt and re-arrange the straps for various child positions. Although extremely simple in that it features no buckles, the design isn't the most intuitive one on the market.
The wrap can be used to carry babies from birth (as long as they can hold their heads without additional support) until they reach 35 pounds. Like with most wraps, you won't be able to carry the baby on your back, which might be a disadvantage for those who consider buying this style.
Baby K'tan comes with a sash that can be worn over the two straps for extra support. Although a welcome bonus in terms of safety, it adds another layer to the cotton wrap, meaning it might get hot during the summer.
What is especially good about this product as a petite-friendly carrier is that it comes in sizes from XXS to XL based on the caregiver's body shape. It also sits relatively high, thus preventing excessive stress on the waist. Overall, the design provides for even weight distribution, which is also a plus for petite moms.
As for child comfort, my friend who's been using Baby K'tan for about 6 months now says that her baby tends to get fussy when she puts her in the wrap but loves it as soon as she's settled.
Unlike most hard-structured carriers, the wrap is washing machine and dryer safe, potentially saving you a lot of time. It comes in a number of unfussy solid and patterned color options to choose from.
Positives:
Sizes based on the carrier's body size;
5 healthy front carry positions;
Machine washable and dryable;
Relatively affordable;
Easier to use than most wraps.
Negatives:
Might get hot;
You'll need some time to figure out the positions.
back to menu ↑
Beco Gemini Metro Black: Top Rated Infant Carrier for Petite Moms That Keeps the Baby Happy Too
Beco is a US-based brand launched by Gabby Caperon, a sports enthusiast and loving mother who began her business with just 5 dollars as the starting capital. The main motivation behind the first Beco carrier was to provide maximum baby comfort while also relieving the parent. The company now offers two soft structured models, and I find Gemini to be the petite-friendlier one.
I have quite a number of friends who swear by this carrier, in particular tiny ladies who've had trouble with other, less adjustable models. They are unanimous in that Beco Gemini is a great solution for those prone to back and/or shoulder pain. The model comes with adjustable 23″ to 45″ shoulder straps that feature ample padding for optimum wear comfort. Similar padding is added around the leg holes to prevent the baby from developing skin reactions. The waistband is wide and padded for even weight distribution and comes with a pocket.
Beco Gemini offers a range of four carry positions, including outward facing front wear, which is rare in soft structured carriers. Back and hip carry is also possible, and there's a strap that adjusts the size of the pocket depending on how big the baby is. You can also use the extendable headrest for additional head support or for the naptime.
One downside of this cleverly designed carrier is that lint might appear after washing, even though it's declared as machine washable.
Tumble drying is not an option according to the manufacturer's website. Besides, it comes with a weighty price tag.
Apart from being a versatile petite-friendly carrier, Beco Gemini is available in a huge palette of colors and patterns, some of which are really unique and stylish.
Positives:
Wide, generously padded shoulder straps for optimum weight distribution;
Features a front carry position facing out;
Easy-to-use headrest;
Highly adjustable baby size and position;
No infant insert required.
Negatives:
Pricey;
Not the easiest model to wash.
back to menu ↑
Infantino Flip Convertible Carrier: The Best Baby Carrier for Short Moms to Get on a Budget
Registered in San Diego for the US with an international office located in the Netherlands, Infantino offers a wide variety of surprisingly affordable children's products, from play mats to high chairs to carriers and everything in between. When I asked my friends about a good entry level carrier for those who aren't quite sure whether babywearing will work for them, Infantino Flip was the most popular option.
Indeed, this structured carrier comes at roughly one third of the average price and looks very much like the more expensive models. What makes it especially good for petite parents is that it features adjustable padded straps and a relatively wide padded waistband (although this is rather a strap in the back section, which might cause mild rubbing). It's also flexible enough to accommodate infants with a weight of 8 to 32 pounds and boasts a customizable seat offering two facing in position varieties.
A protective bib and a padded headrest are included for extra protection. There is a total of 4 positions to choose from, including back carry, which I can't recommend to delicately built mothers as the straps tend to dig into your collarbones. As an option, you can also wear the kid on your chest facing out.
All in all, Infantino Flip is a viable petite-friendly solution on a budget. However, the buckles look somewhat flimsy, and there are no pockets included in the design. Luckily, the material is machine washable (although not machine dryable).
Positives:
Highly affordable;
Adjustable seat width;
4 carry positions available;
Machine washable;
Petite-friendly shoulder straps.
Negatives:
Flimsier than most competitors;
The waistband lacks padding.
back to menu ↑
Ergobaby Carrier: A Super Comfy Carrier for Small Moms
Focusing exclusively on baby carriers, Ergobaby offers 30+ models, all approved by the International Hip Dysplasia Institute as having no potential to affect normal hip motion in developing children.
This model has a lot of features to support petite moms, such as a lumbar support piece embedded in the Velcro waistband and generously padded shoulder straps. The seat is adjustable, and the back structure is an all-mesh breathable panel for optimum baby comfort. The adjustable head support is included.
The first thing you'll notice about Ergobaby is that it comes with buttons rather than straps. Although a stylish detail, these make it way more difficult to make the necessary adjustments. Chances are high that you'll spend a lot of time fiddling with the chest/back clip, too, as the design is far from intuitive.
The positions provided for include inward and outward-facing as well as hip and back carry (this is especially good). Unfortunately, the maximum recommended weight is 33 pounds, which means the carrier is unlikely to last long. Otherwise, it's an extremely comfortable model, though not particularly easy-to-use.
Positives:
Highly adjustable;
Four ergonomic positions to choose from;
Extra-wide waistband for lumbar support;
Soft padded shoulder straps.
Negatives:
Pricier than average;
Can be a pain to adjust.
back to menu ↑
Nalakai Luxury Ring Sling Baby Carrier: A Very Straightforward Wrap
Previously known under the name of Pura Vida, Nalakai is focused solely on all-natural premium carriers made of extra-soft bamboo and linen blend. The material makes it perfect for summertime since it's more lightweight compared to cotton.
Apart from being silky smooth, the fabric is also strong enough to give the baby a safe shelter. It also doesn't wrinkle your clothing too much and can easily double as a nursing cover sue to its straightforward design. My friend who's been using it for months now says that it's way less hustle than most wraps and super easy to put on.
The sling will accommodate a baby from 8 to 35 lbs. The two positions provided for are facing in on the chest or hip carry. However, the latter will ideally require some head or neck support, as there's obviously no headrest included.
The main downside of this wrap is that it's not to be tumbler dried – a great disappointment given that it's a soft carrier rather than a hard-structured one.
Positives:
Breathable natural fabric;
Smooth to the touch;
Easy to use;
Can be used as a nursing cover.
Negatives:
Not machine dryable;
Back carry is not provided.
back to menu ↑
FAQ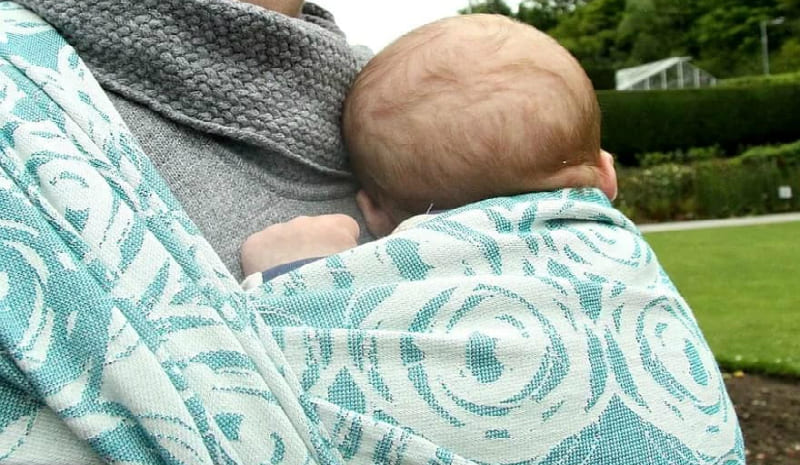 Here are some common questions that people ask while looking for the perfect baby carrier.
back to menu ↑
Which is the best baby carrier brand?
This depends entirely on your situation and priorities. Some caregivers feel more comfortable being part of a large babywearing community and thus turn to Baby Tula, LÍLLÉbaby, or Mothers on the Move carriers, while those who are looking for a budget-friendly solution might prefer Infantino as it offers decent products at a fair price. Finally, some brands are known solely for wraps rather than hard structured models, like Baby K'tan and the more upscale Nalakai.
back to menu ↑
What to look for in petite size carrying?
Back and shoulder support is key for delicately built caregivers. A wide, padded waistband and generous padding in the shoulder straps are a must. Adjustability is also a welcome feature as it allows you to find the perfect fit for you and the baby. If your little one is very young or tiny, look for a small baby carrier that won't swallow them up as this might compromise head support as well as the wearer's comfort.
back to menu ↑
What is the maximum age limit for using a carrier?
This depends on the carry position you choose. Most models come with suggested age windows for each position. Otherwise, there's no limit except for maximum weight, which is again determined by the carrier's features. As a rule, you'll have to stop carrying your child as they reach 35+ pounds, which corresponds to 3-4 years of age. There are sturdier models like Baby Tula's Free-to-Grow Carrier, however, which can hold up to 45 pounds.
back to menu ↑
Takeaways
Choosing the right baby carrier for a petite parent is surely less of a challenge if you know what to look for. While age and weight limits may differ from model to model, what you want as a tiny mom is a decent back support, usually in the form of an ample waistband, and adjustable padded straps.
As for baby comfort, general rules apply: look for lightweight breathable material that's soft for the touch, ergonomic carry positions, fit adjustment, and head support.
This said I recommend Baby Tula Discover Free-to-Grow Baby Carrier as a highly flexible, healthy, and easy-to-use model that will meet the needs of most petite mothers.
Since the structured carrier vs. wrap dilemma remains a matter of preferences as well as finding the right balance between price and versatility, I encourage you to post your opinion in the comments section. Which works best for you?