Best Baby Laundry Detergents to Try Out Today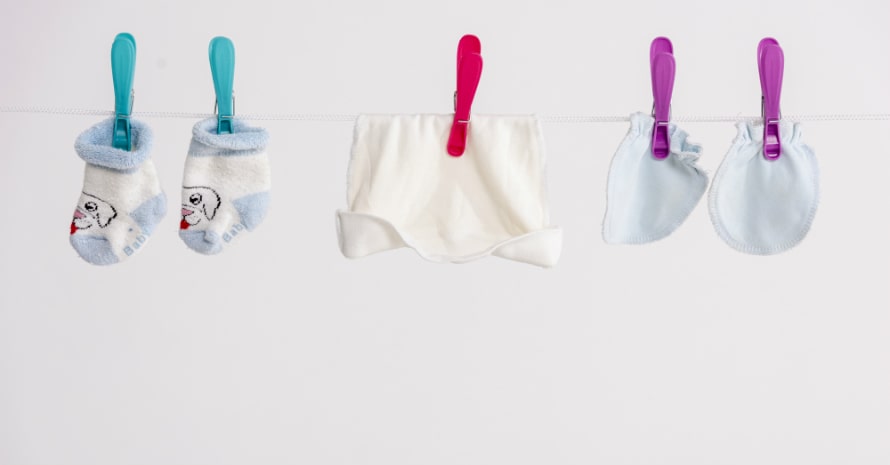 From the first days of their lives, newborns become the center of care, love, and attention. Each mother does all her best to show the world to the baby, loves it, cherishes it, and creates the safest environment to ensure healthy development and growth. Whether you have a boy or a girl, I bet you pay extra attention to the clothes you buy for the baby and material these outfits are made of. It's worth noting that even more attention you should pay to products that you use for washing the baby's clothing. In this article, I will show you all the importance of choosing the best laundry detergent for babies. Moreover, you will find the list of top 10 baby-safe laundry detergent products you should give a try.
My name is Kiara Harris, and I know pretty much everything about babies and kids. I am not just the mother of the loveliest baby girl but also a kindergarten teacher with seven years of experience. That's why I spend almost all my time with kids, and, respectively, I know everything about their health, development, and well-being. I am an ecoholic myself and choosing the safest and the most eco-friendly products for my baby and me is the main priority. Down below, you can get familiar with the list of the baby ecos laundry detergent reviews so you can choose the one that might work for you and your little one. So, if you have been wondering what laundry detergent is best for baby, then keep reading.
List of the Best Baby Laundry Detergents
Check out the list of the best baby laundry detergent products available on the market. Each of these products is definitely worth your attention. I have provided a brief description of each product with its main pros and cons to make the overall decision-making process more comfortable. Let's get started!
back to menu ↑
1. Puracy Natural Liquid Laundry Detergent
Puracy is a well-known manufacturer of natural, safe, and organic eco products for your house and body. I will start this baby laundry detergent review list with this outstanding product, which is also 100% natural, hypoallergenic, and safe for your kid. This organic baby laundry detergent will perfectly cope with cleaning baby's clothes. It is eco as it's made of natural plant ingredients.
Pediatricians designed the cleansing formula; therefore, it will be suitable for sensitive and prone to allergies baby's skin. You can use this product from the very first days of the baby's life because it contains no harsh or toxic harmful elements, no sulfates, bleach, and other damaging components such as phosphates and chlorine. This item is made of a nut tree, and it is also scent-free. This one is my personal favorite, so it's your turn to try it out.
Positives:
no sulfates
plant ingredients
suitable for delicate skin
affordable price
suffice for 96 loads
no harsh elements
not tested on animals
Negatives:
inconvenient bottle design
back to menu ↑
2. Molly's Suds Original Laundry Powder
Molly's Suds creates all sorts of products designated for washing and taking care of your clothes. The company was started by a mother who worked as a pediatric nurse so you can be sure that this item is one of the safest laundry detergents for baby that doesn't contain any toxic materials and is completely biodegradable. The smallest pack of this organic laundry detergent for baby will be enough for 70 loads, and the large one will suffice for up to 240 loads.
This product is safe for newborns, babies with eczema, allergy as well as for adults with sensitive skin prone to all sorts of rash. The cleansing formula is safe for all fabrics that won't fade. In case there are some big stains, it's recommended to apply the powder on the stain before washing it and to brush it a little bit. The detergent is perfect for handwashing as well as for machines.
Positives:
concentrated power
no fragrance
organic ingredients
no toxic elements
biodegradable
different sizes available
Negatives:
price higher than average
not suitable for silk and leather
back to menu ↑
3. Dreft Stage 1: Newborn Hypoallergenic Liquid Baby Laundry Detergent
Dreft creates diverse baby liquid laundry detergent products for gentle clothes washing from the earliest days of baby's life. This Dreft baby liquid laundry detergent is considered as one of the best available today. It has a special formula that gently washes babies' clothes and is still safe for their delicate skin.
The item is entirely hypoallergenic, and this detergent will be excellently suitable for newborn babies. Use a measuring cup to get the required amount of detergent. In case you have soiled clothes, it's recommended to add more detergent to get rid of all stains. The detergent works well for all types of washing machines.
Positives:
convenient liquid formula
recommended by pediatricians
suitable for newborns
hypoallergenic
Negatives:
one bottle for 32 loads only
more pricey
back to menu ↑
4. Dreft Stage 2: Active Hypoallergenic Liquid Baby Laundry Detergent for Baby, Newborn, or Infant
Whereas the previous product was designated for newborns, this laundry detergent for baby clothes will be more suitable for older babies with an active lifestyle. As they explore this world with zeal, they might get themselves and their clothes in lots of trouble. Therefore, this particular article will help you get rid of all kinds of stains easily and without harsh ingredients.
You can use this detergent with both high efficiency and standard washing machines. You will be able to get rid of all baby food stains, grass, and other crawling stains. The products are entirely hypoallergenic so that it will be a match for babies with delicate skin. You can wash baby's socks, pajamas, shirts, pants as well as towels, blankets, and toys. Let your baby discover the environment and be sure that all stains will vanish with this product.
Positives:
perfectly gets rid of serious stains
no toxic elements
suitable for all washers
hypoallergenic formula
Negatives:
back to menu ↑
5. Earth Friendly Products ECOS 2X Hypoallergenic Liquid Laundry Detergent
Ecos creates products that are safe for our planet as well as for newborns and babies. This baby Ecos laundry detergent will be a great choice for your child. The item is hypoallergenic, free of harsh elements such as bleach, brightener, parabens, phthalates, phosphates, and, respectively, is completely safe for babies. The effective detergent is made of natural ingredients such as magnolia and lily flowers.
The manufacturer came up with a super-concentrated formula that helps get rid of serious stains and dirt. One bottle of this laundry detergent will be enough for up to 100 loads. Moreover, it's worth noting that it also includes clothes softener that allows you to reduce expenses and get soft, pleasant-to-touch, and perfectly clean clothes. You can use it for hand or machine wash.
Positives:
excellent price
natural ingredients safe for the baby and the Earth
concentrated formula
effective with stains and dirt
perfect for delicate fabrics
Negatives:
back to menu ↑
6. Mrs. Meyer's Laundry Detergent, Baby Blossom
Mrs. Meyer's is a company that sells natural products for the body, such as soaps, lotions, and products for homes like candles and detergents as well. This item is the best laundry detergent for babies with a concentrated formula that allows you to use it for up to 64 loads.
The article is natural and contains such plants as lavender, basil, lemon verbena, and others. It gently washes clothes and gets rid of stains and dirt from baby's clothes with powerful agents and enzymes. The detergent is completely biodegradable and safe for the planet and the environment. Suitable for all kinds of washing machines. The product has a pleasant smell of violets, apple, mint, and lemon. Baby's clothes will be clean and nicely scented.
Positives:
natural plant ingredients
biodegradable
up to 64 loads
for all kinds of washing machines
fight well with dirt and stains
Negatives:
pricey detergent
with fragrance
back to menu ↑
7. Babyganics 3X Baby Laundry Detergent
Babyganics is a real treasure trove of diverse products for babies from the first days of their lives. This item is one of the best laundry detergents for babies with sensitive skin as it doesn't contain toxic or harsh elements such as bleach, brightener, phthalates, chlorine, sulfates, phosphates, and has no fragrance as well. This item is made of natural ingredients only.
The concentrated formula perfectly cleans stains and dirt on all clothes, including cloth diapers. Your baby will be safe from allergy and rashes, as this detergent is hypoallergenic. Exceptional cleaning power, in combination with safe ingredients, makes this product perfect even for newborns. Your kid can easily explore the world, and you needn't be afraid of stains on clothes with this best laundry detergent for baby.
Positives:
affordable price
scent-free
natural ingredients
hypoallergenic
not tested on animals
for all types of washing machines
Negatives:
bulky bottle with no handle
back to menu ↑
8. Grab Green Natural 3-in-1 Laundry Detergent Powder
Grab Green is an eco-responsible innovative company that creates all sorts of natural products for house and body, including products for babies. This particular laundry detergent for baby deserves your attention for sure. The item is very powerful, and one pack will be enough for up to 100 loads. It has no fragrance and contains natural materials and free of sulfates, phosphates, phthalates, etc.
This product has 3 in 1 functions. It perfectly washes baby's clothes, removes serious stains, and brightens fabrics as well. The detergent is concentrated, and you will need half less of the product than is the case with liquid laundry detergents. You will find a convenient scoop inside so you can measure the needed amount of detergent for a load. Besides, it's not tested on animals.
Positives:
no fragrance
natural ingredients
fights stains well
not tested on animals
effective washing power
no toxic ingredients
Negatives:
brightening elements that might cause allergy
back to menu ↑
9. Eco Nuts USDA Organic Laundry Detergent
Eco Nuts is another outstanding manufacturer that creates natural, safe items and products for your home and body. They also offer their consumers the best natural laundry detergent for baby, which is a perfect match for tender sensitive baby's skin.
This one is completely hypoallergenic and has no fragrance at all. The product is made of natural soap nut ingredients that cope well with all washing duties and doesn't cause allergy or rash.
The detergent works as a softener as well, so you will be able to save your money. You can use it even for delicate fabrics. The organic biodegradable product is not tested on animals and, therefore, safe for the planet and your health as it has no toxic ingredients. As a bonus, you will get a nice cotton wash bag that you can use for your convenience.
Positives:
excellent price
natural ingredients
suitable for sensitive skin
no fragrance
effective washing power
different size packages available
Negatives:
back to menu ↑
10. Purex Liquid Laundry Detergent for Baby
The last but not least in this list is Purex baby liquid laundry detergent. Purex creates a variety of laundry detergents and softeners. They also have products for babies that are hypoallergenic and don't include harsh ingredients. You should give this one a try as it has been tested and approved by dermatologists.
The detergent was created specifically for tender baby's skin, so you have nothing to worry about. For a reasonable price, you will get the perfect product that works well on different stain types and gently removes them — one of the best choices for your little one. The product has a slight pleasant scent of freshness. The bottle will be enough for up to 50 loads.
Positives:
convenient bottle design
hypoallergenic
suitable for sensitive skin
affordable price
dermatology tested
Negatives:
big bottle for 50 loads only
back to menu ↑
Frequently Asked Questions
Baby Laundry Detergent Q&A
I got dozens of questions from women regarding all baby laundry detergent products and how to choose the best one. Here is my list of the top asked questions with answers regarding why do you need a quality baby detergent and how to find one
back to menu ↑
Why Do I Need Baby Laundry Detergent?
Baby's skin is so tender and sensitive, and adult detergent can irritate it and even cause some severe rash because of harsh chemicals that are used to get rid of stains. To keep your baby safe and healthy, you should opt for a quality baby-friendly laundry detergent. It won't affect delicate skin as usually ecos baby laundry detergent products are natural, safe, and don't contain any fragrance or other elements that might irritate skin or cause an allergic reaction.
back to menu ↑
Can My Baby Have a Reaction to Detergent?
A common laundry detergent usually causes a rash and allergic skin reactions. The best laundry detergent for eczema babies are those designated for babies, which include only natural and safe ingredients. In this case, rash risks are eliminated. However, if your baby still gets an allergic reaction, you should see a doctor and find out what caused it. There are other options to make homemade baby laundry detergent by yourself. Like this, you will be 100% sure that it's as safe and natural as possible.
back to menu ↑
What Should I Look for?
What laundry detergent is best for a baby? It's the one that is made of natural ingredients and scent-free. There are plenty of options available on the market. I have narrowed down the search for you to feel free to choose the best natural laundry detergent for baby from the list and enjoy the results.
back to menu ↑
Final Thoughts
The importance of a safe quality baby laundry detergent is undeniable. Babies are tender creatures that require constant care and love. While they are so little, every single detail matters for their ultimate health and well-being. We should pay extra attention not just to what babies eat but also to what babies wear and how you wash their clothing as well. Their soft skin is really sensitive, and harsh chemicals that some detergents contain might cause a lot of troubles such as rash or, what's even worse, provoke allergy that will affect the future life of your kid.
Therefore, there is no way you can neglect this important factor. It's your main job as a mom to choose the best-trusted quality products that will be safe for baby's skin. I hope these baby laundry detergent reviews will help you explore the safest options available on the market and opt for the best for your little one. Now, I would love to hear from you. What laundry detergent for babies have you used before? Have you liked it? Which particular product from this list you would love to purchase and try out? Leave your comments below.