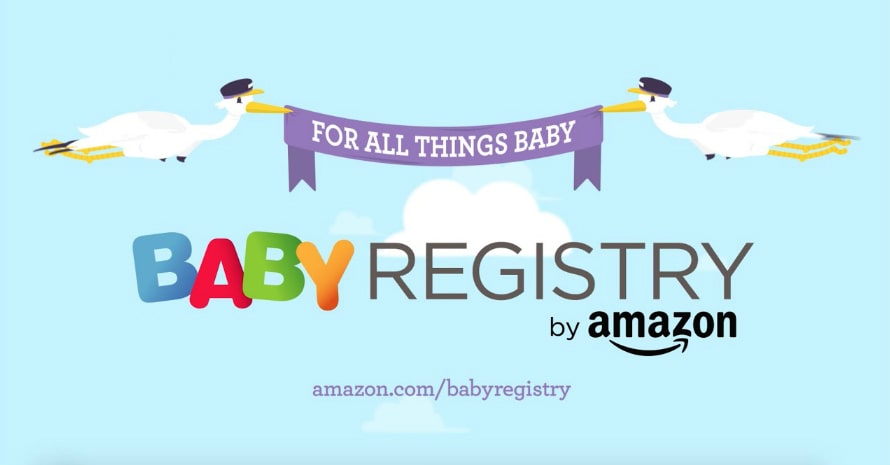 Being a mom is hard work, but being a future mom is all about preparations, worries, and responsibility. As a mother of two beautiful sons, I know how hard it can be to figure everything out from the very beginning. You get constantly worried about the things you have to do, as well as the things you may have forgotten to manage. It's always great to have experienced friends and family members helping you, but some services can ease your life tremendously.
Today, I will review the baby registries on Amazon. We all know how much of life save registries can be. From convenience to saving time and money, there are many reasons why you should go for a baby registry when getting prepared for the delivery. Many retail stores offer baby registries, but not all the options are great, diverse, and helpful. How to select the best one for your baby? Here's the answer to your concerns.
Have you ever heard about the Amazon Baby Registry Program? It is just the go-to solution that covers everything needed. Do you know how to find Amazon baby registry? How to search Amazon baby registry and add the necessary items? Are you curious about the products that come in the welcome box? Below, you can find a detailed review of the Amazon Baby Registry Program.
How Does Amazon Baby Registry Work?
Planning for your baby's arrival can get hectic. First-time mothers have to figure out what items they need, where to find everything at the best price, and ensure that friends and family can join the process if they want to. While you appreciate getting gifts from your loved ones, you are probably wondering how to specify which brands and models you prefer beforehand. Moms who already have kids can still struggle with this task, especially when it comes to cutting costs and getting affordable stuff. That's when baby registries come in hand.
Your favorite store probably has a registry you can sign up for. Thus, you can opt to have different registries at separate stores, which will ensure you get everything you need. However, this option can be frustrating and tiring. Fortunately, it is possible to organize everything through a comprehensive search for Amazon baby registry.
Amazon gives you access to hundreds of different baby gear brands and models. It has a wide variety of options, making it ideal for an all-in-one registry. Most moms already have an Amazon account, so creating a registry is not much of a hassle. Here are five solid reasons why you should create a baby registry on Amazon:
1. You get the Amazon baby registry discount
Are you looking to cut costs? Amazon offers you a 10% completion discount 60 days before your due date that you can still use for 180 days after delivery. If you are a Prime member, it goes up to 15%.
The Amazon baby registry completion discount is valid for a one-time purchase worth not more than $5,000. Remember, this coupon is applicable on items that remain in your baby registry after friends and family have made their purchases.
2. Your items are shipped free of charge
After you look up baby registry Amazon, all you have to do is to buy items worth more than $25 to have them shipped for free. Again, if you are a Prime member, there are some additional perks. You will get free shipping of any item from your Amazon registry baby, regardless of cost.
3. You have 90 days to return anything that didn't fit
Planning a trip back to the store to return stuff that doesn't fit takes too much time. When you finally get to the store, you will have to spend money again buying something else that you probably did not need in the first place.
On the contrary, buying from your Amazon com baby registry guarantees simple returns without having to make a trip to the store. The Amazon's free return policy allows using the credit after the return to buy anything on the website, not just baby items.
4. You can add to your list the goods that are even not sold on Amazon
The website allows you to add stuff from other stores to your checklist as well. Once you find an Amazon baby registry, you will see how this option can reduce the time you need to spend creating multiple lists on different sites.
This option also helps with cutting on shipping costs because all your stuff will come under the free shipping offered by Amazon. Have you found a cute onesie on a different website? Put it onto your registry baby Amazon and enjoy the purchase.
5. You get an Amazon Baby Registry Welcome Box
Are you considering becoming a Prime member? Go for it if you want to get this gift. The other conditions are that your baby registry Amazon should have at least one item from each of the site's checklist categories, and some other person should make a purchase of $10 from your baby registry, as well.
The box gives you free sample baby stuff to try out. It's a great way to explore brands that may work for your baby. You never know what to expect in your box, as it is always a surprise.
Create Your Baby Registry on Amazon in Two Easy Steps
Are you wondering how to find the Amazon baby registry? First-time users of the website might find the process a bit intimidating. The homepage is quite busy, with so many advertised products and tempting deals displayed. You will probably get sidetracked and end up browsing through home supplies or another random category that will catch your attention. It is okay, remember to return to the search for baby registry Amazon.
To find the baby registry at Amazon, check the top navigation of the homepage. Alternatively, you can click on the "accounts and lists" button to find the baby registry. That's where you will need to sign up, thus, creating your account. Also, you can head straight to the landing page for baby registry on Amazon, click on "get started" and begin creating your registry.
The process is quite easy once you find Amazon baby registry, simply do the following steps:
Fill in the relevant details – You will need to provide your full name, address (which will only be shown to you), and the expected due date.
Personalize – Apart from the details of your delivery, you can add more information to personalize your registry. Such details include your baby's gender, cute messages for loved ones who look through baby registry Amazon to get you something special, and specific color schemes you would like to stick to.
There is so much more you can add to make your registry special. Using the notes available on Amazon, you can mention preferences on the size, color, etc.
Amazon Baby Registry Registration
You can create your own Baby Registry with this link. There is a wonderful free welcome boxes for all participants, keep it in mind ?

How to Use Your Amazon Baby Gift Registry
Knowing how to find an Amazon baby registry is the first step on a journey of easy, hassle-free baby gear shopping. However, here are some additional tips on how to manage your baby registry and add everything needed.
First, you should know how to add products to your Amazon gift registry baby. Here, you have two options. You can use the readily available registry checklist provided by Amazon to add products without leaving the page you are on.
The checklist has baby items organized into different categories, such as bath, feeding items, and so on. There are special subcategories you can look through as you search the Amazon baby registry checklist. There's a ton of stuff to look through; thankfully, it's all well-organized.
I find such a ready-made checklist useful because it gives you a comprehensive view of all the baby items you will need. The best part is that you do not have to get everything in the checklist from Amazon, you can source from different websites.
You can also expand your Amazon com baby registry search to individual product pages and add what you need one at a time. It is a second option for adding products to your registry. However, it takes more effort than just using the checklist provided by Amazon.
Consider using the universal registry option to source products that are on other websites. To do this, you should add the universal registry button to your browser as a plugin. Then, when you find a baby registry Amazon item on a different website, you can click a button to add it to the list.
Returning Amazon Baby Registry Items
If your loved ones buy you some of the things from your registry, these items will come as gifts, not only during your baby shower but even after your little one has arrived. However, you may find that the Amazon baby registry gift does not suit your taste or, when speaking about clothes, is a bit senseless, as your baby grows fast enough for clothes to get too tiny to wear.
In such cases, I recommend taking advantage of the 90-day return policy to get your credit back. The best part of this policy is that whoever bought you the item will never know that you returned it. It is a great way to avoid sending awkward explanations to the in-laws and friends.
To return an item from the Amazon baby registry, go under "Thank You List & Returns" and select the gift you would like to return. Amazon's general return policy can help even if someone bought you a gift outside your registry list. You will, however, need to contact the Amazon online return center for help with it.
7 Things You Should Consider Adding to Your Baby Registry on Amazon
Did you get overwhelmed by all the things you need to put in your Amazon baby registry box? Going through the checklist does not have to be so stressful. Here is a rundown of your registry must-haves:
Diapers and wipes – You will need a ton of diapers and wipes. When you see a good deal, it is always advisable to stock up beforehand. It's glad to know that Amazon offers many options, from disposable to reusable diapers.
A baby monitor – Whether you are looking for an audio monitor or a more specialized video device, you will find what you need on Amazon.
A bouncer or swing – I think that the most expensive baby stuff must be included on the Amazon find a baby registry not because you want your loved one to buy it, but to buy it at reduced prices with the completion discount.
A Boppy newborn lounger – Any mom that plans to breastfeed needs this item to save her back during the feeding sessions.
Swaddle blankets – Amazon has the broadest range of blankets to choose from, and also, you can always get such items from other websites.
Healthcare and grooming kit – Affordable and practical, it is a perfect Amazon baby registry gift.
Pack 'n Play – I can't emphasize how helpful the Pack 'n Play has been when I was traveling with my boys. Also, the discount can shave off a fair amount from its price.
A stroller – It is a must-have, just a must-have, especially when you have the completion discount.
Wrapping Up This Amazon Baby Registry Review
There are too many Amazon baby registry benefits to ignore. With this option, you can include everything you like from any website to the baby registry list, while making huge savings thanks to the completion discount. The free shipping and return policy are also great reasons why this registry is a must-have. It is time to find baby registry at Amazon and create your listing.
As Amazon is a well-known brand, your loved ones will be able to easily search for the Amazon baby registry and buy your baby a few items from the list. Moreover, if you are an Amazon Prime member, there is no reason for you to resist this generous offer. Plus, who would want to miss out on the Amazon registry baby box that comes as a welcome surprise?
If I had to highlight the top three advantages of the Amazon baby shower registry, I would include getting reduced costs on items, free shipping, and a possibility to buy from any website. Although most benefits are limited to Prime members, and the checklist can be overwhelming for first-time users of Amazon find baby registry, this option is beneficial for all future moms and dads.
What items would you like to get from the Amazon free gift baby registry? Have you already created a registry for your baby? Are there any additional tips on using when doing the Amazon baby registry search? Please let me know in the comment section below.