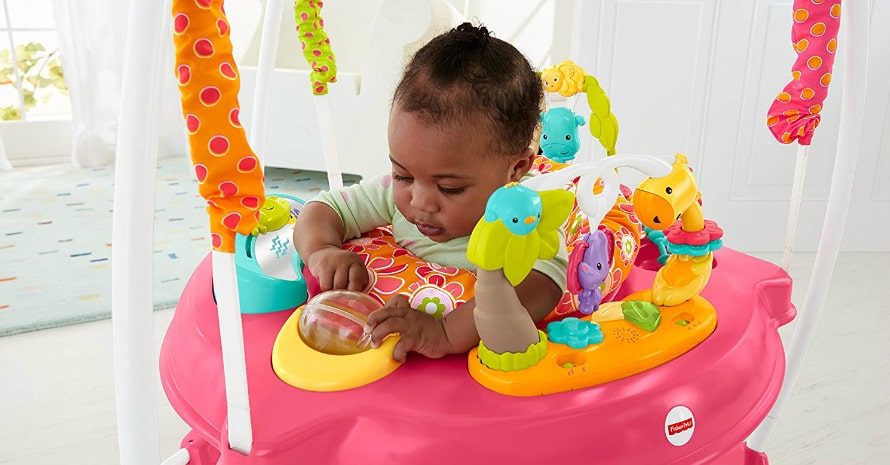 We try to provide the best care and give all love to our babies from the very first seconds of their lives. We take care of their nutrition, sleep, and health. Once they grow older, we have to pay attention to their development and fun activities.
Among the ultimate things you have to purchase for your infant are baby walkers and jumpers. There are plenty of them available on the market, so you can even feel overwhelmed with all the diversity.
If you have been wondering what is the best jumping baby bouncer as well as asking yourself 'when can babies use a jumper?", then this article is definitely for you. Having worked as a kindergarten teacher for 7 years, raising my beautiful baby daughter, I can provide you with tons of useful advice based on my experience. During my life, I have gained priceless knowledge regarding the latest child development techniques and toys. For this reason, I'm going to tell you more about babies jumpers and share a list of the best ones available on the market.
In addition, you will find out about the peculiarities of jumper for babies what age is appropriate for its use, and is it good for infants in general. Keep reading to discover jumpers for babies reviews so you can choose the perfect one for your little angel.
10 Best Baby Jumpers Reviewed
Here are the best jumpers for baby that are available right now. From my point of view, each item deserves your attention, so start exploring to purchase the most appropriate product. Check out each jumper for baby review and pay attention to the main pros and cons so you can make a well-informed decision.
back to menu ↑
1. Baby Einstein Jumper – Neighborhood Symphony Activity Jumper
Kids2 is a famous brand that creates diverse products for babies. Baby Einstein is their featured line of gear and toys for baby entertainment and development.
Parents throughout the whole world choose this brand as Baby Einstein jumpers are among the best items available right now. In fact, it was acknowledged as the best baby jumper 2018.
This activity baby jumper will be perfect for your kid for sure. The main thing about this model is its outstanding colorful design that your little one will love. This baby jumper will develop musical creativity with an amazing music activity center. The seat is adjustable so you can change the height according to your needs. In addition, it rotates for baby's most comfort and convenience so it will be able to discover everything around.
The item has a removable toy station that you can detach so your baby can play on the ground. Let your kid explore the musical world with drums, piano, guitar, and tambourine. This jumper will allow you to raise the future artist. I would definitely recommend this product to all moms who want their kids to discover their potential, talent and become a well-rounder in the future.
Positives:
Colorful eye-catching design

Comfortable rotating seat

Music entertainment center

Fully adjustable

Removable toy station
Negatives:
back to menu ↑
2. Graco Baby Doorway Jumpers – Little Jungle Model
Graco Baby is a renowned brand that offers high-quality baby products, starting from car seats and strollers, and ending with bassinets and swings. They have created one of the best baby jumpers that you should pay attention to.
This product is my personal favorite. It is the jumper babies are going to love as they bounce pretty well so your little one can have a lot of fun. However, the safety goes first. The door jumper has a special hidden safety cord so you can stay calm while your baby will jump and bounce up non-stop. The jumper has an adjustable height, and you can tailor it according to your needs. It leaves no marks on the doorway so you can move it from one place to another and not be afraid of damaging your house.
It's worth mentioning that the item is made of polyester. The removable seat pad is made of nylon, and you can machine wash it to keep the pad always clean and safe for your baby. I would definitely assure you of this door jumper baby would love it so much, you'd never regret buying it.
Positives:
Convenient price

Simple design

Lightweight

Comfortable seat

Mark-free doorway

Safety cord

Adjustable
Negatives:
Almost no toys for entertainment
back to menu ↑
3. Jolly Baby Jumpers – Baby Exerciser for Jumpers and Rockers
Here is the best baby jumper 2017 that you should devote particular attention to. The item is perfect for baby's entertainment. You can take it with you even outdoors so your baby could have fun in the fresh air. It's possible to set the jumper up in just a few minutes with no tools and even efforts required. Feel free to use this item when your baby reaches the age of 3 months.
This jumper for babies will be perfect for physical development. The product is designed to support the spine and promote the correct posture in the future. The best baby jumper helps your child to acquire motor skills, improve balance, coordination, and make muscles stronger. With this amazing product, your baby will have all the freedom to move, bounce up, and jump.
The seat is very cozy and soft to ensure the best comfort for your little one. This particular item will be perfect for houses with no door frames to install a regular door jumper. The product is foldable, so you can make it flat for easy storage. I love this jumper for its comfort and minimalism.
Positives:
Enhances baby's motor skills

Simple design

Can be used outdoors

Highest safety

Foldable for easy storage
Negatives:
back to menu ↑
4. Fisher-Price Best Baby Jumperoo 2018 – Animal Wonders
Here is one of the best baby jumperoos available today and created by a famous brand. Fisher-Price is a legendary company that offers high-quality outstanding products for babies and kids. This particular product is one of my favorites. It has a nice eye-catching design and plenty of toys to play with.
This is the best jumperoo choice of many mums as it has a very comfortable rotating seat that allows exploring the world around safely. There are different toys such as chameleon, panda, lion, alligator, frog, giraffe, and others as well as colorful lights and songs to keep your baby entertained all the time. Baby bouncing will be accompanied by vivid sounds, so it will be more fun for your kid.
The item is perfect for jumping and balancing, which will strengthen the muscles, improve motor skills, and develop the senses. You can feel free to adjust the height of the seat once your baby grows. Keep in mind that padded seat is not just comfy but also machine washable for your convenience. I personally like this option very much.
Positives:
Comfortable seat

Colorful bright design

Multiple toys

Machine washable pad

Spinning and adjustable
Negatives:
Price higher than average
back to menu ↑
5. Disney Baby Finding – Activity Baby Jumper
This item is definitely the coolest one among jumpers for babies as it is so colorful, vivid, and interactive. It enables the most engaging entertainment and development for your lovely baby. Keep in mind that this product is designed for kids older than 6 months.
This best jumper for baby has more than 13 different sea-related toys, Nemo characters, and games for your little angel. There is an additional loop that allows you to add more of your baby's favorite toys. There are colorful lights and playful sounds that will make jumping even more engaging. Additionally, there is an interactive piano to develop early artistic skills.
There is a cozy 360-rotating padded seat for the biggest comfort ever while exploring the surroundings and playing. Let your baby hang out with the favorite characters and have fun. The jumper is fully adjustable so your baby can keep playing as it grows. This product is everything you have been looking for. I think it will be a great investment in your baby's development and entertainment. For all the features mentioned, I like this jumper very much.
Positives:
Amazing design

Plenty of toys and activities options

Durable

Interactive piano

Padded cozy seat

Adjustable
Negatives:
Suitable for babies from 6 months only
back to menu ↑
6. Fisher-Price Animal Activity Best Jumperoo
Great product by the amazing company that has conquered the market last year and became the best baby jumperoo 2018. I would prefer this particular baby jumper seat for my kid for its playfulness and comfort. It incorporates lights, colors, toys, sounds, and music so your baby will develop while jumping. All the features encourage your little one to bounce up even more and strengthen its leg muscles.
The seat is rotating, and it's easy to clean it up. Just remove the seat from the item and wash it manually or use a washing machine as well. Adjust the jumper as there are 3 height settings for your convenience. There are plenty of toys your baby will love like giraffe, butterfly, toucan, lion, and more to keep exploring animals.
Make your kid feel like in the jungles. Your baby will be able to explore toys while jumping and get a reward in the form of lights and sounds. Start an amazing development journey with this cool product that I am so thrilled to recommend. It has everything your baby might need for comfort, enjoyment, and laughter.
Positives:
Toys diversity

Extreme seat comfort

Colorful lights, sounds and playful music available

Padded seat

Machine washing friendly

Different height options

Colorful toys
Negatives:
back to menu ↑
7. Fisher-Price Rainforest Best Baby Jumperoo
Here is another outstanding product designed by a renowned brand that is certainly worth considering. This one was nominated the best baby jumper 2019, which enables you to try it out and make sure it's cool to the stated extent. The rotating jumper is surrounded by tropical animals like a tiger, monkey, lizard, and many others. Colorful lights and songs will inspire your baby to jump more.
This jumper is the place of the highest comfort and safety. The movement of a baby is secure, so you can take care of your chores while it is playing with toys and bouncing up non-stop. The item is lightweight and portable, so you can carry it around and place it in different rooms. It's easy to set up and store.
The best baby jumperoo under review is safe for your baby. The reason is that springs are covered with soft fabric, so the baby's fingers will be protected. Place it anywhere in your house as it doesn't require a doorway to install it. 3 height options are available. The cool thing about this product is that you will receive the jumper in a safe package that is fully recyclable.
Positives:
Soft comfy removable seat

Machine washable and safe for fryer

Adjustable

Rotating

Vivid colors

Great toys options
Negatives:
Higher price in comparison with other items
back to menu ↑
8. Baby Einstein Neptune's Ocean Discovery Baby Jumper
Here is another best selling baby jumper by the well-known company we have already discussed above. This one is considered as the best activity jumper for baby, and I completely share this point of view. The baby Einsteins jumper is perfect for kids' development and can even help to acquire knowledge of basic colors and numbers in three different languages.
The baby Einstein jumper reviews give it the highest ratings I have seen on the web, so consider purchasing this item for your little one. The seat is rotating and allows your baby to bounce up comfortably and explore all 360°. There are 4 different height positions, so your kid can keep playing once it grows up a little bit.
Let your baby explore the ocean with colorful toys and sounds. They will be able to learn some basics like numbers and colors from the first months. The playtime will turn to a fairytale for you and your little one. Let your baby play everywhere in the house. The item is lightweight and portable, so you will be able to carry it from one room to another.
Positives:
Several foreign languages are available for learning

Adjustable comfy seat

Rotating4 height options

Plenty of colorful toys
Negatives:
back to menu ↑
9. Bright Starts Walk-A-Bout Walker – Juneberry Delight with Jumper Seat for Baby
Have a look at this model that was considered as the best baby jumper 2016. I like this product, and I would definitely recommend it to you if you have a beautiful baby girl like I do. This is a dream of each little princess in delightfully pink. The best jumper from Bright Starts will entertain your baby for a long time with engaging toys. There are other coloring options available so that you could buy for a baby boy as well.
There is all the variety of toys, colors, lights, and melodies available for your baby to have the best playtime ever. There are 2 loops that you can use to put additional toys your baby loves. Your baby will feel comfortable with a soft high back padded seat which also gives additional support. There are different melodies to engage your baby while jumping and volume control allows you to adjust the sound according to your needs.
The item is foldable, so you can easily hide it under your bed and save space in your house or apartment. I like this item for the combination of affordable cost and amazing functions so I consider it a very good choice to make.
Positives:
Amazing price

Different coloring options

Comfortable seat

Different melodies

Amazing toys options

Adjustable height
Negatives:
Not suitable for 6- months kids
back to menu ↑
10. Baby Walkers and Jumpers by Kolcraft – Tiny Steps 2-in-1 Activity Toddler & Baby Walker, Jubliee
These jumpers baby walkers willl definitely be appreciated their vivid colors, amazing design, and many toys available. Kolcraft's best jumpers for babies are very compact, so you can carry them around and easily fold to hide and give some extra space in the house. The item under review has an adjustable height so your baby will fit even when it grows up. The seat is suitable for machine washing so you can easily clean it up.
Moreover, you can convert this seating walker into a walking one so your baby can keep learning and developing skills with fun. There are convenient swiveling wheels that allow your baby to maneuver around the room.
There are many development toys like a flower, a ball, and others that enable enhancing motor skills. Your baby will also be able to strengthen leg muscles. I like this item as it's very simple, affordable, and compact. More likely, your baby will appreciate it for the amazing playtime that this item provides.
Positives:
Compact size

Reasonable price

Colorful toys

Padded seat

Adjustable height

Multifunctionality
Negatives:
Not enough space for more toys
back to menu ↑
Frequently Asked Questions
Everything You Need to Know About Babies Jumper
Down below, you will find some basic answers to the questions that I usually get from moms (like «when can baby use jumper», etc.) so you can get a better understanding of the product.
back to menu ↑
When Can a Baby Use a Jumper?
If you want to buy a jumper and wonder when can babies go in jumper, then you should know the following. Doctors recommend starting using a regular jumper or a door jumper for baby when they can hold their head without any support. It's highly important to remember. The age differs, but usually, babies start holding their heads without additional support at 4-5 months. That will be a perfect time when you can start using a jumper for baby. Check out the instructions provided by the manufacturer, as the age limit can be vary depending on the model you choose.
back to menu ↑
Are Jumpers Good for Babies?
Baby jumpers are an integral thing when it comes to development in early childhood. It is considered as a product that helps babies to learn while playing and developing their motor skills and coordination. In addition, it will help your baby to get the leg muscles much stronger. With a jumper seat for baby or any baby door jumper, your kid will always stay entertained so you could concentrate more on your daily routine.
back to menu ↑
Do Jumpers Make Babies Bowlegged?
If you consider only the best door jumpers for babies, they are completely safe for your baby. The reason is these jumpers are designed specifically to provide comfort for your kid and help it to grow leg muscles. You can be sure that nothing will harm your baby. If you start using the item at the right age, your baby won't be bowlegged. Feel free to use the best jumpers for baby for the development and entertainment of your precious child.
back to menu ↑
Final Jumper Thoughts
I hope you enjoyed my best baby jumper reviews and have found a product that you would love to buy for your baby in the future. I can say for sure that the one with jump seat baby is going to love. I have chosen only the best manufacturers and brands which provide only the best quality, so your decision-making process should become much easier. The item is very important and useful not just for development but also for spending the leisure time of your kiddos.
Many people have been asking a lot about jumper for baby: what age is appropriate for a start, and when can babies use jumper. I have created the FAQ section to give you the essential info about the product. Now, I would love to hear from you. Have you already used any product on the list? Was your jumper baby doorway suitable for the purpose, and what was your and the baby's experience with it? What product from the list you love the most and why? Leave your comments below so we could talk a little bit.