Baby Beach Tents: Options to Buy & Helpful Tips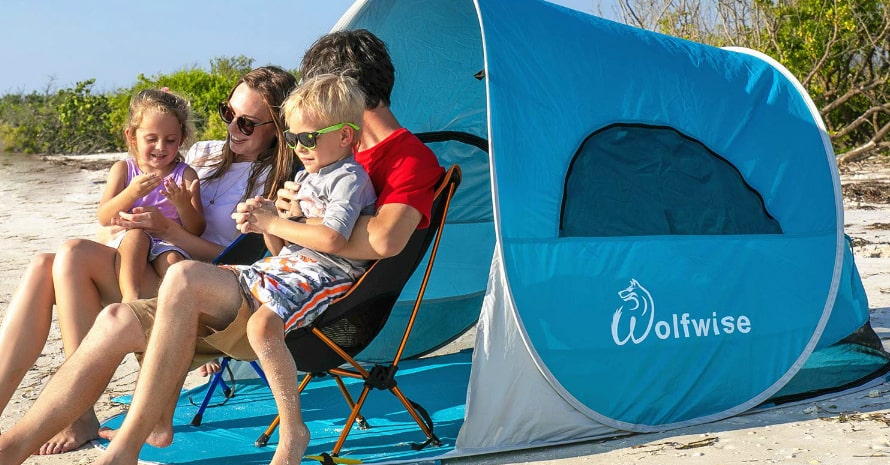 You had probably faced a situation when you were going on a vacation or to the beach and had to pack up big bags. When you arrived at your destination, you would look for a beach umbrella or some other place with shade. Then, you'd place your blanket on the sand and enjoy sunny weather under a tent or tree. There are cases when you can't find a shady place for a picnic or rest on the beach. Yet you need to protect yourself from sun rays, and if you have children with you, it is especially important to provide them with enough UV protection. People have beach tents for a long time, but the constructions that were massive and weighty at first have progressed into more elegant and multifunctional tents they are now. 
The beach is the number one place you can get sunburns and dehydrated skin if you do not protect yourself and those with you properly. As an adult, you can avoid such unpleasant issues by using a hat and sunscreen, but you need to double-check on your kids to make sure they are safe on the beach or just playing outdoors under direct sun. 
Most parents are unaware of the usefulness of the baby beach tents, yet they are great at protecting the children's sensitive skin. Unfortunately, applying sunscreen on your kid's skin is not enough, and that's where a proper cover comes in handy. Moreover, if you are a breastfeeding mum, you need privacy, and the best way to acquire it is by using such a tent. 
Top 8 Baby Beach Tents
Picking a baby tent may be not an easy task. That's because there is a wide range of brands on the market. Thus, figuring out the one with the best features may be difficult for those who haven't purchased such tools before. Therefore, I have decided to make a list of the most durable, functional, and safe tents for children you can consider purchasing. 
There is also a buyer's guide below to ease your decision making when shopping for a tent. I have used some of the products mentioned in this article for my kids, read some expert reviews, and asked other parents who have used these tents. Thus, I've got different opinions on the best options they all would recommend, especially for first-time users. And you can be assured of the reliability and freshness of the information below. 
All these tents are made of UV-protective materials that shield the baby's skin against these dangerous rays. Your child can play, read, sleep inside such a tent without you worrying about the direct sun outside. It is also possible to set these constructions indoors to provide your kids with some entertaining area to enjoy themselves. The main idea behind these tents is to provide shade and comfy space at the same time.
Below there is an analysis of the best baby beach tents. Each brand has its benefits and drawbacks. Read through the reviews and make your choice.
back to menu ↑
1. Pacific Breeze – The Best Baby Beach Tent
This Pacific Breeze tent is my top pick. This particular brand offers everything you would need in a beach tent. It's easy to set up, and folding it down is also quick and effortless. The last thing you want is a tent that you will have to install half of your time at the beach. 
When going to the beach, you pack light, and this tent is foldable, therefore, carrying it around is easy. Moreover, with its storage case, you do not have to think of trying to squeeze it in a different bag, as you can just pick it and go. Additionally, it has pockets inside where you can also store some of your picnic items. This tent has hooks where you can hang other things.
Its measurements are approximately 87 x 47 x 49 inches that make it very spacious to accommodate your children. This tent provides protection when it is sunny, windy, and raining. Besides, it is waterproof. Therefore, you do not have to worry about it leaking when it is raining. Furthermore, this tent has been designed specifically for the beach. That is why the lightness of this item will surprise you contrary to the thoughts that tents are bulky.
The entrance at the front is huge, as well as the windows. These features are mainly for good ventilation. So, when it's too hot at the beach, your children can feel the breeze. The huge windows also provide a good outside view.
Although it allows sunlight in, it has UPF 50. Therefore, all the dangerous rays are filtered out that assures you that your baby will not be at any risk of getting sunburns that may cause dehydration. 
Every feature on this tent is meant to maximize the fun on the shore, especially for your children. Although the item is spacious, it's not suited for large families since it can only fit two adults and two children. The tent is not designed for extremely cold weather conditions since the material doesn't provide heat insulation. 
It is made of a fiberglass frame. Thus, it can stay for a long time without wearing out or getting corroded by the salty water. The mesh windows of this tent can be easily rolled down when it gets stuffy or when you want your kids to enjoy the breeze or the sun a little bit. Drawing the line between sunburns and your kids getting vitamin D when you are at the beach can be challenging, and, therefore, this tent offers full coverage plus the possibility to open it a bit. 
When you are visiting the beach, you want basic comforts for your kids, and this tent will provide that when it's chilly and when the sun gets too hot. It is a stable tent that will not be blown away by the wind. This item is made with five sand pockets that, when filled with sand, will help to stabilize the tent. 
The main drawback, however, is that it lacks frontal coverage. Therefore, if you are breastfeeding and would like privacy, it is not the best tent for you. It can only be suitable for your child.
Positives:
Lightweight (weighs only 6 lbs)

Water-resistant

Easy to set up and fold down

Maximum sun protection

Durable
Negatives:
Not suitable for a huge family

The open front design is not appropriate for heavy downpours
back to menu ↑
2. Alvantor Kids Tent – The Best Baby Tent for Indoor and Outdoor Usage
Playing is important for a child's growth, and as a parent, you want to give your child the best playing environment. Thus, it is worth getting this tent for your kid to play and have some fun inside. 
For such a fair price, you can get yourself this highly functional play tent for baby and give them the best experience when you are at the beach. With it, your kids will be kept busy in the tent so that you will have some time for yourself to enjoy the serenity of the beach. 
This multicolored kid's product will definitely wow your children at first sight. Your kids can play in it by themselves as you savor your moment at the beach. 
The tent is steady. Thus, your children can play there without you worrying if the item will fall off. The fiberglass poles guarantee its stability. Besides, it will take you a few minutes to put up this tent, leaving you with more time to enjoy yourself. 
Follow the instructions given on setting it up to avoid using up your time at the beach pitching the tent. Your children can even help you put it up or try doing it by themselves that will increase their fun. Additionally, folding it down is easy. 
Each pole is tied with one rubber band. After you are done using the item, you can take out the poles flatten the tent, fold it, and put it in the carrying bag. These poles have joints that are covered so that they can be made small to fit in the storage bag. 
When folded, it measures 3 x 18 inches and weighs 1.9lbs. It makes it light and easy to carry or travel with. Nothing is as bothering as carrying a heavy bag when traveling. Therefore, if you want to travel light, you can opt for this tent. 
Cleaning is also easy. You can use a damp cloth and a little soap to wipe it, and the product won't fade or shrink after cleaning it frequently. 
The tent can also be used for indoor and outdoor activities. It can fit up to a maximum of three kids. If you have three playful kids or neighboring children, then it is an appropriate tent to get since the kids can play here as you soak in the sun. The versatility of this tent is what stands out. Your kids can also use it to play in the house, for sleepovers, birthday parties, etc. 
Besides, it has a mesh top that makes it easy for parents to watch their children through the tent. In case you are not satisfied with this product or any part appears to be faulty, you can return it, thanks to the one-year warranty.
Positives:
Enhances kids' social skills

Can be used both indoors and outdoors

Easy to put up and fold down

Easy to travel with

Affordable
Negatives:
Smaller in size compared to other options
back to menu ↑
3. Monobeach – The Best Baby Pop Up Beach Tent
It is unfair to leave your baby cooped up in a tent while others are enjoying the water. Therefore, this tent has a mini pool that will also give your baby the experience of being in the water. It is the best tent for you and your baby to enjoy the beach together. 
The mini pool is one of the unique features of this item that most baby beach tents do not have. You can fill up this mini pool with a little amount of water for your baby to play in it, but make sure you monitor them. If you do not want to expose your baby to water, then you can use it like the other usual tents since this product can work just like any other tent. 
The top of this item can be unclamped easily so that your baby can also enjoy the view. The bottom part can also be used to put the baby's things, such as toys, to avoid carrying a lot of luggage. Additionally, if you do not want to add water, you can leave your baby to sit on the soft pool without being obstructed by the top and side parts of the tent.
With this pop-up item, you can bid goodbye to the days of struggling with poles to pitch up a tent. This product sets up automatically after being unstrapped from its bag. Therefore, you are sure to put up your tent in a few seconds. 
However, folding this tent can be a bit challenging if you do not check instructions at first. As such, you need to read the manual beforehand to know what you are supposed to do. 
This tent is built for children less than three years. Thus, if you are searching for a quality tent that will protect your child from the scorching sun while you are at the beach, then you can opt for this one. The feature that makes it the best option is the bottom of the tent covered to prevent your baby from sitting on the sand. 
The top forms a canopy shade that provides maximum protection against the dangerous UV rays. The UPF, together with the sunscreen feature, will protect your baby from getting sunburns. 
Also, this tent is lightweight and comes with a storage bag, making it easy to make your trip with it since it does not occupy a lot of space in your car trunk or your bags. It measures 47.5 x 31.5 x 27.5 inches when open and 21 inches when folded down and put in the bag. When you are purchasing this item, ensure you are given one tent shade, its bag, and four pegs.
Most people think that for purchasing such products, they have to break the bank, but that is not the case. You can get your quality tent at an affordable price. No one spends a lot of money on vacation items, even if saving money for the beach trip. Therefore, you are assured that these manufacturers that develop environmentally friendly quality products have your best interest at heart by making their products affordable and available.
Positives:
There is a mini pool for the baby

UPF 50+, thanks to the canopy top

Easy to put up
Negatives:
Folding can be a little bit tricky
back to menu ↑
4. Zomake – A Play Tent for Baby with Excellent UV Rays Protection
After getting used to this tent and how it functions, I doubt if you will ever want to carry other tents. This brand makes it recognizable that for a proper beach tent, you require two things, namely efficiency, and versatility. This item is spacious enough, especially for families with more than two kids, as it can accommodate up to four people. Therefore, you can fully enjoy your beach trips, even with many kids with you. 
If you would want to get a pop-up tent that sets up quickly, it is an appropriate choice. The item sets up within seconds. Just open the storage pack, unstrap the tent, put it on the selected place, and watch as your tent pops up. No previous experience with such items is needed, and minimal effort is used in assembling the parts of the product. Thus, you shouldn't worry about dealing with complex instruction. 
The tent has two windows, two doors, and a skylight area. Thus, it provides a good view all around. The mesh doors and windows allow for air circulation and prevent mosquitoes and other harmful insects from getting into the tent. 
Additionally, it provides maximum protection from the UV rays, as it is made with silver-coated polyester material to save your little one from the harsh rays. When folding back the tent, follow the instructions or search for Zomake YouTube for further guidance and illustrations. 
Your kids can use it to play in the house or during outdoor activities. Also, note that this tent is made for good weather. As such, it is best to avoid setting it up during heavy rain. However, it can stand heavy winds and can be used at any time of the year, except for the extremely cold days.
What I also like about this Zomake tent is that it has a marvelous design. The beauty of this item will charm everyone. If you want a pop-up tent made with the latest technology, then it is the perfect item to buy. You can return it if something goes wrong before the lapse of ninety days from your day of purchase.
Positives:
Long-lasting material

Spacious

Pops up within seconds

Lightweight
Negatives:
Not water-resistant

Can be challenging to fold down
back to menu ↑
5. KidCo Peapod – The Best Babies Tent for Travelling
From its name, you can say that this tent is suitable for children from six weeks to five-years-old ones. Therefore, if your child falls under this age bracket, it is a suitable tent for them, especially when you are lounging at the beach. 
The first outstanding characteristic of this tent is that it is one of the few options with a ready-to-use sleeping pad. There is nothing more satisfying than knowing that your child can sleep comfortably anywhere as long as you have this tent with you. 
The sleeping pad is removable, making it easy to clean and dry. The mesh that surrounds it acts as an insect screen. Therefore, you are sure that your baby is protected from harmful insects that may creep into the tent. The mesh also acts as ventilation that enhances air circulation. The longevity of this tent is also outstanding, as the materials used to make it do not wear out or tear easily. Your baby can use this tent for a long time without you having to replace the product. 
The outdoor functionality of this tent is enhanced by its maximum protection from the UV rays and strong anchoring straps. It is irritating to have a tent that can be swayed by heavy wind. Thus, this strong anchorage is the deal maker for this product.
The item is lightweight to ensure you do not strain when carrying it. It weighs 2.45 lbs only. Thus, it is probably the lightest baby beach tent I have come across so far. You can carry the baby inside the item while they are asleep and put them in the car if you do not want to wake them up. The sleeping pad on the floor of this tent makes your baby comfortable while sleeping. In addition to all these features, the zip at the front makes it easy to access your baby. 
It comes with a storage bag that makes it effortless to travel with. If you always pack light, it is the bag to go for. It can be folded into a small size so that it does not occupy much space. Additionally, it is even suitable for those using public transport. However, ensure you follow the precautions given by the manufacturer, such as not adding any mattresses, pillow, or any sleeping pad into the tent.
Positives:
Enough space for kids

Easy to set up

Portable

Comfortable, thanks to the sleeping pad within the package
Negatives:
May be difficult to disassemble it the first time

There is a gap between the sleeping pad and the bedding
back to menu ↑
6. WolfWise – A Portable Baby Beach Tent with Easy Setup
This water-repellent tent provides the ideal resting place for your kids while you are at the beach. It has large windows and a sizable door for good air circulation.
The material of this tent is silver-coated. Hence, it absorbs sunlight and prevents the dangerous ultraviolet rays from penetrating through the canvas. The seams of the item are also taped to keep this tent dry, especially when it is raining. 
The durability of this item is high because of the polyester material that prevents tearing of any part so that you can enjoy your tent for a longer time. As you are buying a tent for your kids, and they are clumsy at times, you need to purchase something that will not break easily. As such, the frame of this tent is made of steel that makes it hard to break and won't corrode. 
Furthermore, it has an amazing design. The rear pull sliders allow for convenient entry and exit. Also, it has dual storage pockets below the windows where you can place small items. You can also put beach sand in the sand pockets for enhanced stability of the tent. The lightness of this item will amaze you, and carrying it around is not strength-consuming. Also, when bought, it's accompanied with a zippered door for extra privacy.
Moreover, it is spacious and measures 86 x 57 x 47 inches. Therefore, you and your kids can fit inside since it can hold up to a maximum of four people. If you are a breastfeeding mum, then you should get this tent for you and your child. Its large space will allow you to sit and attend to the baby in privacy comfortably.
If you are asking yourself whether this tent can be folded into a travel-size package, the answer is yes. It's very portable, with a measurement of 29.5 x 29.5 x 1.6 inches when folded. It is easy to travel with this product, as it weighs 3.3 lbs when put in its carrying bag. Cleaning it is easy, and it also dries up fast. Hence even if it is rained on, you are assured that the tent will dry up fast, ready for the next beach visit. 
Lastly, it offers plenty of shade regardless of the direction of the sun. Therefore, no adjusting is required, as you would do with other brands or an umbrella. Its dome shape promotes this characteristic. This tent should always be part of your traveling essentials when you are visiting the beach.
Positives:
Has sandbags for stability

Proper ventilation

Easy to put up and fold down

Easy to carry around

Durable
Negatives:
Heavy wind can flatten it

Can be challenging to get it back in the bag
back to menu ↑
7. Mobihome – A Beach Tent for Baby with Extra Stability
It has got to be the easiest tent to put up and disassemble. Pull it out, lock the poles together, pull the drawstring, and you have your tent up and ready to be used within a snap of the fingers. It measures 79 x 44 x 43 inches. Thus, it can accommodate up to three people and has 360-degrees ventilation to ensure proper air circulation for your little ones. 
The tent is made of polyester with taped seams to keep the inside of the item dry, while the surface has a silver-coated film to protect the baby from the hot sun. The polyester material also increases the durability of this product. If you want an all-round tent to protect your child from the rain and the sun, then it is the tent you need to purchase. 
The front part of this baby beach pop up tent is extended for privacy and more space for relaxing. Thus, if you are a breastfeeding mother, this tent will help you to have some privacy. Moreover, the in-built sand pockets and the stakes assure of maximum stability of this item.
Things that make it a proper outdoor item are the frames made of fiberglass and the zipper door. The zip gives you easy access to your children while they are in the tent. When purchasing, you will get the tent itself, a storage bag, pegs, and a one-year warranty.
Positives:
Waterproof

Sand pockets provide stability

Long-lasting

Pops up in a few seconds

Portable
Negatives:
Can't be used during a heavy rain
back to menu ↑
8. Sunba Youth – The Best Beach Tents for Baby for Any Weather
This tent has a silver-coated material to ensure it prevents your child's sensitive skin from the dangerous ultraviolet rays. Its UPF is 50+, meaning that this silver material filters out 98% of the ultraviolet rays. As such, you are sure of your child's safety and protection from sunburns. The polyester material that makes up this tent is breathable. Therefore, proper air circulation in the tent is guaranteed. 
When folded, this tent measures approximately 17.7 inches, and when it is popped up, it measures 65 x 59 x 43.5 inches. If you have two or three children, then the space in this tent will be suitable for them to play or rest inside.
This tent does not need installation. It is easy to put up and fold down. The putting up and folding can be done in three seconds. 
Are you worried about the weather uncertainties? Save yourself from carrying umbrellas and all. This tent is waterproof. It has a pop-up design that doesn't permit water and other precipitation to enter the inside. Therefore, if it starts drizzling when you are at the beach, your little ones will be safe. 
By purchasing this tent, you can make your kids protected from both the dangerous rays and the rain. Furthermore, the metallic frames of this item guarantee its durability. The frame is bendable, thus, providing flexibility. Additionally, it has eight ground stakes and pegs that boost stability. 
The mesh windows provide ventilation. The mesh also offers an excellent view from the inside. Lastly, the item is lightweight. It weighs 2.2 pounds that makes it easy to travel with. You can conveniently put in the car trunk or even your backpack.
Positives:
Portable

Waterproof

Maximum protection from the UV rays

Easy to set up and fold down
Negatives:
Not suitable for more than two kids at once
back to menu ↑
A Buyers' Guide to Getting the Best Baby Beach Tent
I have created this guide to give you an insight into what you should look at when purchasing a baby beach tent. The right selection will depend on where and how you will be using a tent. Thus, keep in mind the places you will be visiting and whether the tent will be suitable for the conditions in that place. 
This guide will also assist you with some characteristics to look for when purchasing a tent. Check out these reasons and helpful recommendations.
back to menu ↑
Versatile Functionality
When buying a tent, it is best to purchase one that can perform various functions, both outdoors and indoors. This way, you will not just wait for vacations or beach trips to make use of your tent. 
Getting a multifunctional one is also crucial because in case your kids need to go for a sleepover or have a birthday party, they can use it. Multipurpose tents can also be used for daily household needs. For example, the KidCo tent can be used for a baby to sleep in since it has a sleeping pad. At the same time, it can be used for a beach picnic.
back to menu ↑
Ventilation
Proper ventilation is not optional. The tent must be properly ventilated. Colors and patterns that will appeal to your children can follow later. Air circulation is important for your little ones, especially when it is sunny and hot outside.
back to menu ↑
Light Weight
The weight of the tent should also be a factor to consider due to the portability issue. Carrying heavy tents is a thing of the past. Besides, it causes several inconveniences since you may end up carrying many things and forgetting some by the beachside. 
Additionally, the tent should be foldable and carried in a bag. Although the bag is necessary, it should not be the deal-breaker when it comes to purchasing a tent. You can always buy it separately. All that matters is getting a high-quality portable tent.
back to menu ↑
Easy to Install
To decide what tent to buy, you must have the right information on the product that will serve you and your baby well. As such, it is good to look through the setup of the tent before purchasing the item. 
Ensure you pick the one that is easy to install. The best tent should have clear instructions on how to put it up and fold it down. Noteworthy, ensure you are keen on the pop-up tents and go through the assembling instructions. 
back to menu ↑
Capacity
Think about the number of people who will occupy the tent. If you have a large family, it is wise to purchase the item that can accommodate all of them. Therefore, while shopping, concentrate on the tents that can accommodate more than three people. However, if you have one child or a smaller family, then you can buy one of the small-size tents.
back to menu ↑
Price of the Tent
Should price matter when purchasing a baby beach tent? It is also another question that you need to ask yourself, especially when you are window-shopping for one. The price depends on whether you want a one-off tent or a durable model. 
Therefore, if you want a tent that will serve your babies for a long time, you have to part with more money for quality. Nonetheless, not all expensive tents are of high quality. Thus, if you find a good one for a low price, then you should consider purchasing it. Despite the cost of the tent, maintenance also counts on longevity. 
back to menu ↑
How to Maintain a Baby Beach Tent?
Maintaining your tent should not be a hard task since the manufacturers usually indicate the procedure of cleaning beach tents. Thus, go through the manual or inquire about the maintenance of the item you want to buy if the instructions are not clear to you. 
The best tents do not have complicated maintenance instructions. Most baby beach tent materials are easy to clean. They require you to swipe the dust before folding down and storing the tent. Some items indicate that you should use a damp cloth and mild soap to wipe the tent. However, different models have different cleaning methods, so always check the instructions. 
Airing out your baby tent before storing it, especially if it was rained on or you have wiped it with a damp cloth, will always keep it fresh and free from foul smells. Finally, avoid using extreme force when putting up the tent and folding. It aids in preventing any breakage. 
Besides, ensure you replace the parts if some broke, as such parts may be harmful to your children and scratch and injure them. However, all the tents mentioned above are durable, so you won't have to worry about them breaking down quickly. Just make sure that you handle and store such an item correctly.
back to menu ↑
Reasons Why You Need to Have a Baby Beach Tent
The beach tents provide multiple functions. They protect against the sun, wind, insects, and sand. Below are some compelling reasons why you need a tent to protect your baby:
back to menu ↑
Hot sun
Did you know that your baby's skin does not produce as much melanin as yours does? Therefore, when their skin is exposed to the constant scorching sun, they will get sunburns and other skin conditions, such as heat rash. 
As I have stated above, most tents have the UPF feature, and, therefore, your baby will be safe. You may also want to take a break from the sun, and finding a shade may be impossible. Thus, some of these tents can accommodate both adults and children.
back to menu ↑
Strong winds
The breeze at the beach is very refreshing. But what happens when the winds become stronger, and you have carried your little one to the beach? Your baby will not be enjoying the strong wind. Worse still, they may go down with the bad flu. Therefore, baby tents are a must-have for you any time you plan on going to the beach or for a vacation.
back to menu ↑
Clinging sand
Everyone would agree with me that nothing is as irritating as having sand stick on your baby's body. If you have tried applying sunscreen to your baby when they have sand all over, then you understand what I am saying. Also, sand is not good for your baby's hygiene and skin since they are highly sensitive to all outside factors. Hence, tents have floors to keep babies away from the sand.
back to menu ↑
Insects
The beach is an open area where you can find anything, including mostly harmful insects. Some insects may cause irritation and itching of your baby's skin, and, thus, it is best if you protect your child against such issues. The beach tents I have reviewed above have a mesh around them that traps insects and prevents them from getting inside the item.
back to menu ↑
Sleep
As parents, we all know that children can be jumpy one minute, and the next, they are asleep. So, what happens when your baby falls asleep when you are at the beach? Do you cut short your fun to take them home? If you have a baby beach tent, you can lay them to sleep there and proceed to enjoy sunny weather.
back to menu ↑
Closing Remarks
All the products listed in this article meet the standards associated with baby tents and can be relied upon to provide maximum protection of babies from the harmful rays. They are also durable and spacious to accommodate your kids with proper ventilation and easy setup instructions. I have ranked them among the best because these tents have features, such as filtering 98% of the dangerous rays. 
So, now that you know the best items to take with you on the beach, you can choose the best item according to the size and features you need and enjoy your picnic or vacation. The only thing left is to select the best tent that will suit your baby's needs, but with the list above, I hope that it is easy to make an informed choice. 
All these tents are high-quality, but it is up to you to choose one that will make your baby comfortable so that they can also enjoy their time at the beach. Protection of your kid is your number one priority, and so it is to the manufacturers, too. Which of these tents stands out as the most suitable for your needs and those of the baby? Have you used any of the models described above? If yes, did you like their functionality? Leave a comment below and let me know which one would be your best pick.