Best Prenatal Vitamins with DHA: Things You Need to Know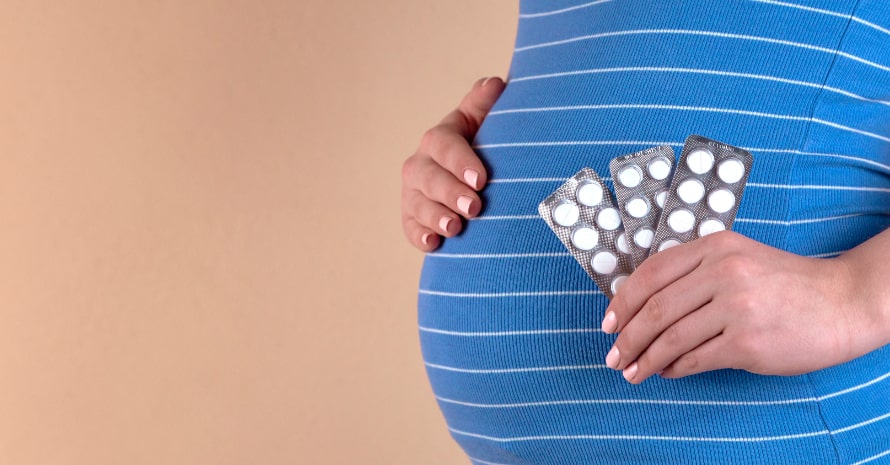 A healthy diet of a pregnant woman must be enriched with vitamins to support her body and provide the healthy development of a baby. That's why it is essential to go for the right vitamin complex that will contain DHA and omega-3 fatty acids, besides other nutrients that are important for pregnant and lactating women. Besides, women may have different needs for vitamin A, B6, B12, thiamine, and calcium. That's why it's vital to find a suitable prenatal vitamin complex to ensure your body has everything needed.
I am a nutritionist, and I have a two-year-old child, so I know things about such complexes. During pregnancy, it is extremely important to pay special attention to vitamins of group B, namely B6, B12, and B9, known as folic acid. Usually, doctors prescribe prenatal vitamins with DHA for women in the first twelve weeks of pregnancy.
During pregnancy, there may be a problem with a sufficient intake of B vitamins and folic acid. B vitamins are involved in most metabolic processes, and they are responsible for the transmission of nerve impulses and the condition of the skin and hair. Without them, a sufficient oxygen transfer process to organs and tissues won't happen properly.
Folic acid comes indispensable in the formation of sufficient blood supply to the placenta that, in turn, serves as a prevention of miscarriage, premature birth, development of eclampsia in the mother, and prematurity or underweight of the newborn. Unfortunately, about 15-30% of B vitamins are destroyed in products when we cook them, so it is essential to take some supplements. Moreover, DHA comes as an essential omega-3 fatty acid component needed for proper brain development.
Not only is the pregnancy in many women accompanied by a decrease in appetite and morning sickness, but some expectant mothers may also suddenly change their eating habits and refuse food sources of healthy compounds. Therefore, pregnant women need to intake some active forms of folic acid and other B vitamins.
That's why I have decided to compile a list of the best prenatal vitamins that contain DHA, among other nutrients. Below, you can find the products that I tested and tried by myself and consider safe and helpful to intake as a prenatal complex.
Top Five Best Prenatal Vitamins
Below, you can find some of the best prenatal vitamins you can choose for yourself. I have created a top-five list of the products that can be extremely helpful for a future mom.
back to menu ↑
1. VitaFusion Prenatal Gummy Vitamins – The Best Prenatal Gummy Vitamins With DHA
These gummy vitamins contain 242 mg of vitamin C as the main ingredient, and there are ninety gummies in a pack. I recommend paying attention to all the indications, composition, and amount of vitamins per tablet when you opt for a prenatal complex. 
If you are looking for a balanced supplement to add to your stable diet, this complex is what you need. It contains all the essential, and I find the shape of the gummies nice. Also, they are tasty, meaning you won't struggle with the intake of these vitamins.
I want to pay your attention that such elements as iron or calcium don't usually come in a basic vitamin complex. Since the dose of iron and calcium needed can vary for each woman, it is worth checking on your health and taking iron and calcium as a separate complex, if needed.
For example, I get enough iron through a healthy diet enriched with cereals. Thus, the absence of iron in this complex makes it even easier for your body to consume all nutrients. After all, vitamins do not replace proper nutrition. If you need a vitamin complex that contains iron, or you have mild anemia, you will need to purchase iron-containing pills additionally.
This complex will give 50% of the vitamin A that your body needs. That's an important argument in favor of this supplement. Besides, this VitaFusion complex contains all the basic vitamins needed for proper prenatal care and doesn't have any superficial sugar or sweetener added.
The introduction of these supplements in your diet will help you to relieve the side effects that accompany pregnancy in the first trimester. This vitamin complex helps with nausea, fatigue, and weakness in one's body. I felt a positive effect on my body after a week of taking these pills. Moreover, these gummies are chewy, and they have a pleasant, fruitful taste that makes them the best prenatal gummy vitamins with DHA for me.
Positives:
Come in the form of gummies
Have a good taste
An affordable price
Negatives:
back to menu ↑
2. Nature Made Prenatal Vitamin + DHA Soft gel – Great Prenatal Vitamins with DHA and Folic Acid
This complex can work as a high-quality multivitamin solution for any person, and it can also be beneficial for pregnant women. The consistency of the soft gel is comfortable to intake, so the supplement is not difficult to swallow, as it happens with other similar solutions.
I advise you to take these vitamins on an empty stomach to not to feel nauseous. This complex fully covers the body's needs for omega-3. It's an affordable alternative to expensive popular brands that delivers the same great results, and the number of capsules in the pack is projected for two months.
It is important to understand that the composition of vitamins in each complex can vary. If you consider buying some prenatal nutritional supplements, be sure to choose the one that contains DHA that is essential for future mothers and baby development. In such a complex, the composition as Omega-3 (DHA) will be indicated, and usually, it goes about 200 mg.
Fish oil has a specific smell that may be disgusting in some people, but these pills do not have such a pronounced taste. Besides, these Nature Made vitamins are ideal for those who need a daily intake of iron. The only thing is that there is no calcium in the complex, but I have already mentioned that it is rarely included in basic packs. Therefore, I recommend eating calcium-rich foods or add calcium supplements to your diet.
Positives:
There are different sets with DHA
Come at an affordable price
Have a neutral taste
Negatives:
No calcium in the complex
back to menu ↑
3. SmartyPants Prenatal Formula – The Best Organic Prenatal Vitamins With DHA
If you are looking for the best OTC prenatal vitamins with DHA without iron, these organic supplements can work for you. As many complexes do not contain iron so that all other nutrients can be absorbed more gently, this SmartyPants solution is another great vitamin mix worth your attention. Besides, some specific substances, especially calcium and zinc, do not absorb together well, and a good manufacturer keeps it in mind while creating a prenatal vitamin complex.
SmartyPants has included all the key nutrients necessary to support the health of the expectant mother and baby. And since it's difficult to consume the required amount of zinc and omega-3 in the first stages of pregnancy without the supplements, the complex's formula focuses on this component.
It is essential to consult with your doctor about the vitamin complex, as you need to make sure that you take all the necessary nutrients. Only in this case, you will choose the most effective formula and avoid risks and disappointments when buying a wrong product complex. However, you can go for a very basic supportive option that won't harm your health, such as this SmartyPants solution.
These prenatal vitamins are as neutral as possible, and, therefore, one of the most popular options out there. The gummies contain natural ingredients only and have no chemical aftertaste. You may not have a sufficient vitamin dose with these supplements, but you will be sure of the full naturalness of all the ingredients. Therefore, if you feel pretty well during your pregnancy, and you need a basic vitamin base, this product is one of the best choices to make.
Some people may say that the complex is not complete and does not have all the vitamins necessary for the prenatal period. But as I have said, iron and calcium can never be fully absorbed in pairs, and zinc is gets blocked by iron when taken at the same time. Therefore, there can't be a vitamin complex that covers all the possible needs of a pregnant woman, and you need to combine some solutions to achieve the best effect.
It is rare to find that a prenatal complex in the form of sweets with a pleasant neutral taste. These chewing gummies will help you to deal with morning sickness and feel good during pregnancy. At the same time, a nice price for so many gummies comes as a pleasant surprise.
Positives:
Have a pleasant taste
Non-synthetic
A good price
Negatives:
back to menu ↑
4. Solimo Prenatal Vitamins – Best Prenatal Vitamins with DHA at Affordable Price
If you are sensitive to the taste of the tablets, these vitamins are worth your consideration, thanks to their amazing taste. This prenatal complex is not as rich in nutrients as the previous products, but it contains enough components for a healthy being or a future mother and her baby.
I acquired this complex after my body began to react negatively to the VitaFusion product in the second trimester. Unfortunately, the body may change the reaction to a certain ratio of vitamins in different periods, and you will need to go for a different composition of vitamins.
The texture of these vitamins is soft and pleasant. Also, they look like gummy bears and taste similar. Thus, their intake quickly becomes a habit, and it is difficult to wean yourself from the supplement after finishing the course. These vitamins are almost the only gummies without chemical or fish oil flavors. The complex helps to deal with the negative effects during the first stages of pregnancy, and within a week or two, you will start feeling better, the morning sickness will disappear, and you will also get more energy.
This complex is also a good option for taking during breastfeeding. This Solimo prenatal vitamins are affordable, pleasant to eat, and work great for a woman's body. If you need a well-balanced vitamin complex, I recommend going for this one. But make sure to consult with your doctor to figure out what nutrients are still missing in your body.
Positives:
The most delicious flavors you can find
Gluten-free
Ninety gummies in a pack
Negatives:
A high level of vitamin A compared to other ingredients
back to menu ↑
5. One-A-Day Women's Vitamins – The Best Over The Counter Prenatal Vitamins With DHA
This vitamin complex can be a perfect supplement to your diet before, during, and after pregnancy. The formula is made the way that the daily dose contains all the necessary vitamins for expectant mothers, such as vitamins A, C, D, E, B6, B12, folic acid, omega-3, and DHA. At the same time, the complex is retailed at a reasonable price and doesn't cost a fortune.
In the package, you will get an omega-3 plate of sixty tablets plus sixty pills tablets of the vitamin complex. As you have probably guessed, you will need to take two different tablets per day.
The tablets may seem too large at first, but if you take them with food, there will be no problem with swallowing the product. These vitamins have a slight taste of rye fat in omega-3 tablets, but they don't cause nausea and get absorbed quite quickly.
By taking this vitamin complex from the first weeks of pregnancy, you will get your body used to the absorption of nutrients, and it will be easier to overcome the symptoms in the first trimester of pregnancy. I want to warn you that it is essential to keep these prenatal pills in the refrigerator.
Thanks to this complex, my nails and hair became stronger, and I also stopped feeling chronic fatigue. I do not like fish oil, but unfortunately, all omega-3 tablets have a slight fish taste. The most effective way to take omega-3 is to do it before bedtime, but you can also eat them with food to avoid the fish aftertaste.
Positives:
Contain omega-3
An extra big pack of vitamins for sixty days
The effect is noticeable within one week
Negatives:
Have a fish taste because of omega-3
back to menu ↑
Frequently Asked Questions
What You Need to Know About Prenatal Vitamins
Pregnancy is an extremely important period of your life, so you must be extra conscious of your body care. It includes your daily ration, sports, rest, and vitamin intake. Although only your doctor can recommend the most suitable vitamin complex for your body's needs, you can go for a basic prenatal vitamins to ensure proper nutrition during pregnancy.
The vitamins and other components in such supplements help pregnant women to stay healthy and take care of their babies. That's why I want to share a few lines on what makes the best prenatal vitamins with DHA and how they are useful for future moms.
back to menu ↑
What Are Prenatal Vitamins with DHA?
For pregnant women, taking vitamins with DHA is vital for ensuring the normal development and functioning of the baby's brain. At the same time, such pills provide women with additional energy that is necessary for this period, and the DHA component helps with focus, attention, and memory. Even a slight deficiency of DHA can lead to non-closure of the neural tube and congenital malformations.
Omega-3 fatty acids are essential for our bodies. Unfortunately, our bodies can't produce these components on our own, and each person needs a specific amount of omega-3 to stay healthy. During the prenatal period, there is an increased risk of deficiency of omega-3 acids, as the mother's reserves are depleted to support herself and the development of the child. Even a slight deficiency of DHA can lead to non-closure of the neural tube and congenital malformations. That is why omega-3 and DHA-containing supplements are highly recommended for expectant mothers.
back to menu ↑
What Do Prenatal Vitamins with DHA Do?
Studies have long proven the benefits of taking omega-3 acids and DHA components in the form of dietary tablets. They help to avoid premature birth and strengthen the immunity both of the mother and baby. High-quality prenatal vitamins contain DHA and omega-3 acids that support your body during pregnancy and reduce the possibility of premature birth.
Since many women do not take a sufficient amount of fish in their diet to replenish the omega-3 reserves, it is advised to go for some additional vitamins that will contribute to the proper intrauterine formation and development of the fetus.
back to menu ↑
Should I Take Prenatal Vitamins with DHA?
Besides the obvious advantages of maintaining the health of the mother and the formation of the fetus, vitamins have some additional positive effects. The antioxidant feature of prenatal vitamins allows getting rid of nausea and protects you from infectious diseases.
Ideally, you need to get a recommendation from a specialist, as only the doctor can tell you about all the needs of your body. However, it is worth taking prenatal vitamins with DHA if you feel chronic fatigue, can't eat some necessary products, and want to ensure your baby gets all the nutrients needed for its development. Such a vitamin complex will not bring harm to your body but help to maintain health in general.
back to menu ↑
Final Words
During pregnancy, the need for nutrients increases significantly. In this period, you will probably require two times more B vitamins, calcium, iron, and folic acid, depending on your body's needs. Lack of any of the vitamins during pregnancy can lead to serious complications and fetal malformations. The full provision of vital supplements is essential even when you are planning a pregnancy, during each trimester, and in the lactating period.
Even a slight deficiency of DHA can lead to problems with the baby's development. That's why it's important to select the best prenatal vitamins with DHA and folic acid to ensure a healthy life of you and your baby. Do you have your favorite prenatal vitamin complex? Have you used any of the products mentioned here? Leave your thoughts below!