11 Best Pregnancy Tests: Choose The Best One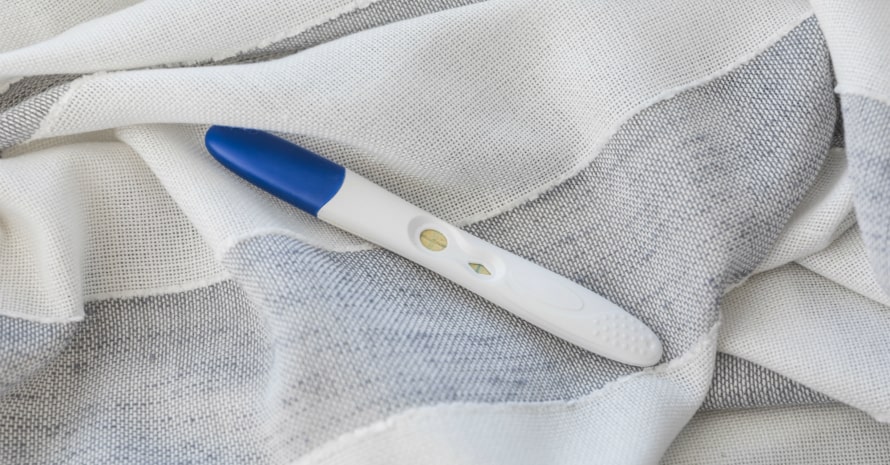 My name is Annabel Strickland, a future nutritionist and mom to an adorable little boy. As a school going mom to a two-year-old, I know all too well the anxiety that comes with all pregnancy-related matters. Regardless of the outcome, you are hoping for when you want to assess your health condition, and the fact remains that your life is about to change. A positive pregnancy test translates into a couple of tough decisions to make. While a negative one just means more attempts (that is if you are trying to conceive), or that you should probably "wrap it up" during your sexual encounters. Whatever your situation, this comprehensive review is going to assist you test at home for pregnancy.
Most women often ask, "When can I take a pregnancy test?" "Should I buy a pregnancy test online?" "Which is the best one for me?" "What is a false positive pregnancy test?" I have answers to these and many other questions related to testing. Read on to discover the various types of tests you can buy, when to take a pregnancy test for the best results, and also how accurate each brand is.
11 Best Pregnancy Tests to Buy
You must feel anxious, excited, hopeful, or dreadful as you try to find the most accurate pregnancy test to apply. Here are my top 11 picks.
back to menu ↑
Clearblue Rapid Detection Pregnancy Test
That is my initial try because it gave me exactly what I needed when I suspected that I was carrying a child – a quick response. While I sat on my bidet toilet seat, thinking of all the possibilities, time seemed to drag. One minute felt like an hour!
The Clearblue brand is associated with many child-related matters. As such, their products inspire quite a lot of sureness. The Clear blue pregnancy test has two unique features that make it stand out: the color alteration edge and unique flood guard. Unlike others, this test's tip is much wider and turns pink as urine is absorbed to guarantee that it is working. Obviously, this removes any doubts that you might have the wrong tool. The extra width ensures that urine does not flood the strip and cannot show inaccurate results. It also allows you to use a much smaller quantity of urine, which is convenient when taking multiple tests. Most users have also complimented it's easy to hold handle. Since it comes in a pack of three, women who are really trying to have a baby have the option of confirming their results not once but two times.
Clearblue's rapid response promise is dependent on hCG sensitivity. It is able to identify trace quantities of hCG that are usually produced immediately after conception. Although it's not advisable to do the check very early, some situations dictate when to take pregnancy test. In a nutshell, Clearblue pregnancy tests are perfect due to their quick response and stress-free usage.
Positives:
Gives quick results in just a minute
Easy to use
May be used up to 4 days before your expected period
Negatives:
A bit pricey
Might give a false negative if used too early
back to menu ↑
Clinical Guard hCG Pregnancy Test Strips
Moms who are undergoing fertility treatments spend a lot of money on medicine, test kits, and other necessary items. Having an affordable yet precise pregnancy test would go a long way in reducing the financial strain during such a journey. The Clinical Guard hCG pregnancy strips would be a great fit for such women. They have two significant advantages: affordable prices for large quantities and straightforward usage.
Each band is wrapped in its own pack but, they come in sets of at least 20. You can check your outcome several times and will also have some strips leftover for a random test should you ever need one. This may sound funny, but you never know when a friend may require to borrow the occasional anticipating test while hungover on a Sunday morning.
They are the incline in type, meaning you will pee in capacity and immerse a section of the tip for a few seconds. Dipping in is manageable when at home or somewhere, you may have a few minutes and a clean container to yourself. A quick test at a public restroom may require a diverse kind of kit. If you follow each instruction, this set will offer you reliable results. It is advisable to do the test once more any time you test negative just to be sure. You can use a pregnancy test calculator as well to find out the most appropriate time for doing that.
Positives:
Inexpensive
Untroublesome
Can be applied up to 3 days before your expected period
Negatives:
Requires collection of liquid to soak in, thus can't be used in a rush
May give false negative if used too early
back to menu ↑
Docalon Early Pregnancy Test
The usual assumption is that digital tests are always expensive. Docalon is considered reasonably priced numerical assessment tool presented for purchase at the moment. You can buy it on Amazon. You may not find it at your local store, but those looking to buy such anticipating tool discreetly will prefer buying them online anyway.
How soon can you take a pregnancy test? Docalon stick is actually delicate enough to distinguish the lesser quantities of hCG that may be present immediately your period fails to show up. Although it is constantly recommended to test after some period to increase the likelihood of precision, it may give you results much earlier based on the hCG totals in your liquid. It is recommended to take such a test just after you wake up. Your best bet is to use your first-morning urine because it has been in your system longer and probably contains more hCG.
So, how do people use these sticks? I found the directions for use a tad confusing at first, but I will simplify them for you. To begin with, you require test and a urine collection container. By now, you can tell that this isn't the kind of test you can carry out at a moment's notice at a gas station or restaurant bathroom. It needs to be dipped in the urine until the 5th hole of the kit is completely immersed. In about 15 seconds, the stripe shows red lines. Then you should take it and put it on a dry surface. Double red strips indicate a positive result. If the case is negative, you will see only one line in the appropriate region. No line means invalid results.
Positives:
Compared to other tests, it is reasonably priced
Not troublesome in usage
Can detect pregnancy up to the day of your expected menstrual period onwards
Negatives:
Requires collection of liquid in a capacity
Usage guide can be quite confusing at first
back to menu ↑
E.p.t Early Pregnancy Test, 2-Count
E.p.t Early Pregnancy Test, as its name suggests, is your wise choice if you really cannot wait that long to find out whether you are pregnant. When your whole life is about to take a U-turn based on the result, clearing your doubts using a pregnancy test is something you probably want to do right away. The interesting fact is that it can be precise up to 5 days before the day that you expect the periods to start. Typically, after making the control check, you are waiting for the lines. Using this one, you will get a direct "pregnant/not pregnant" result.
For those asking when you should take a pregnancy test, it is recommended to use test the day before expected periods. Actually, it makes sense to wait until you have missed it, i.e., the day after next period was supposed to begin. I hope you have been keeping track of your cycle. If not, you will be unable to know where to start, even with a pregnancy testing calculator. At any rate, to use this test, take off the cap and hold the stick underneath you as you pee for 5 seconds. Place the kit on a flat surface as the results develop.
Positives:
Results in only one step
Results are understandable and unambiguous
The highest accuracy
Negatives:
Requires collection of liquid
Uses blue dye
back to menu ↑
Easy@Home 5 Pregnancy Test Sticks
Easy@Home 5 Pregnancy Test Sticks are considered the most straightforward to apply as you can use them without any limitation. Some women do not like collecting urine in a cup as it is embarrassing. With this type of stick, you simply urinate midstream on the absorbent part for approximately 10 seconds. Your results should be ready in at least 3 minutes, at most 5 minutes.
The Easy@Home 5 pregnancy test sticks are reliable and accepted by the Food and Drug Administration. Therefore, you can trust these results. Another upside of these sticks is that they can detect hCG amounts which are as low as 25Miu/ml. The design of the sticks is user-friendly, which enables a woman to remain comfortable while carrying out the test. You can get relevant results a day before your menstrual cycle.
Positives:
Gives rapid and understandable results
Straightforward in usage
Low amounts of hormones detection
Negatives:
The target for liquid is not big enough
Not as cheap as ordinary test strips
back to menu ↑
First Response Early Result Pregnancy Test
The First Response Pregnancy Test is pee on a digitized stick test, similar to a few I have already reviewed. It has several features that make it simple and uncomplicated; a bent handle and a wider tip that allows it to get in contact with more urine as you pee. This test is very appropriate for that random surge of courage that pushes you to test in a public restroom. No collection of urine is required. All you need to do is to put it under the flow when you pee. Two pink lines, no matter how faint one of them is, mean you are pregnant. The single line indicates you are safe or unlucky, depending on your reason for testing.
Among other similar tolls that help detect pregnancy, this is proven to be reliable. For those that have asked me, "how soon can I take a pregnancy test?" or "when should I take a pregnancy test ?", this first response kit should be your go-to brand. It is surprisingly quite sensitive in that it picks up on deficient hCG levels, and its manufacturers claim it is useable 5 days before the date your period. However, using it in this way makes your chances of getting a false negative rise. In fact, the manufacturer gives the accuracy percentage at 76% when it is used that early. This percentage increases to 99% you wait until you actually miss your period before testing. Most pregnancy test calculators advise women to do the test before the period date and redo it days later just to make sure the results are correct.
Positives:
Perfect for detecting pregnancy on the early periods
It is precise and reliable
Available for use five days before the period
Negatives:
May give a false negative if used too early
Overflow may cause imprecise results
back to menu ↑
Pregmate Ovulation LH And Pregnancy HCG Test Strips
Before using this pack, you must understand the science behind hormonal levels. When you are ovulating, luteinizing hormone is in full gear as it is in charge of releasing an egg each month. I understand the struggle of a woman who really wants a baby. The Pregmate Ovulation LH strips are for this exact purpose – to examine the LH levels and tell you when the finest period to try and conceive is. Using these strips, you will get information about the time your ovulation starts and ends. How these strips work is similar to the hCG ones. Two lines indicate that you are about to or are already ovulating while one line indicates you have missed the dates. As usual, even a faint line qualifies.
The LH strips work hand in hand with the hCG bands; once you realize you are ovulating, you can go ahead and try to conceive. After some period, approximately two weeks, it is recommended to apply the hCG strips to confirm whether you have conceived. It is good that these strips do not come in single packs as you might need to repeat this cycle more than once.
Positives:
Easy to use
It is precise and consistent
FDA approved
Negatives:
Results must be read within five minutes of testing
Require urine collection, cannot be used away from home
back to menu ↑
Pregmate Pregnancy (HCG) Urine Test Strips Review
Are you looking for a free pregnancy test? Whenever you miss your monthly period, you may begin to have doubts but can't afford to buy a digital test. Perhaps you have been through the wringer while trying to conceive and cannot spend much money on more tests. I may not have any recommendations on free pregnancy testing, but I can assure you of affordable tests that you can use from home. Pregmate pregnancy test are actually quite affordable for those who cannot afford more expensive digital versions.
For those wondering, "how early can I take a pregnancy test?" the manufacturer confirms that you can use Pregmate pregnancy test strips bands several days before the day of menstruation. It can produce precise outcomes early after conception, about 5 days before your missed menstrual period. More so, each strip is properly packed in an individual pouch. They are a great choice if you want to buy a good but at the same time cheap test.
Positives:
Straightforward in usage
99.8% accurate
Has high levels of sensitivity
Negatives:
Test results may be inaccurate after 5 minutes of testing
Require urine collection therefore inconvenient to use away from home
back to menu ↑
iProvèn Do It Yourself Home Pregnancy Test
These 5 pack digital tests bring professional pregnancy testing to your home. Most reviews highlight the test design; it has a plastic cover that can fit both ends of the stick so that you do not misplace it. We all know those 5 minutes are the most anxious ones of your life; you probably won't remember where you put the darn lid. With these tests, you can remove the cover, place it on the other end of the stick, pee and replace the cover as you wait for results. Since it comes in five, you can confirm your results several times.
As with other tests, two lines indicate a positive while one line indicates a negative.
Positives:
Affordable
Convenient for use anywhere
Easy to use
Negatives:
May give false negative if used before the recommended time
Not sensitive to small amounts of hCG
back to menu ↑
Wondfo Pregnancy Test Strips
These pregnancy tests strips may not be fancy, but they are efficient. Instead of taking homemade pregnancy tests that rely on old wives' tales, go for these functional strips. Picture a pack of 50 strips for the price of a few digitized tests. Ladies who are constantly having to check whether they have conceived will get more value for their money with the Wondfo pregnancy test strips. Although they look almost like the litmus paper we used in chemistry labs in high school, they are used in a different way. Simply get some pee in a little container and dip the strip in it for 5 minutes.
By now, you know the drill: one line means negative while two lines mean you are expecting a bundle of joy in 9 months or so. One thing that stood out about this test was the reviews. While the manufacturer clearly states that these strips must be used a day after when you expect your period, some moms have reported that they got accurate results way earlier than that. How early can you take a pregnancy test? As soon as you realize you have missed a visit from Aunt Flo.
Positives:
Affordable
Easy to use
Very accurate
Negatives:
Results read after 5 minutes may be inaccurate
May give false negatives if used too early
back to menu ↑
Looking for Something Extra? Try the Clearblue Digital Pregnancy Test with Smart Countdown
This is a cutting-edge product in pregnancy tests – the digitized pregnancy test Blue Clear that has a smart feature. The guide for using is very simple. You just have to put the edge under the flow when you pee. The tip is very absorbent. Then all you need to do is wait. I know that it is tedious, but this new test has a countdown feature to ease the wait. The indicators are easy to read, and you will see clear results in 3 minutes.
When can you take pregnancy test like this? Such Clear Blue pregnancy tests have the accuracy of about 50% when used four days before the date you expect to have menstruation, but it increases as you approach this day. On the exact day when you are waiting for menstruation, the Clear Blue digital pregnancy test is 99% accurate. The best part of this test is that you do not need to wonder about faint lines as it displays a pregnant/not pregnant result.
Positives:
Has unambiguous results
Engaging countdown feature
Accurate
Negatives:
More expensive than other digital tests
back to menu ↑
Frequently Asked Questions
back to menu ↑
Is there an expiration date for such type of tests?
Yes, they have a due date. The expiry date is often written on the product packet. An expired pack may increase the chances of false-negative on a pregnancy test.
back to menu ↑
When is it better to take such a test?
The best day to take a test is the first day of period delay. Taking it earlier than this may result in a false negative pregnancy test as implantation may not yet have occurred.
back to menu ↑
What is the hCG Hormone?
This is a product of placenta. Its stages can be noticed through a urine test done at least 12 days after conception. This means that the period of 12 – 14 days after suspected conception will give accurate results.
back to menu ↑
Is it possible to see tubal pregnancy on such type of tests?
Yes. Pregnancy tests confirm the existence and not the viability of such conditions. A tubal pregnancy will indicate positively on the test but may not be carried to term.
back to menu ↑
Does pregnancy test work for ectopic pregnancy?
Yes. You will have a pregnancy test positive based on hCG levels present in urine. However, a scan at a later stage will reveal that this pregnancy may not be viable.
back to menu ↑
What factors can affect pregnancy tests?
The time you apply one. An earlier pregnancy test is unlikely to give an accurate negative pregnancy test result because there is not enough hCG for this. You can use a pregnancy test calculator to see the best time for taking one.
Some medication increases hCG levels, resulting in false results. On rare occasions, conditions like tumors may raise hCG levels to a point when a pregnancy test gives a false-positive result.
Contrary to popular assumption, the price of a test does not affect its accuracy. A Clear Blue pregnancy test will generally be just as accurate as a cheap alternative.
back to menu ↑
Now You Can Make an Informed Decision
Perhaps, children are the most desirable aim for your upcoming year. It is unpleasant news to observe the result after it turns out negative. On the other hand, pregnancy can be an unpleasant present for you. In either of these situations, a false-negative or false-positive would be like a kick in the teeth. The wise choice will be to know how to detect pregnancy in the early stages.
Before settling on the test you wish to buy, you must be informed on how best to use it to ensure accurate results. Check whether the test is expired and use it before the due date. This is the most basic check you should perform. When can you take a pregnancy test? To detect early pregnancies, you should wait until 14 days after conception. Most likely, you will not know the precise date of conceiving. That is why the safest (and most accurate) bet is testing on the first day after your missed period. Lastly, follow every single instruction included in the package.
The market has way too many brands, from the fancy models that allow early pregnancy testing to Target pregnancy tests that are quite inexpensive and other brands that cost next to nothing. Settling on the perfect one can easily get confusing. However, with this review in mind, you should be able to buy an assured pregnancy test that will serve you well.
Have you found this post informative? Do you know more about pregnancy tests now? Would you recommend some of the tests mentioned above to your friends? What kind of pregnancy test do you want to buy for yourself? Feel free to share your opinion in the comments section below.