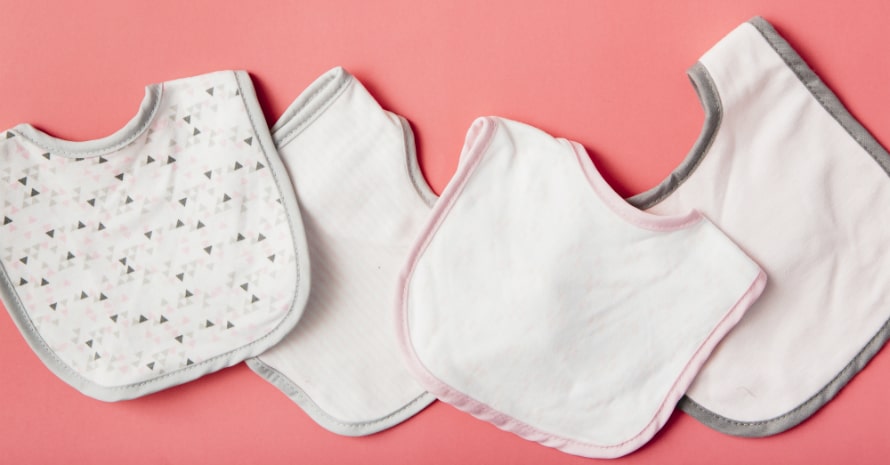 As a first-time mom, you quickly find out just how messy babies can be. It starts with a tiny burp and ends in a gush of milk after a feeding session. Baby bibs are a lovely asset when nursing your young one whether they have reflux, drool, or you want just to keep everything clean. How do you choose the best babies bib for your little one?
My name is Bethany Andrews, and I am a mother of two small kids. For the longest time, I have been in love with children. I helped my mother with my younger siblings, and I was a nanny throughout college. I have a lot of experience taking care of babies. Over time, I have tried and tested many baby products, toys, clothing, and acquired different tips and tricks to use to make the right purchase. If you have questions about buying bibs baby girl or how to choose quality bibs baby boy, here is all you need to know.
List of the Best Baby Bibs
In this article, I will give you my review of some of the best baby bibs you can get on Amazon. I will include the details of the best baby bib for different ages and sizes, materials taking into consideration potential allergies, points of concern, and situations in which the best bibs for babies may be used. I will also add in a few pros and cons that should tip the balance and answer the question: "What are the best baby bibs?"
back to menu ↑
1. Parker Baby Bandana Drool Bibs – Bandana Bibs for Baby Boy
The Parker Baby Bandana Drool Bibs are made out of three different materials. The front is 100% cotton making it absorbent, which is nice when you do not want to get the drool all over the baby. You probably think that this will get wet very fast, which will make your baby uncomfortable, but it will not. The second material of the baby bandana bib is 100% soft polyester, which means added absorbency. The back is fleece for any of their burp baby bibs, so no matter how much your baby burps, they will stay dry all through.
These bandana bibs come in sets of four items, each with a unique design. The baby bib pattern can be picked according to whatever style you want for your baby, whether you want bibs that match your baby's different outfits or bibs according to the seasons is up to you. There are currently seven different sets of designs to choose from. These are Denver, Lincoln, Lumberjack, Parker, Blush, Shadow, and Bikes. The blush set has a nice bib for baby girl collections. Each collection has a well-designed pattern for a baby bib, a lot of thought went into it.
These bibs have two nickel-free snaps on the back. An adjustable size means your baby can have the bibs for longer. Parker Baby Bandana Drool bibs are suitable for kids as young as 3 months to 24 months old. Word of advice, you may want to take off the babies bibs bandanas when they move around or fall asleep to avoid any potential problems. All said, there are the best baby bandana bibs you can buy.
Positives:
Different styles to choose from;
Absorbent;
Adjustable size;
Soft and light material.
Negatives:
Bleaching will cause the color to fade.
back to menu ↑
2. Green Sprouts Stay-Dry Bibs – Waterproof Bibs Baby
Green Sprouts makes a bunch of baby products. Today we are only interested in their Stay-dry baby bibs. This is their collection of babies bibs. The line comes in packs of 10. They have four somewhat different sets to choose from, Aqua, Blue, Pink, and White. The last is made up of all white bibs, so if you want a uniform matched set, then that is one way to go. The others have colors that differ slightly from one another, but some bib pattern baby collections in the range do have similar colors.
Stay-dry bibs are one of the best bibs for baby in the market. They allow you to feed your baby worry-free. They are sufficiently absorbent for most foodstuff that babies consume and have a simple hook and loop design with a velcro strap that you can swap out on the fly.
Green Sprout has classified these bibs baby boys would look great in. They are however unisex, and as with all baby's clothing, they fit all. You have to carefully strap on the bib to avoid any potential rashes from the strap on the back of your baby's neck. The bibs are soft, light, and suitable for all babies between 3-12 months. They hold their own amongst the best waterproof bibs for babies on this list.
Positives:
Soft and light;
Covers entire chest of the baby;
Highly absorbent.
Negatives:
The strap can potentially scratch the baby
back to menu ↑
3. Matimati Baby Bandana Bib Set
Stylish and functional, these are 100% organic cotton, guaranteed to be soft on your baby's skin. Shaped like most bandana bibs for babies, they stand out design-wise. They have eight different babies bib pattern to choose from. You are guaranteed to get one that matches your baby's outfit of the day.
Babies drool more during teething, and these will come in handy for a quick swap with the easy release nickel-free snaps. Carry your diaper bag packed with them and keep your bundle of joy happy and dry. You'll have to estimate how many babies bandana bibs you go through in a day so that you can know just how many bibs for the baby you should carry on any journey. These are the best baby bibs for drool during teething for kids between 3-24 months.
Positives:
Highly absorbent;
Absorbent cotton and fleece;
Do not fade after multiple washes.
Negatives:
Tend to form a clunky band around the chin;
Thicker than most bandana bibs.
back to menu ↑
4. Bumkins Sleeved Bib – Customizable Baby Bibs
The Bumkins Sleeved Bib is a unique entrant to this list. Unlike the first three, these have sleeves. The advantage of this design is that your baby cannot pull them off. I can guarantee you that at one point, your baby's bibs will get in their way and they will pull it off. This helps with that.
The trade-off is that you can make quite the mess taking it off. You have to wipe it down before attempting to remove it. I find it especially useful that it is waterproof, this makes wiping it down a breeze. I highly recommend it as part of the best baby bibs for drooling.
The bib has elastic tie wrap around the wrist for an easily adjustable fit. The back also has a strap that you tie around the baby's neck. Another advantage of this bib is that it has a sleeve at the lower edge in the front. When you are feeding your baby, this will catch all spills, making it one the best baby bibs for feeding. This is one of the best waterproof baby bibs on Amazon at the moment.
The waterproof fabric is easy to clean. You can wipe it down or machine-wash it. It does not get any unpleasant odors over time and stays stain-free. The set fits for ages from 6 to 24 months old. Shipping in 23 different colors, you will be spoilt for choice.
Positives:
Waterproof designs are easy to clean;
Stays odor-free;
Catches all spills;
Stain-free.
Negatives:
Difficult to put on baby;
Can be messy when the baby is on a bottle.
back to menu ↑
5. Luvable Friends Unisex Baby Drooler Bibs
Luvable Friends makes very nice bibs for different use cases. I especially like the unisex baby drooler bibs. They are thin and non-plastic. You can easily wash these, throw them in the washing machine. They will not be damaged or fade with time and are light and absorbent too. Made up of 65% cotton and 35% polyester, these bibs are great quality for money. They will not be a burden in your diaper bag, and the Velcro strap on the back makes it easy to put on and remove.
These bibs come in 12 different colors. You can choose a color scheme for your pack of ten bibs on Amazon. Each baby bib has a different colour. Despite the thickness, you can feel still comfortable do machine embroidery on these, hand embroidery is fine as well so you can go ham with all the ideas you come up with. The bibs will not be too large on the baby however adjusting the size is limited by the strap.
You can use the bibs I have bought before fairly comfortably on kids between 3-24 months. The Velcro strap holds up fine against pulling and you can stay relaxed about your bundle of joy-giving you more work.
Positives:
Easy to put on the baby;
Absorbent;
Thin and lightweight.
back to menu ↑
6. Babybjorn Soft Bib – Plastic Bibs for Baby
One of the biggest headaches when feeding a baby is how to handle all the food that spills. In comes the baby Bjorn bib. The unique shape of this bib is meant to solve this exact problem. You can use it to feed the baby or to teach toddlers how to eat on their own. Made of BPA-free thermoplastic elastomer cleaning up is a cinch.
The bib rests lightly on your baby's shoulder, and the neckband can be adjusted to fit the varying size of a baby. You can use it for about two years before the neckband becomes too tight. Its solid shape means it's a bit mechanical carrying it around, taking up considerable space in bags. On the upside, just one bib would do for a day, rinse it with enough water and dry it and you can re-use it. This bib baby Bjorn can be washed in a dishwasher too.
Positives:
Easy cleanup;
Highly durable;
Waterproof.
Negatives:
Clunky and could be hard to carry around;
The solid shape can hinder the baby movement on a high chairs.
back to menu ↑
7. Ana Baby 10-Pack Baby Bandana Drool Bibs for Drooling and Teething
The gender suggestion is based on the fact that the designs consist of floral patterns that match girls' clothing. That being said, these are bibs baby girls need to have. The V-shape on these bandana bibs is uniquely narrow emphasizing this is a bib baby girl will look great in. It has a strap that comfortably snaps into place on two nickel-free snaps. The bibs come in three sizes for babies up to 2 years old.
They are made from hypoallergenic material. You do not have to worry about your child's skin getting irritated by this. It is one of the best baby bibs for spit up because of the fast absorption thanks to the polyester fleece. It is easy to wash with no staining. The neckline is cleverly designed to ensure that it is not clunky around your baby's neck and will not accumulate any spit-up, which would cause odors to set in.
Positives:
Hypoallergenic material;
Varies sizes available;
Elegant design.
Negatives:
Only designed for baby girls.
back to menu ↑
8. Aden + Anais Burpy Bib 2-Pack; Jungle Jam – Custom Baby Bib
They ship in pairs across ten different sets all 100% cotton muslin, very smooth and soft material. Boasting 4 layers of the material for thorough absorption of any spills keeping your baby dry. They are large and sleeveless measuring 57 cm by 28 cm allowing comfortable movement while giving you an easy time taking it off the baby.
Cotton is machine washable and will remain soft regardless of the number of washes. You can use this bib if your baby is drooling or for feeding. Just drape this over your baby and snap them into place like any other bib. It has a commonplace baby bibs pattern you could find anywhere, but its shape is very good for coverage. It can comfortably be used on a baby about 3-24 months old. However, it may be a bit large for some of the smaller kids.
Positives:
Offers complete cover;
Highly absorbent;
Very soft fabric.
Negatives:
Will wear out after a few months for the bamboo muslin.
back to menu ↑
9. Neat Solutions 10 Pack Water Resistant Drooler Bib Set
Water-resistant bibs are a dream when you are feeding your baby. The bibs are absorbent so you should not use them for teething or drooling babies. They are made out of three materials, mostly cotton about 75%, 25% polyester, and entirely made according to Neat Solutions. The layers are made, so the bib for baby isolates the moisture and ensures it stays off your kids. Arguably the best baby drool bibs set on Amazon.
The bibs have a Velcro strap to fasten around the neck that cannot be pulled off easily and are especially useful when using a bottle. They keep the baby dry and do not develop a musty odor over time. This is partly because of the material composition and ease of washing. The ten pack allows you to change the baby as often as necessary and if you clean them in time, your bibs will stay odor-free. They are one of the best baby bibs on Amazon. These bibs ship with simple color choices with very cute animal embroidery on the front.
Positives:
Highly absorbent;
Waterproof bottom layer;
Easy wash and durable.
Negatives:
Velcro strap may irritate baby skin.
back to menu ↑
10. Skip Hop Zoo Little Kid Water Resistant Baby Bib
This baby bib is a single design that comes in red with black spots, just like a ladybug. This bib baby girls product looks very cute. It has a smiley face as well, which is adorable for this, it makes the best baby bandana bibs list. It utilizes a loop and hooks design to fasten around your baby's neck. I especially liked how well it matched my baby's pink and red outfits. It has a nice catch-all pocket at the front, no worries about spills. It is made entirely out of polyester and is water-resistant. This baby bib is in-fact truly waterproof. It does not absorb any fluids making it a contender for best fabric for baby bibs.
This means clean-up is quick and easy. You wipe it down. A characteristic of most baby bib silicone designs, which this is not, so that's cool. I liked this a lot because when my baby got in the groove eating, I had a piece of cloth in one hand to wipe off the spills and keep feeding the baby. Machine washing will not damage the bib. It fits all kids younger than two years. It may be too large for some small babies. Water resistance and complete non-absorbency make this the best waterproof baby bib on Amazon.
Positives:
Waterproof;
Easy to clean;
Catches all spills.
Negatives:
One color choice;
Polyester may crease with multiple washes.
back to menu ↑
Trendy Baby Super Cute Bandana Bib – Best for Drooling and Teething
This item is out of stock on Amazon, however, it deserves an honorable mention on this list as it has a great design as one of the best bibs for drooling babies. It is a beige-colored set of bibs made out of cotton. It has four unique designs, based on the embroidery on the front, Lion, Sheep, Snail, and Giraffe. The simple pattern baby bibs in this collection got it on my list for best baby bibs 2017. It uses two nickel-free snaps and has a simple bandana design that does not form a bunch around a baby's neck.
back to menu ↑
What Are the Most Common Questions about Baby Bibs?
back to menu ↑
Why a baby needs a bib?
Bibs are great for keeping baby clean and dry despite drool, spit-up, and food spills.
back to menu ↑
How many bibs a baby needs?
It is recommended that you have 5 – 10 bibs to ensure you have a constant supply of fresh, clean ones at any given time.
back to menu ↑
Can you use bleach for a baby bib?
You should not bleach baby bibs. Bibs come into close contact with the baby's skin on the neck, chin, and face, therefore, they should not have any harsh chemicals.
back to menu ↑
Is it possible to make a bib by yourself?
Yes. You should ensure that they have well fitted Velcro or clips to hold them in place.
back to menu ↑
Will the bandana bibs fit my newborn baby?
Most bandana bibs are meant for use on kids aged between 3 months to 2 years old. On a newborn, they will likely bunch up around the baby's neck.
back to menu ↑
How long does a cotton bib for babies last?
Typically, for 100% cotton bibs last for a very long time with proper care. All said and done these should last an average of over one year of use without any damaging wear.
back to menu ↑
Are these soft on the skin?
A concern we all share as parents are the material we use on our kids' delicate skin. If you do not know your baby's allergies use hypoallergenic bibs to be safe. Be careful using the Velcro strap bibs well. Straps aside these are worry-free baby bibs girl, get some.
back to menu ↑
Do these bibs fade in the washer?
In my experience, only one out of all the bibs above has lost some colour when using bleach. I have since become wiser and avoid bleaching my bibs in general.

back to menu ↑
Buying Baby Bibs Made Easy
They all offer a great degree of functionality in different scenarios. A section of these is for spit up whereas the rest are best bibs for reflux babies. They are made out of non-irritating material and will not cause any harm to your baby. The majority of them are easy to carry around, and you would have to fill a whole diaper bag with them before you feel the weight. You will be hard-pressed to find any better options for some items on this list, such as the baby Bijorn bib.
I am sure a lot of mothers reading this have encountered different scenarios with these bibs. Please share your story in the comments and feel free to ask me any questions about the bibs I have reviewed. I would like to hear about your experiences using baby silicon bibs too. What your best baby silicone bib was? What type of baby bibs do you prefer?