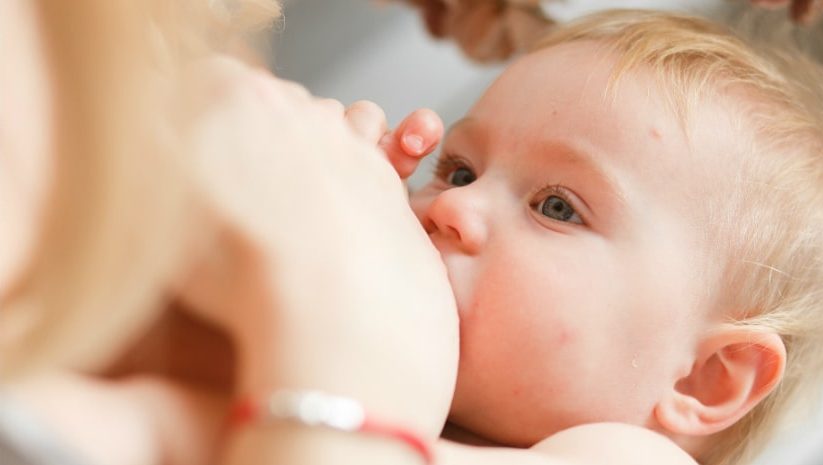 The one thing most mothers are never adequately prepared for is how challenging breastfeeding can be. Before I had my first child, no one told me that breastfeeding does not always come naturally once the baby arrives. From inadequate milk supply to endless pumping and nursing sessions, it is safe to say that this is usually one of the most tiresome aspects of motherhood. One of the most painful breastfeeding experiences is cracked nipples. The worst part is, even with all the pain, you have to continue feeding your little one.
My name is Celeste Wallace, a mom to three lovely kids. While raising them, I have learned how to find that elusive balance between being a mom, a businesswoman and still making time for myself. I find it important for mothers to live a fulfilling life, which is why I write to offer tips on how to achieve this. More importantly, I have compiled this guide on breastfeeding nipple creams to help you deal with cracked nipples. Read on to find out when to use nipple cream, how to choose the best cream for cracked nipples, and whether using such creams can affect your baby.
Top 10 Nipple Creams Reviewed
Sore and cracked nipples occur when a baby does not latch properly while breastfeeding. The correct way for a baby to latch is by having his or her lips around the areola. Incorrect latching is when the baby's lips are around the nipple. Constant suckling directly on the nipple is bound to make them sore and eventually cracked. Unfortunately, even with cracked nipples, you must continue feeding the baby. I can only imagine how painful this must be. Nipple cream helps quicken the healing process. There is also nipple numb cream that helps ease the pain of breastfeeding with cracked nipples. Here is a list of my top 10 best nipple creams that can help heal the soreness.
Motherlove Nipple Cream – Organic Herbal Cream
How ironic is this name? Well, your nipples may not be feeling very loving now, but once you buy this cream, you will feel much better. I have chosen the mother love nipple cream as the first in this list due to its ingredients, which are not only organic but also very safe for breastfeeding babies. Once you apply this cream, there is no need to wipe it off before feeding the baby.
Unlike other creams, this one does not contain lanolin. It has been said to contain a trace of pesticides and if not properly filtered, may not always be safe to use on nipples. The ingredients include olive oil, shea butter, and calendula. Since it is not water-based, this cream makes it harder for bacteria to grow and infect the cracked skin on your nipples. It is no surprise that Motherslove is the best organic nipple cream. However, you still need to practice good hygiene by washing your hands every time you want to apply the cream.
Due to its organic ingredients, allergic reactions are a huge possibility. Your baby may have an allergy to one of the ingredients, and you would discover this only after using the cream. Also, since it is an oil-based cream, it may be quite greasy. Grease can remain on your baby's chin for a while and result in pimples. However, with proper hygiene, Motherlove still is the best cream for sore nipples breastfeeding.
Positives:
Creates an anaerobic environment, which reduces the chances of bacterial infection
Does not need to be wiped off before breastfeeding
Negatives:
Quite greasy
May cause allergic reaction due to organic ingredients
Lansinoh Lanolin Nipple Cream – Safe for Nursing Moms
Lansinoh is a brand that is associated with breastfeeding, from breast pads, milk storage bags, and even breast pumps. This is proof of their ability to manufacture the best nipple cream for breastfeeding. The reason this cream comes second in my list is that it is made of pure lanolin with zero additives, preservatives, and parabens. A major worry when purchasing lanolin nipple cream cvs is the existence of trace amounts of pesticides. Remember, lanolin is harvested from sheep, which are often sprayed with different pesticides. However, this Lansinoh nipple cream is filtered using a process that ensures there are no pesticides left in it. This makes it free for use during breastfeeding.
As an added measure, the manufacturers of this product have ensured it is free of any potential allergens. The thing about newborns is you never know what they could be allergic to. Therefore, any trace contents that may cause allergic reactions are eliminated. To prove that it is hypoallergenic, this cream for cracked nipples has the seal of approval from the British Allergy Foundation displayed on its pack.
While this cream works wonders for cracked nipples, it is thick. Globular consistency makes it a bit difficult to apply. Imagine trying to get a glob of cream evenly spread on your sore, cracked nipple. However, this is a small price to pay for the instant relief this cream provides. It remains the best cream for breastfeeding nipples that are sore.
Positives:
Made of pure lanolin
Hypoallergenic
Negatives:
Medela Tender Care Nipple Cream
When thinking of good nipple cream, the most important qualities are ease of application and breastfeeding safety. The latter is even more important because, without this requirement, all mothers would slather plenty of vaseline on their nipples and keep it moving. I must say that it is not safe to use vaseline on sore or cracked nipples simply because your baby should not ingest it. Vaseline is not fit for baby consumption. That said, here is why the Medela nipple cream tops my list.
It is very easy to apply. Unlike other creams, which are thick and greasy, this one slides easily over the nipple and provides instant relief. You can rest assured that you will not have to wince every time you apply this nipple cracking cream. It is also safe for baby, and you will not have to wipe it off before breastfeeding. Its ingredients are lanolin, oat extract, and fatty triglycerides. All of these are natural ingredients. As it is an oil-based cream, it reduces the chances of your cracked nipples getting infected by creating an anaerobic environment and locking out the oxygen that would allow bacteria to thrive.
Although this falls under the best nipple cream breastfeeding, it has a few negatives. It stains fabric. Most of your bras are bound to be stained after the constant use of this cream. This, however, is not a big deal considering the milk stains that are to come during the breastfeeding journey. A good wash can get rid of most of the stains.
Positives:
Easy to apply
Hypoallergenic
Prevents bacteria growth
Negatives:
Earth Mama Organic Nipple Butter – Good Cream for Nipple Cracks
Are you more into organic products that are botanical and free of GMOs? If so, the Earth Mama nipple cream for breastfeeding is the best choice. It is made from natural ingredients such as beeswax, mango extract, cocoa, olive oil, shea butter, and flower extract. These ingredients give it a grainy texture that melts into the skin upon application. They also give it a sweet smell that may be pleasant to some, making it the best breastfeeding nipple cream with a scent.
On the other side, there is a lot to be said about this cream's multiple ingredients, texture, smell, and taste. Organic creams usually have the possibility of causing allergic reactions. You never know your baby is allergic to something until you use an organic cream with a bunch of ingredients and he breaks out in a rash. You may want to start slow with this one and observe for any reaction. The texture of this cream for nipple cracks may not be good for everyone. The last thing you need on your sore nipple is a grainy and beady ointment to rub on it. Also, not everyone will find the smell and taste of this cream pleasant. If your baby hates its taste, you will have to wipe it off before breastfeeding.
Positives:
Organic ingredients
Easy to apply
Pleasant smell
Negatives:
The grainy texture that may be abrasive on sore nipples
Organic ingredients may cause an allergic reaction
Bamboobies Lanolin – Free Nipple Cream
You are reading this because you need to find a way to ease your boobs. What is a good nipple cream for breastfeeding that does not contain lanolin? Boob ease is an organic balm that has ingredients such as beeswax, calendula, shea butter, and virgin olive oil. You can already tell that these ingredients are relatively safe for human consumption and so you will not need to wipe the cream off before breastfeeding. The reason I term these ingredients as "relatively safe" is because of allergic reactions to calendula that are common amongst people with hay fever. If you are a mom who has hay fever, there is a very strong possibility that using this cream will cause you to break out in hives.
On the other side, the fact that this cream is lanolin-free means you can worry less about having trace amounts of pesticides that are common in lanolin, applied to your nipples for your baby to feed on daily. Any mother looking for the best nipple cream for sore nipples should give this one a try, especially while pregnant to prepare for the baby. It is said that moisturizing your nipples daily during your last trimester reduces the chances of having cracked nipples when the baby finally gets here.
Positives:
Organic ingredients only
Approved by USDA
Negatives:
Ingredients may cause an allergic reaction
Era Organics Soothing Nipple Cream for Breastfeeding
What is the best nipple cream for nursing that also helps reduce inflammation? The continuous suckling from your baby can not only cause cracks on your nipple but make it red and inflamed. This alone is enough to put you off of breastfeeding for life, but you are here looking for a quick and lasting solution. Era organics cream is the best nipple cream with anti-inflammatory properties. Its ingredients include chamomile powder, arrowroot powder, sunflower oil, calendula oil, cocoa butter, and apricot oil, among others. Each of these ingredients is food grade and may only cause allergic reactions to individuals with specific allergies. The ingredients also give this balm a very nice scent making it the best nipple cream for breastfed baby.
As an added advantage, the company that makes this product offers a free 60-day return policy and a 100% refund guarantee to any person who does not get relief after its use. They believe that they make the best natural nipple cream breastfeeding. The refund is such a good gesture, I would chalk it down to the cream being made by a family-owned company. One of the most common complaints from users of this cream is that it solidifies quickly even at room temperature, so people living in very cold areas may have to improvise when using it to ensure it does not have the beady, abrasive texture while applying on cracked and inflamed nipples. That would hurt.
Positives:
Has anti-inflammatory properties
Has 60-day free return policy
Negatives:
Solidifies easily at room temperature to create a beady texture
May cause allergic reaction
Milkies Nipple Nurture Balm
My review leans more toward organic balms simply because they are not only the most common type of cream on the market but also because the majority of women prefer going organic for the babies. Milkies is yet another organic cream, which I often refer to as the best nipple cream for nursing on a budget. The consistency of this cream allows you to use just a little and still feel relieved. A jar of Milkies can last for a long time. It is not thick, greasy or globular but feels more like an oil, runny cream. Filled with organic ingredients such as selfheal, shea butter, and calendula, this balm is the best nipple cream while breastfeeding for women who are in desperate need of relief from sore nipples.
Although its consistency makes it a good breastfeeding nipple cream, it can get too runny and become messy to use. Its oil base also makes it stain clothes, an issue that should be solved by wearing nursing pads.
Positives:
Lasts long
Has natural, organic ingredients
Negatives:
May stain clothing
May be messy to use due to runny consistency
Cora Organic Nipple Cream – Best Coconut Oil Nipple Cream
In case, you want to buy the best nursing nipple cream, this product will be the perfect option for you. Perhaps you want to buy from a company that also gives back to society. One that cares for the environment as much as you do. Cora believes in using ingredients that have the lowest environmental impact possible. The cream is made of coconut oil, chamomile, and shea butter. It is a good coconut oil nipple cream. Another reason why buying this cream will leave you satisfied is that the proceeds go to ensuring girls can attend school even while on their monthly period. The people behind the Cora brand buy sanitary pads for girls in Kenya. No wonder this is the best nipple cream for moms who would like to do more for the less fortunate. The only downside to buying the balm is that it has an unpleasant taste, which your baby might not love, and you would have to wipe it off before breastfeeding. Considering this not so crucial disadvantage you can try this product as you will never regret it.
Positives:
Made of environmentally friendly ingredients
Proceeds go to a good cause
Negatives:
Camille Beckman Mom & Baby Balm
This is an all-natural formula that makes the best cream for sore nipples when breastfeeding. It comes in a stick that you can rub onto dry, cracking, and sore skin for a moisturizing effect. Its ingredients are free of paraben and preservatives and are extracted from pure herbs. This balm contains cocoa seed, jojoba oil, grape seed, and coconut oil. These ingredients are what one would ideally use for homemade nipple cream, proving the Camille Beckman nipple cream breastfeeding is a good choice for moms who prefer natural creams.
My only worry, if I had to buy this best cream for sore nipples, can it be applied on especially on sensitive, cracked nipples. Can you imagine trying to rub a hard oil stick on a cracked nipple? It would be better to take a little off on your fingertip and apply it delicately onto the nipple. The stick design aside, this can still be the best nipple cream for nursing mothers who need to moisturize their skin.
Positives:
All-natural ingredients
Nice scent
Negatives:
Not easy to apply on cracked skin
Honest Organic Nipple Balm
With olive oil as its main ingredient, this balm moisturizes deeply to repair dry and cracked skin on your breast. It is free of synthetic fragrances, parabens and lanolin making it the best natural nipple cream. It is advisable to apply the balm after every feeding session. One can also use it to lubricate the pump and avoid friction when exclusively pumping breastmilk. Like most organic creams, there is always the risk of an allergic reaction to the ingredients. However, if used this balm carefully remains one of the best nipple cream for cracked nipples.

[amazon box="B015HTI3UC" template="horizontal"] Positives:
Organic ingredients
Deeply moisturizes
Negatives:
Might cause an allergic reaction
Your Questions on Nipple Cream Answered
Is nipple cream harmful to my baby?
No. The best cream for nipples when breastfeeding is one that has FDA and USDA approval making it safe for baby.
What is the best way to use a cream?
Apply the best natural nipple cream for breastfeeding on your nipple after every breastfeeding session to moisturize and soothe the skin.
Can nipple cream be the cause of mastitis?
No. The best sore nipple cream helps avoid mastitis by making it easier for you to breastfeed and empty each breast. Mastitis is often the result of blocked milk ducts and engorged breasts.
Can thrush be caused by such a product?
No. Oil-based nipple cream best help prevent thrush by creating an anaerobic environment in which fungi and bacteria cannot survive.
Can such creams cause acne?
No. Baby acne is the result of layers of fat on the baby's skin.
Can nipple cream help with nipple discoloration?
Yes, you can get the best nipple bleaching cream to reduce discoloration. These creams also heal and repair broken skin. Pink nipple cream is a good bleaching cream.
What Is the Best Nipple Cream for Breastfeeding?
I bet you are looking for a specific answer to this question. Choosing the best nursing nipple cream is easy once you know the ingredients, pros, and cons of each one. Some products heal cracked skin and relieve the pain that is associated with an incorrect latch. There is a triple nipple cream that has antibacterial, antifungal, and anti-inflammatory properties. They soothe, repair the skin, and prevent infection. Newman's nipple cream is an example of such a cream. They are good numbing nipple cream breastfeeding.
There is more than one best nipple cream for breastfeeding. The one you buy is a personal preference based on your knowledge of the ingredients. Which one you think is the best cracked nipple cream? Are you familiar with any of the creams in this list? Share your experience in the comments.