9 Best Overnight Cloth Diapers To Buy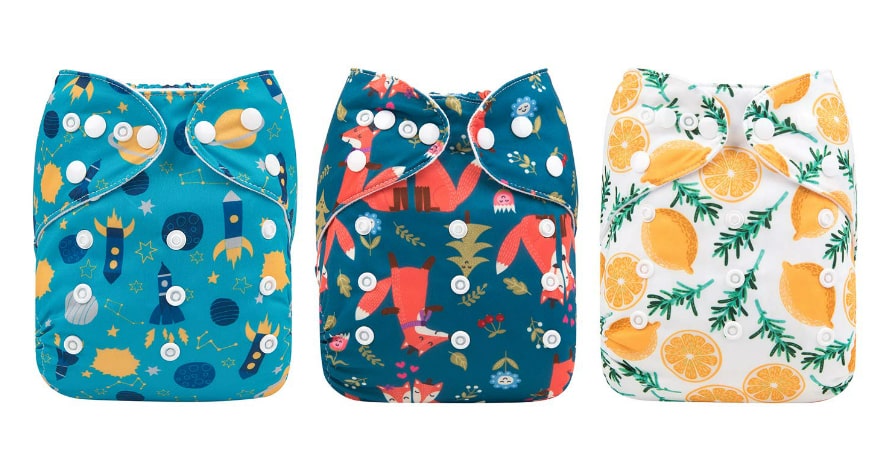 I am Celeste Wallace, a mother who has figured out how to balance work, family, and self-care. Don't get me wrong – I struggled with my three kids for a while. It took lots of effort to raise my little ones while running a small business. Eventually, I was able to juggle everything that came with motherhood. Now, I help mothers cope with stress and find time for themselves.
Today I review the best cloth diapers. These old-fashioned lifesavers are making a comeback for all the right reasons. They are a great alternative to disposables because they are cheaper and friendlier to the environment, among other reasons, which I will discuss in this review. The only challenge is figuring out which cloth diaper is the best. Although my children are not so small now, I remember how difficult it can be to make the right purchase when you faced with so many options.
When it comes to cloth diapers, there is plenty to learn. Would you like to know the possible types, top brands, and functions of cloth diapers you should look out for? Read on as I have compiled an informative cloth diaper review that will give you all the details you need.
Best Overnight Cloth Diapers Reviewed
Now that I have explained the different types of cloth diapers, I bet you have a rough idea of which one you need. There are many top cloth diaper brands. However, I have picked 11 that I think will work best for you. My selection contains all types, from prefolds and hybrids, to swim diapers, which are waterproof diaper covers.
back to menu ↑
1. Mama Koala – Best AI2 Cloth Diaper
Mama Koala tops my list of the best cloth diapers for many reasons. The main one is it's a one-size-fits-all diaper that fits snugly and grows with your baby. It has a set of sturdy snaps along the waist that lets you choose how tight the fit should be around the baby's hips. The snaps come to the front to allow you to adjust the rise.
I always prefer snaps to velcro, as the latter can lose its grip over time. The snug fit ensures you don't have any unexpected blowouts that will guarantee you cleaning for hours. I find it to be one of the best cloth diapers for newborns. Because of this adjustable size, you can buy a Mama Koala diaper set for your newborn and use it for months without a replacement need. As you can see, this is a definition of value for money.
The inner wicking material is very soft and comfortable on baby's bottom. The pocket has a flap on the inside that can be used to secure the inserts. The snaps on the inserts are great for adding extra layers to ensure absorbency on days when you may not be able to change your baby's diaper frequently.
This makes them one of the best cloth diaper inserts I have come across. Since the inserts are not made of natural fiber with oils that need to be removed to increase absorbency, you can use them right out of the pack. However, you can run the insert and the shell through one wash just for your peace of mind. These diapers are machine washable. Such characteristics save your time and effort.
Not many baby cloth diapers reviews cover this, but I love the cute, brightly colored designs on these diapers, which come in sets of six. Designs are not repeated in each set, which means you get unique print on each product. These are so cute that you can let your baby running around with only a top on and still look very adorable!
The only disadvantage, which often cuts across all cloth diapers, of the Mama Koala diapers is how bulky they are in comparison to disposables. Their size makes them an issue with clothing. However, I think this is a small price to pay for the comfort, convenience, and affordability that they offer.
Positives:
Can be adjusted for different sizes as baby grows

Fastens with strong snaps

Cute designs
Negatives:
back to menu ↑
2. Alva Cloth Diaper Reusable Pocket Type
All cloth diaper reviews consumer reports I have read must mention this brand. It is a top performer that most brands compete with. I have it on my list as one of the best you can buy as it fits well and lasts long with the right care.
The snaps all over the front allow for size adjustment, but I must admit they can be daunting for new users to use. Figuring out how to snap these diapers in your tiny newborn will take you a solid 10 minutes. The great idea is to have an instructional video, just like those that show how to use snappi cloth diaper fasteners. Moms would love to know all the ways you can get the right fit around the baby's waist. Thankfully, the durable elastic around the thighs helps in keeping everything in. It fits snugly and prevents blowouts. To prevent pee from leaking out, I recommend that you leave a little gap at the front by putting your liner up to ½ an inch toward the front.
Although these are machine washable and can be dried using a drier, it is essential to use the best laundry detergent for cloth diapers to ensure durability. Remember, these diapers will be in contact with the baby's skin, so you want to use a detergent that is not too harsh. At the same time, you have to get all the stains out. I always advise that you use the specific detergent instructed by the cloth diapers service you have purchased from. The Alvababy comes with instructions on how to wash cloth diapers.
The microfiber inserts that come with this diaper are not enough to absorb pee from bigger babies. Once your baby gets to four months, you should look into buying additional inserts to help with absorbency. What is the most absorbent cloth diaper insert? You can stuff the pockets with extra microfiber inserts, or buy thicker bamboo ones that do not need to be layered. Once you buy the Alvababy diaper, you can spend a little more money on purchasing different types of inserts to use depending on how wet your baby gets. I wish the Alvababy cloth diaper covers were more attractive, but I am sure some moms prefer solid colors.
Positives:
Has a snug fit

Machine washable

Comfortable
Negatives:
back to menu ↑
3. OsoCozy Prefolds Best Cloth Diaper Inserts
Are you looking for a cheap cloth diaper that is easy to use? OsoCozy prefolds are a great alternative to other cloth diaper types. My favorite thing about these prefolds is that they are less bulky than AIOs and pocket diapers. Aesthetically, the baby looks good in these. You do not have to worry about how to dress a baby to avoid the awkward-looking hump that is created by other cloth diapers. These pocket diapers are also very easy to use. Because they are prefolded, you do not have to learn much apart from how to use snappi cloth diaper fasteners and buying the right diaper cover to make it waterproof.
The OsoCozy brand prioritizes the baby's comfort. These prefolds are made of soft, absorbent cotton material that is gentle on baby's skin. Their size means you have plenty of extra material while folding, which is often a good thing for heavy wetters and babies who still breastfeed. While thick enough to keep baby dry for hours, these are just the right size to dry fast when air-dried. The last thing you need when using reusable diapers is waiting for some time when it becomes dry.
OsoCozy prefolds are among the cheap cloth diapers. You can buy a dozen in each size and still make lots of savings compared to using disposables. Another good quality of these diapers is their sizing concerns making it one of the best newborn cloth diapers. You do not have to worry about how well it will fit your baby as it is up to you to secure it well around the waist and legs. This, however, can be a disadvantage for moms who have not mastered the art of fastening yet.
Another downside to these prefolds is that they need quite a lot of prepping before use. To achieve full absorbency, you have to run the prefolds through 8 cycles of washing and drying machines. Failure to do so will leave you with more diaper leaks than you can count. It also takes some time and a lot of practice to get the hang of using these diapers. A new mom may get frustrated at some point. Finally, you have to buy snappis and waterproof covers for these diapers. When used on their own, they are not waterproof.
Positives:
Affordable

Soft, absorbent material that is gentle on baby's skin

Less bulky than other cloth diapers
Negatives:
Requires prepping before use

Lots of learning and practice are to use them well
back to menu ↑
4. Nageuret Reusable Swim Diapers
When it comes to swim diapers, there are too many options to choose from. A swim diaper is essentially a waterproof outer shell that catches the baby while out in the water. Of course, water gets in, and pee leaks out, but that is beside the point. They are not meant to be absorbent.
Beau and Belle specialize in making swimwear for babies. I must say that they are doing something right as their products are always high quality at an affordable price. Nageuret is excellent for two reasons. It has snaps on the front that allow size adjustment for proper fit and has elastic around the legs to keep the diaper sealed and prevent spills. It is quite easy to adjust this diaper and ensure a comfortable fit for the baby. Unlike with disposable swimwear, there is less likelihood for your baby to have a blowout in the water with this one.
I have to mention that the cleaning process is fast and straightforward. All you have to do is dunk any poop, rinse it, and throw it in the wash. There are washing instructions included, as well. It would be great to invest in the best trash can for cloth diapers to keep these as you wait to wash them while doing laundry. I love the cute prints on this diaper. Since it is swimwear that baby will wear out there, it is amazing that it looks really cute. Moms who love to match outfits can have fun accessorizing these for a day out on the beach.
The sizing on this diaper runs a bit small, so it is good to keep this in mind. Even so, it fits well around babies from newborns to much older ages, so this is not anything to worry about. The rivets on the leg section run on the inside-outside. This is the only thing I can criticize about this swim diaper. The rivets look like they would be uncomfortable for baby's skin. It would be far much better if they were only on the outside of the diaper.
Positives:
Can be adjusted for proper fit

Easy to wash

Cute prints
Negatives:
Has rivets on the inner and outer layers that may be uncomfortable for a baby
back to menu ↑
5. Anmababy Reusable Pocket Diaper
If you are looking for an alternative to popular brands that is not only affordable but also high quality, you should give Anmababy pocket diapers a go. Just like the popular brands, these pocket diapers have three rows of snaps that let you adjust the size from small to medium or large. This means you will save a lot of money by reusing these diapers throughout your baby's infancy. Without a doubt, they are the cheaper option when compared to disposables. It is no surprise they were among the best cloth diapers 2016.
The outer shell is made of polyester that is waterproof and breathable. The inner layer that is often against the baby's skin has suede cloth for wicking away moisture and keeping baby dry for as long as possible. The pack of four pocket diapers comes with a microfiber insert that can absorb a fair amount of liquid. However, these inserts cannot last all night, and you should always add extra stuffing. You can buy more inserts or use prefolds to increase absorbency. They also come with a wet bag, which is great to have around for storing purposes while outdoors. If you need an indoor alternative, lookout for the best diaper pail for cloth diapers.
When it comes to cleaning, you can use a washing machine and drier. You have to get the best laundry detergent cloth diapers, keeping in mind your baby's skin. I would advise that you go with a detergent that is marked safe and gentle for baby clothes. Hang drying often achieves better results in terms of durability, compared to machine drying.
The main problem with Anmababy reusables is that they shrink after the first wash. This makes them a size smaller, which might be an inconvenience. After several washes, you may have to deal with a smaller size than you anticipated. However, thanks to the adjustable snaps, the shrinkage can be solved by fastening in a different way to ensure the right fit.
Positives:
Adjustable size

Waterproof outer shell

Soft, absorbent inserts
Negatives:
Shrinks after the first wash
back to menu ↑
6. iPlay Absorbent Pull-up Swim Diapers
This is a company whose focus is to ensure your baby's comfort as they explore and have fun in the outdoors. iPlay is a reliable go-to for swimwear. This brand has quite several options to choose from, with different designs to suit your needs. These particular pull-up pants are a must-have due to their ease of use, comfort level, and durability.
When you have an eager toddler, who will not sit still while you fumble with snaps, you need a quick and easy solution. Pull up pants are the next best thing, as you will not have to spend lots of time looking for the best fit around your baby's waist. All you have to do is get them in it and pull them up. This quality makes this one of the best cloth diapers 2017. The pants' outer material is waterproof polyester while the inner lining is absorbent microfiber. The waist and legs have elastic that ensures a snug fit and prevents spillage, especially after baby poops in the water.
While the elastic waistband is a good idea for proper fit, the absence of snaps means that this diaper has a size limit. It does not have the one-size-fits-all design that is common for cloth diapers. This could translate into additional expenses each time your baby outgrows the swimwear. However, only after some period, you will need a replacement, it is still a cheaper option than disposables that have to be discarded after each use.
These pants run too small size, and making the wrong purchase will leave you with pull-ups that are tight around the legs and too uncomfortable for your baby. You may take this into account and buy a size up just in case.
Positives:
Easy to put on

Fits well to hold everything in

Has soft, microfiber lining
Negatives:
Size cannot be adjusted over time

Too small
back to menu ↑
7. Wegreeco Pocket Cloth Diapers
Wegreeco impresses customers by sending a pack that includes not only their pocket diapers and inserts, but also a muslin blanket that can be used for swaddling and a wet bag for storing used diapers. The pocket cloth diapers are of decent quality, with rows of snaps that allow you to adjust the size to fit your baby. Like other pocket diapers, the exterior is made of breathable, waterproof material that prevents leaks. It is similar to the one on best bottoms cloth diapers. The interior has soft inserts that wick and absorb any wetness. Wegreeco inserts are great as they have microfiber as well as bamboo layers. These make them stand out from the rest because bamboo is highly absorbent and gentle on baby's skin. Furthermore, you can add extra layers to keep baby dryer for longer.
To wash these pocket diapers, you have to throw any solid poo into the toilet, rinse and store in a pail. Remember, it is much easier to get the best diaper pail liner for cloth diapers. This is for hygiene purposes, as you can always throw out the liner and put in a fresh one. Once you have used a couple of diapers, you can wash them, separating the inserts from the shells. They should be washed separately. Do not mix the shells with your ordinary laundry to avoid staining. Use the best laundry soap for cloth diapers. You can either hang them out in the sun to dry, which is the best option or tumble dry on the low settings.
My main criticism of these diapers is the pilling on the inner wicking lining. This can be a pain as you will have bits of fabric all over. Although this does not take away from the absorbency of the diaper, it is annoying and may affect how long you can use it for.
Positives:
Adjustable to fit many sizes

Gentle on baby's skin

Highly absorbent bamboo inserts
Negatives:
Inner layer starts pilling after some time
back to menu ↑
8. GroVia Hybrid Best Cloth Diaper Covers
Hybrid cloth diapers are a sustainable version of disposables. They have not only a waterproof outer shell that can be reused several times, but also an inner lining made of comfortable fabric. This hybrid by GroVia has rows of snaps that allow moms to adjust the diaper size to fit the baby. The shell can be used from the newborn stage all the way to toddler years. Since the GroVia shell does not come with any inserts, you have to choose other options for increasing absorbency. This shell is not meant to be used as a standalone cloth diaper, unlike Alva, Anmababy, or best bottom cloth diapers.
For absorbency, you can use prefolds, disposable bio grade soakers, or snap-in inserts manufactured by the same company. However, you are not limited to GroVia products as any absorbent inserts work just fine with this shell. I love that you do not have to reach inside a pocket to remove the inserts, as it can be a messy affair. The cloth diapers covers require snap-on that are just peeled off for cleaning.
The main disadvantage of buying shells is that you have the added expense of buying absorbent material. However, because this is a one-off expense, I still recommend this product as it will serve you for ages.
Positives:
Adjustable sizes

Works with all types of absorbent pads

Durable
Negatives:
Requires additional purchase of absorbent material before use
back to menu ↑
9. Gerber Birdseye Prefold Cloth Diaper
Gerber is a brand that has made almost all things moms need for their babies. This inspires some confidence in their three-ply prefold cotton diapers. The fabric of this prefolds is soft enough for babies' comfort but equally absorbent to keep them dry. They are thicker in the middle to absorb more. Because they are so absorbent, they can be used as burp cloths too. These prefolds are not only affordable but also easy to clean. All you have to do is throw them in the washing machine then dry them, as you would do with any other clothes. They are light enough, so this process will be fast and easy.
You should be careful when washing these prefolds as they don't hold their shape well. If you neglect this feature, they get distorted and have an odd shape that is nothing close to the rectangular form they came in. They also shed a lot of lint, so you should watch out for this. However, lint does not affect its performance. They remain versatile and can be used as burp cloths, bibs, drool wipers, and much more.
Positives:
Versatile

Soft, absorbent fabric

Easy to clean
Negatives:
Lose their shape after several washes

Shed lint
back to menu ↑
What Are the Different Types of Cloth Diapers?
Before I tell you about diapers cloth best I should differentiate the types that are currently on the market. I am sure you are looking to stop using disposables for a specific reason. Perhaps your baby has sensitive skin that reacts to ordinary diapers. Also, your child might be too big to use disposables that are made in general sizes. Cloth diaper 101 – buy according to your specific needs. That said, there are seven cloth diaper types.
Flats


These are the cheapest cloth diapers you will find. A flat is a large, single-layered fabric that can be folded in different ways. Figuring out how best to fold this diaper takes some practice. It is often made of absorbent cotton. To be waterproof, it should be with a pin, as well as a cover cloth diaper.
Prefolds


These are similar to flats. The only difference is that they are already folded. Many moms find folding flats difficult. Hence, they need prefolds. They are not waterproof and must also be used with a cloth diaper cover after being fastened with a pin or snappi. This type can also be used as inserts in the pocket diapers.
Fitteds


Shaped like a disposable diaper, these are made of absorbent material. They do not require folding or fastening because they contour to fit the baby and have snaps or velcro to hold them in place. They are not waterproof and must be used with a diaper cloth cover.
Pockets


These have a waterproof outer layer and a stay-dry inner layer that keeps baby dry no matter how wet the diaper is. Between these two layers is a pocket into which an absorbent insert is stuffed. Prefolds and any absorbent towels can be used as inserts. The supplement is changed when full and before washing the diaper. Pockets require no cloth diaper covers or fastening. They dry quickly when compared to all in thicker ones. They are also great for babies who are cared for by a nanny or babysitter due to their ease of use.
All in two and hybrids


They are just like pockets, with the exception of snapping the absorbent insert into the inside of the diaper instead of stuffing. Hybrids have biodegradable inserts that can be disposed of after use.
All-in-one


If you are looking for cloth diapers cheapest, these may not be the best choice for you. All in one cloth diapers are highly-priced, but also the easiest to use. They are just like disposables, as they require no inserts, folding, or fastening. They have a waterproof outer shell and an absorbent inner layer. Fastening is by velcro or snaps. There are some all-in-one diapers that have a pocket for adding absorbent material, but these are rare. Due to the size of the inner absorbent layer, the all in one cloth diaper is quite thick and takes longer to dry.
back to menu ↑
How to Cloth Diaper and Everything Else You Need to Know
Are you overwhelmed by everything you need to learn before using cloth diapers? Here are the answers to frequently asked questions about this product.
back to menu ↑
How do I use cloth diapers?
Knowing how to use cloth diapers is quite easy unless you are dealing with flats. They require some practice to understand how to fold and fasten. However, once you master this, using cloth diapers becomes easy. Pockets, AI2s, Hybrids all need to be lined with absorbent inserts before use.
back to menu ↑
What are the advantages of cloth diapers?
Cloth diapers are better than disposables because they are:
Cheaper

– you can reuse cloth diapers throughout your baby's infancy. What is cheaper cloth or disposable diapers? Cloth diapers are a one-time investment, hence cheaper.

Better for the environment

– disposable diapers contribute to the waste we are all trying to reduce. Cloth diapers are a much more sustainable alternative.

Gentler on baby's skin

– The inner lining of cloth diapers is made of wicking material that is gentle on baby skin.
back to menu ↑
How do I wash cloth diapers?
Knowing how to clean cloth diapers is essential to ensure they last long. You should dump any solids in the toilet and rinse the diaper before storing it in the best cloth diaper pails. The lining must be washed separately from the shell. You should not use bleach or harsh detergents on these diapers. The best detergent for cloth diapers is a gentle one. Drying can be done by hanging them out in the sun, or tumble drying on a low heat setting. If you need help, you can always hire a cloth diaper service to do the cleaning for you.
back to menu ↑
Which is the best cloth diaper detergent?
There is no perfect detergent for all cloth diapers. When choosing which detergent to buy, you should consider one that does not have a fabric softener. You should also avoid soap-based ones, especially if you use hard water. As long as a detergent works well on your clothes, it will work well on your cloth diapers.
back to menu ↑
What diaper creams are safe for cloth diapers?
The best cloth diapers cream is one that is organic and free of parabens, phthalates, petroleum oil, and other additives. This is because petroleum-based cream can cause reactions when used on synthetic fiber.
When using diaper cream, you should also know how to strip cloth diapers to get rid of all the oils that may remain on the fabric.
back to menu ↑
What is an AIO cloth diaper?
These are cloth diapers that are complete and do not require inserts or waterproof covers. An all in one cloth diaper is great when leaving your baby with caregivers. It is easy to use, especially for those who do not understand how to use cloth diaper.
back to menu ↑
Final Thoughts for Cloth Diapers Review
Navigating the world of cloth diapering can be a daunting task. With so much to learn and a baby to care for, you need all the help you can get. Cloth diaper reviews like mine make life a little easier. Now, you know the types of clothes diapers in the market. The purchase you make will be based on your personal preference and convenience. You can go for simple prefolds and learn how to make cloth diapers by adding an extra waterproof layer or settle on AIOs that make life much more comfortable. The most important thing to remember is to care well for your cloth diapers so that you can reuse them for a while. If you are too busy to wash diapers, you can check out the cloth diaper services in your area.
Whether it's cloth diaper stripping or the best laundry detergent to use, I hope you have gotten some new information from this review. Are there any great cloth diapers that have not made it to my list? Do you have suggestions on the best all in one cloth diaper for a new mom to use? What is your favorite brand of this product? Please leave a comment below.
I look forward to reading and answering all your questions on cloth diapers.