Plan Your Life With Period and Ovulation Tracker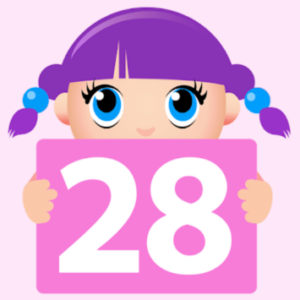 Period and Ovulation Tracker app is an easy way to get notified about your upcoming period or ovulation days. The app helped millions of people to get pregnant and to avoid unwanted pregnancy by calculating the data. It is personal and comfortable to use.
Period and Ovulation Tracker: Everything You Want To Know About Your Body
This app was made for girls and women as a personal calculator of the period, ovulation and fertile days. It can predict and notify you when these days are coming. You can also make notes in the calendar and point out the level of pain, your mood, PMS symptoms or pills you have to take.
Main Features Of Period and Ovulation Tracker
Period and Ovulation Tracker works like a personal assistant for your body. You can change settings as much as you like. For example, you don't even have to see ovulation or fertile days if you don't want to. You can use the app's blog as your daily inspiration or enjoy famous Girl Talk chat. Check every amazing feature of Period and Ovulation Tracker:
Receive alarm in the upcoming period. You can adjust whether you want to receive notification one day or a couple of days ahead. The same option is available for fertile and ovulation days;
Reminder for pills you have to take;
A menstrual calendar where you can leave your notes and mark the most important days. There is a yearly calendar if you want to plan something ahead;
Protection of your personal information with a pin code;
Temperature tracker that helps you to conceive;
Syncing with a new device in no time;
Girl Talk community for women with millions of participants;
An amazing blog that gives you useful ideas for home decoration, style, cosmetics, etc.
How To Use Period and Ovulation Tracker
Period and Ovulation Tracker is really user-friendly. All its main features are located in the upper bar. Other features that you don't need now but may use in the future are hidden in the menu in the left upper corner. To use the calendar you have only tap the first date of your period every month. The app is made in a truly adorable girlish design with smooth pastel colors. You will learn how to use it in a couple of minutes.
Is Period and Ovulation Tracker Free?
Period and Ovulation Tracker's basic version is free of charge. The app contains ads, but they rarely appear on your screen. Multiple users confess they don't even notice that the app contains ads. Period and Ovulation Tracker also offers in-app purchases, if you want to receive advanced features. It is up to you. You can still use the free version.
Pros
Stylish design that will be appreciated by everyone who wants to concentrate on the content instead of vivid pictures;
Synchronized with your updates menstrual, ovulation and fertile calendars;
Girl Talk chat for women where you can ask any questions, receive feedback and support from women, share your experience;
Make personal notes;
Period and Ovulation Tracker is free of charge app.
Cons
This app contains ads. And while these ads rarely appear on your screen, they can still show up from time to time;
Some amazing features are available only as in-app purchases.
Why Do I Recommend Period and Ovulation Tracker?
I love to be part of this community in Girl Talk. I have found friends there and I want to be there for every woman who needs my help. I also love these cool ideas about my house, about my style that is available in the blog. But most of all, this app helped me to conceive my child and adjust my new monthly cycle after it.
Info
EasyToBeMom.com is not an official representative or the developer of this application. Copyrighted materials belong to their respective owners. To download the app, you will get links to the Official Website and/or official digital markets.