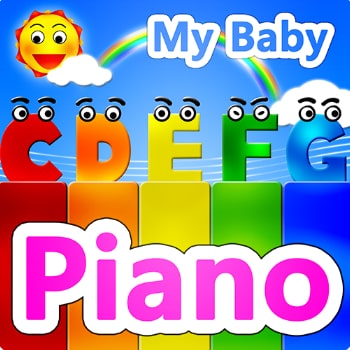 In this article, Kiara shares her personal experience of how the music and My baby Piano app can help children with different psychological and even physiological problems. Bring to the child a love of music from childhood!
It's Kiara. And I continue to share with you interesting and useful tips that will help in the education of the child. Studies show that music is an important component of the proper development of children. That is why it is necessary to instill a love for it since childhood. My baby Piano by DOKDOAPPS is an application where you can start.
'Real Touch Engine' for Real Feeling of Touch
My baby Piano is a colorful app that aims to develop the baby's sensibility. The app's library contains a large variety of different children's songs. As a result, you can turn on any song on your mobile phone or computer and ask a child to add his or her drumming effect. I am sure, that your child will fall in love with this application at least because all piano keys are colorful and use very bright colors.
My baby Piano uses a unique so-called 'Real Touch Engine'. It aims to deliver an advanced feeling of touch. We all know that children are curious, like animations effects or sounds. Knowing that fact, the developers of My baby Piano created several great animations to capture the child's attention. For example, when he or she touches the screen, the application automatically generates colorful animations and a device's vibration. Moreover, there are no delays in terms of music! All piano and drums sounds are synchronized in real-time.
Personal Experience
As you know, I have a two-year-old daughter, and I work in a kindergarten. Therefore, I know a lot of different examples when, with the help of music, it was possible to solve some psychological and even physiological problems in children.
I want to talk about the day my daughter first tried this app. By the way, it was only a couple of months ago. Daughter liked not only how the interface looks (I mean bright colors and animations), but also how the interaction with the application is arranged. Everything is made so simple that even a two-year-old child could figure it out! Now I am firmly convinced that as soon as my daughter grows up a bit, I will give her to the piano. Since not even six months have passed since the first day of using the application, she already walks and sings the sounds of different songs or just asks to turn on the music and dance! It's so cool!
Pros
A 'Real Touch Engine' that delivers a great feeling of touch with the animations and vibration after that;
The mix of piano and dram in real-time;
A colorful interface that captures the child's attention from the first seconds;
Free to install and download on both Google Play and Apple Store.
Cons
Lack of features;
No version for desktop;
Contains advertising.
Bring the Child a Sense of Rhythm and Love of Music
My baby Piano is an excellent application to start introducing children to music. It has colorful animations, real-time synchronization, and high quality of sounds. The last advice I should give you is related to the ads. The app has two versions: free and premium. The first one contains advertising, therefore, you should supervise your children while they are using Me baby Piano.
Info
EasyToBeMom.com is not an official representative or the developer of this application. Copyrighted materials belong to their respective owners. To download the app, you will get links to the Official Website and/or official digital markets.